Majority Still See Hard Work, Tolerance, and Religion as Important American Values
Plus: Free speech is at the heart of the SCOTUS immigration case, the best and worst states for occupational licensing, and more...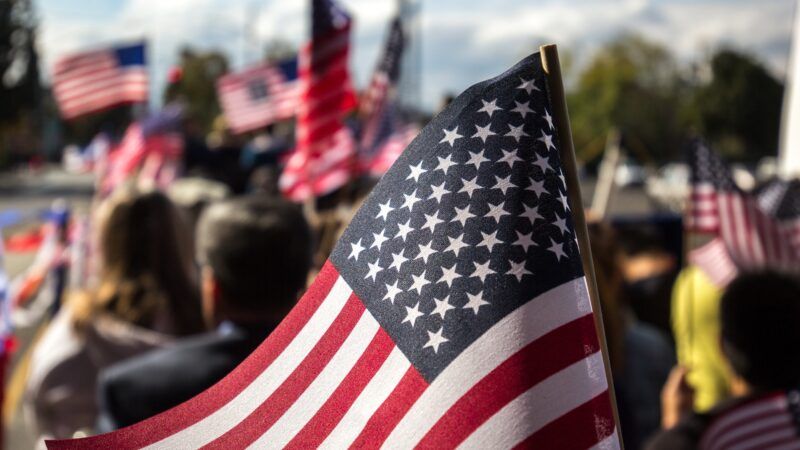 American value shifts? Gone are the days when liberals or conservatives would advocate that the government stay out of…well, anything. A new poll suggests that maybe this political impulse is rooted in a deeper values shift. Only 58 percent of those surveyed said tolerance for others is a very important value, down from 80 percent who said as much four years ago.
The latest Wall Street Journal-NORC poll found other shifts in public opinion as well. For instance, just 38 percent of respondents said patriotism was very important to them and just 39 percent said the same about religion, down from 70 percent and 62 percent in 1998, when the question was first asked. "The share of Americans who say that having children, involvement in their community and hard work are very important values has also fallen," the Journal reports.
But have American values really shifted all that much? While the percentage of poll respondents naming various values as very important has declined, the vast majority still said that things like hard work, patriotism, and tolerance were at least somewhat important.
A look at the polling data reveals that 94 percent still say hard work is very or somewhat important, for instance. Some 67 percent say it's very important and only 3 percent say it's not important at all.
The percentage who say tolerance for others is very important did indeed shrink—but 90 percent still say it's a very or somewhat important value.
Some 70 percent of those surveyed still say marriage is very or somewhat important; 65 percent say having children is very or somewhat important; 80 percent say community involvement is very or somewhat important; and 60 percent still say religion is very or somewhat important.
Americans are still plenty patriotic as well, according to this poll. In all, 73 percent say patriotism is very or somewhat important.
Findings like fewer people attaching extreme importance to patriotism are sometimes portrayed as unabashed negatives. But of course they could reflect positive developments, like an increased willingness to question government authority, more realism about America's flaws, or a comedown from the sort of jingoism that got us the worst of the war on terror.
And tucked in the less publicized poll results are a number of unequivocally positive findings.
For instance, most people surveyed said they are happy, with 56 percent saying they are "pretty happy" and 12 percent saying they are "very happy."
Those surveyed were way more worried about censorship in schools than schools being too permissive in what they teach. Some 61 percent said they were more worried "that some schools may ban books and censor topics that are educationally important" than they were concerned "that some schools may teach books and topics that some students or their parents feel are inappropriate or offensive." Just 36 percent said the reverse.
And despite politics seeming to have crept into every facet of American life, political affiliation is still viewed as the least essential of six traits related to personal identity.
The pollsters asked respondents to think about "the various ways that you define yourself as a person" and determine how important each characteristic was "to your own personal identity." Of the six traits asked about, gender was viewed as the most essential, with 48 percent of those surveyed saying it was vital to their identity. Religion came the closest to gender (34 percent), followed by a three-way tie between race, occupation, and family origin (21 percent). Political affiliation was viewed as essential to identity by just 11 percent.
The poll was conducted March 1-13. It had 1,019 respondents, and has a margin of error of plus or minus 4.1 percentage points.
---
FREE MINDS 
Free speech is at the heart of the SCOTUS immigration case. The Supreme Court yesterday heard arguments in United States v. Hansen, a case concerning a provision of federal immigration law. The law makes it illegal to encourage or induce someone to illegally stay in the country "for the purpose of commercial advantage or financial gain." Those challenging the law say this infringes on a lot of First Amendment–protected speech.
At Monday's arguments, justices "had a lot of questions," notes NPR:
"What do you say to the charitable organizations that say, even under your narrowing construction, there's still going to be a chill or a threat of prosecution for them for providing food or shelter and aid," asked Justice Brett Kavanaugh.

Justice Sonia Sotomayor followed up, saying, "We do know that the Customs Department made a list of all the people, religious entities, the lawyers and others who were providing services to immigrants at the border and was saying they were going to rely on the statute to prosecute them."

Justice Elena Kagan added, "What happens to all the cases where it could be a lawyer, it could be a doctor, it could be a neighbor, it could be a friend, it could be a teacher and could be anybody, says to a noncitizen, 'I really think you should stay.' What happens to that world of cases?"
For more background on the case, see:
---
FREE MARKETS 
Best and worst states for occupational licensing. A new report from the Archbridge Institute, a nonpartisan think tank, looks at the occupational licensing burden in all 50 states. According to the Institute's "2023 State Occupational Licensing Index," states with the most burdensome occupational licensing rules ("based on the total number of barriers to entry into the labor market and the overall number of licenses required," per a press release) are Arkansas, Texas, Alabama, Oklahoma, and Washington. The states with the least burdensome occupational licensing schemes are Kansas, Missouri, Wyoming, Indiana, and Colorado. "Performing well in economic freedom doesn't necessarily mean a state is likely to license fewer occupations," noted study co-author Noah Trudeau in a statement. "Texas and Oklahoma, for example, both rank in the 'Most Free Quartile' of the 2022 Economic Freedom of North America index, but also rank in the most heavily barriered quintile of this index." You can find the full report here.
---
QUICK HITS
Elon Musk said Twitter is now worth about $20 billion, according to an email he sent the company's employees — a significant drop from the $44 billion that he paid to buy the social network in October. https://t.co/UguitAMz8j

— The New York Times (@nytimes) March 26, 2023
• Publishers are preparing for war against A.I. tools. (See also: "Publishers get one step closer to killing libraries.")
• Is now the best time to embrace A.I. tools?
• Republican Gov. Ron DeSantis just signed a bill expanding a school voucher program to all Florida students.
• Are Americans really more antisemitic now than they were four decades ago?