TikTok Is Too Popular To Ban
Plus: Police sue Afroman for using footage from raid, California bill could ban popular junk foods, and more...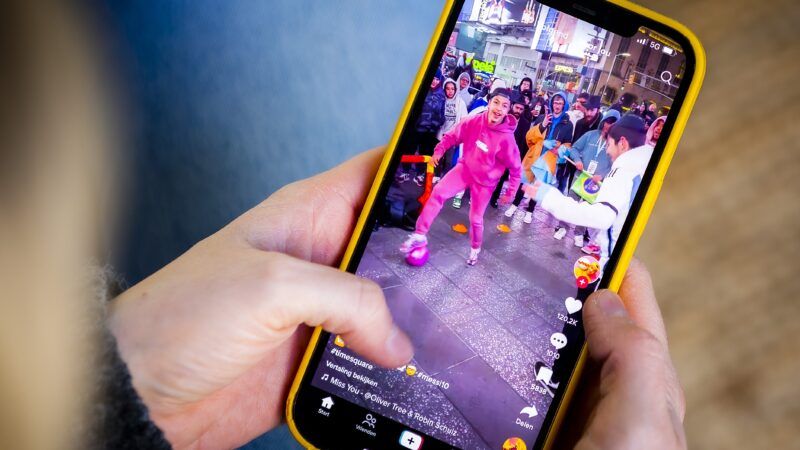 (Remko de Waal/ANP/Newscom)
TikTok's popularity poses a problem for those who wish to ban it. TikTok CEO Shou Zi Chew is scheduled to testify before the House Energy and Commerce Committee today amid intensifying calls in the White House and Congress for the U.S. to ban the video app. TikTok foes say that because it's owned by a Chinese parent company, ByteDance, it poses a national security threat.
Of course, no one has been able to fully articulate how this alleged threat works. There's a lot of vague hand waving about consumer data and grave warnings about the Chinese government—though what Chinese authorities would want or do with data on your average TikTok user, or how that would threaten national security, is unclear. (A plausible case may be made for disallowing use by government officials and guardians of state secrets, but that's about it.) Nor is there any indication that TikTok actually is sharing U.S. user data with the Chinese government—though people who suggest this often act like it's self-evident and they shouldn't need to proffer any proof.
Investigative journalists have tried hard to find evidence that TikTok is leaking data to Chinese authorities, but to no avail.
"I haven't found any evidence" of "the company handing over data to Chinese authorities, or security risks associated with its connection to the Chinese state," writes Chris Stokel-Walker—who has done ample critical reporting about the company—at Buzzfeed this week:
I've been trying for years to find any links to the Chinese state. I've spoken to scores of TikTok employees, past and present, in pursuit of such a connection. But I haven't discovered it….

Trump launched a series of online advertisements in 2020 saying, "TikTok is spying on you." It's a sentiment that has been repeated by other politicians, including Missouri Sen. Josh Hawley, who worries about TikTok's links to China.

None of this is true. At least as far as I can tell. Yet to hear politicians on both sides of the aisle talk about it, it's verifiable fact. And they want the app banned because of it.
For what it's worth, TikTok adamantly denies allegations about data sharing with the Chinese government. "TikTok has never shared, or received a request to share, U.S. user data with the Chinese government," said its CEO in prepared testimony released ahead of today's House hearing. "Nor would TikTok honor such a request if one were ever made."
"Let me state this unequivocally: ByteDance is not an agent of China or any other country," the testimony continues. "Bans are only appropriate when there are no alternatives. But we do have an alternative."
The company has been cooperating with U.S. regulators to develop protocols around user data that will help mollify security and privacy concerns. "TikTok has formed a special-purpose subsidiary, TikTok U.S. Data Security (USDS), that currently has nearly 1,500 full-time employees and contracted with Oracle to store TikTok's U.S. user data," notes Reuters. According to Chew's testimony, "Oracle has already begun inspecting TikTok's source code and will have unprecedented access to the related algorithms and data models."
And it strenuously condemned user data misuse by a small group of TikTok employees who worked on a team concerned with internal misconduct. The team reportedly accessed data on several reporters who had been covering TikTok. "We have taken disciplinary measures and none of the individuals found to have directly participated in or overseen the misguided plan remain employed at ByteDance," a ByteDance spokesperson told Buzzfeed. A TikTok spokesperson said the company had already "significantly improved and hardened [access protocols] since this incident took place." The FBI is reportedly now investigating the breach.
Alas, TikTok is far from the first social media company to misuse some user data. But in this case, the snooping—however invasive and ill-conceived—wasn't related to Chinese government aims but more mundane corporate goals: finding who inside the company was leaking information.
Whether all this will help TikTok avoid a U.S. ban is uncertain. But it has another weapon: its popularity. Not only is the app incredibly popular among Americans, especially younger Americans, but it's also become a go-to spot for digital advertising.
"In 2019, the NFL signed a multi-year deal with TikTok, and ESPN also works with the company," notes Katie Harbath in the newsletter Anchor Change. And while members of Congress have been trying to persuade against deals like these, "advertisers go where the eyeballs are."
"Policymakers are going to be in a tough spot to try to convince all these entities that a ban is going to be in their best interest," suggests Harbath. "Moreover, if they do ban TikTok, where are most of these folks likely to go? Instagram and YouTube. That doesn't help much with the anti-trust efforts these same members are pushing."
In a Washington Post survey, 41 percent of all respondents said the app should be banned, compared to just 25 percent who said it shouldn't be. But there's still lots of room for either side here: 34 percent said they weren't sure.
The biggest decider of who backs a TikTok ban? If they use TikTok. https://t.co/8Za0UJc8wD pic.twitter.com/RJL61RFdqO

— Post Polls (@PostPolls) March 22, 2023
Politically, banning TikTok could be a very bad move, especially for anyone worried about courting or retaining younger voters.
"TikTok is vastly more popular with younger Americans, with 59 percent of 18-to-34-year-olds using the app, compared with 46 percent of those ages 35 to 49, 29 percent of people ages 50 to 64, and 13 percent of those 65 and older," notes the Post. "Its users also are more likely to be female, non-White and to have lower incomes, according to The Post's poll."
"There is a huge disconnect between lawmakers and many of the new technologies…and with TikTok, it's easier to just say, 'Ban it, sell it or let us control it' because it's not an American company," Rep. Jamaal Bowman (D–N.Y.) told the Post.
"For the U.S., the political costs of a TikTok ban will increase the longer there is no resolution," suggests Aynne Kokas, author of Trafficking Data: How China is Winning the Battle for Digital Sovereignty, at the Los Angeles Times. "More users join the app every day, making it a more essential communication tool. Concerns about TikTok's security might be bipartisan, but they have yet to overcome the popularity of the social media app."
Practically, the ban would be hard to enforce. You can stop American companies from offering the app for download and demand that links to TikTok be blocked on U.S. websites and browsers. But there are other ways to download apps and share links.
And conceptually, the ban just doesn't make a lot of sense. We're supposedly aghast at censorship and civil liberties abuses in China so…we're going to suppress more free speech and private enterprise here? It's logic only a politician could love.
---
FREE MINDS
Sheriff's deputies who raided Afroman's house sue him. Police who raided Afroman's house and allegedly misplaced some of the cash they took from him are mad that the musician is now using footage and images from the raid to promote his concerts and sell merchandise. Never mind that the footage comes from Afroman's home security cameras, and doesn't distort the antics of the Adams County Sheriff's Office. They argue that he shouldn't be able to use it for commercial purposes "without the authorization of any of the plaintiffs to do so," as it's causing them "humiliation, ridicule, mental distress, embarrassment and loss of reputation." So…raiding someone's home for no apparent reason is no big deal, but publicizing, mocking, or criticizing that raid is off-limits? Hopefully a judge won't agree.
---
FREE MARKETS
California bill could ban popular junk foods. It could make selling Skittles, M&Ms, Sun Drop soda, and other popular packaged goods—at least as they're currently formulated—illegal. Assembly Bill 418, sponsored by Democratic Assemblymembers Jesse Gabriel (Woodland Hills) and Buffy Wicks (Oakland), would ban the manufacture, sale, or distribution of any food containing Red Dye No. 3, titanium dioxide, potassium bromate, brominated vegetable oil, or propylparaben.

The bill has been gaining national attention—and Gabriel is pushing back against the idea that it would ban Skittles and other snacks. The bill "would theoretically ban a whole host of foods, from hard candies like Skittles and Hot Tamales, to Nesquik strawberry milk and many baked goods, breads and sodas," notes USA Today. "But the lawmaker behind the legislation making national headlines says that's far too simplistic and highly unlikely even if it passes."
He told the paper that "there's a 0% chance this is actually going to result in a ban of Skittles." But Gabriel's insistence that this won't happen relies on claiming that food manufacturers would stop using the banned ingredients if A.B. 418 becomes law, rather than simply saying so long to the Golden State.
---
QUICK HITS
Monmouth shows Trump continuing to gain in the presidential primary, with Trump up 41-27.
This is longest-long-term trend from a high-quality poll in the race. Since December, Trump has gained 15 points while DeSantis has lost 12 points= pic.twitter.com/2xhtECqfy1

— Nate Cohn (@Nate_Cohn) March 22, 2023
• "The British defense ministry on Monday confirmed it would provide Ukraine with armor-piercing rounds containing depleted uranium," reports the Associated Press. Russia has been falsely claiming this counts as a weapon with nuclear components and threatening to escalate attacks in Ukraine as a result.
• The Securities and Exchange Commission is charging eight celebrities—including Lindsay Lohan, Jake Paul, and Soulja Boy—with failing to disclose that they were paid to tout cryptocurrencies.
• House Republicans introduce a new energy bill.
• A Wyoming law that makes abortion a felony has been temporarily halted by a state district court.
• Oregon has licensed the state's first legal grower of psychedelic mushrooms:
Oregon has officially licensed the first business in the state that will be able to legally grow psilocybin mushrooms.

Satori Farms will be among several growers as the state rolls out legal treatments this year. pic.twitter.com/yyOteSZ6Tx

— Ryan Haas (@ryanjhaas) March 22, 2023
• "Republicans have been railing about the 'weaponization of government' for quite some time now," writes Daniel Drezner. "And yet today, the hard-working staff here at Drezner's World couldn't help but notice two small news items suggesting that the weaponization was coming from inside the GOP's house."
• State "parental rights" proposals would require schools to out transgender students to their parents. "While some parents and teachers argue they have a right to know, others warn it could jeopardize the mental health and physical safety of gender-nonconforming children and place educators in the crosshairs," notes the A.P.