Charter Boat Captains Don't Have To Share Their Location Data With the Government, Court Rules
Plus: More lawmakers move to decriminalize psychedelic plants, Tennessee's "adult cabaret" law, and more...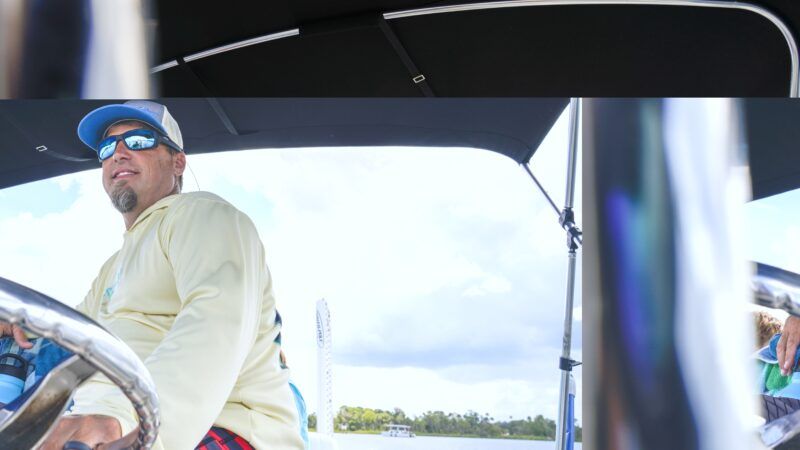 (Martha Asencio-Rhine/ZUMA Press/Newscom)
Boat-tracking regulation is a warrantless search, court says. Can the government force charter boat captains to continuously transmit their location information to the authorities? It seems preposterous, but the Department of Commerce and the National Oceanic and Atmospheric Administration (NOAA) this privacy-infringing protocol in 2020. The rule required charter-boat captains to install—at their own expense—onboard monitoring systems that regularly relayed their boats' GPS locations to the government.
A group of charter boat captains represented by the New Civil Liberties Alliance (NCLA) sued, saying the rule violated rights to due process, privacy, and freedom of movement, among other things.
"The reason we were against this so much is it tracked us precisely where we were going," Allen Walburn, one of the boat captains who brought the suit, told the Fort Myers Beach Observer and Beach Bulletin.
Another reason: The monitoring systems can be expensive, costing thousands of dollars to install in addition to a monthly service charge.
Now a federal court has sided with the captains.
"The asserted benefits from the GPS-tracking requirement do not bear any reasonable relationship to the undisputed costs," the U.S. Court of Appeals for the Fifth Circuit in Louisiana held in its recent decision:

The Final Rule found that installation of a [monitoring] device would cost $3,000,
with an additional $40 to $75 per month in service fees. These are significant fees for charter-boat owners, for they primarily operate small businesses, with roughly $26,000 per year in net income. And in addition to the financial cost, of course, the regulation imposes a massive privacy cost; demanding that charter-boat owners transmit their exact location to the Government, every hour of every day forever, regardless of why they are using the vessel.

What benefits does the Government point to in response? Next to nothing.
The court concluded that the GPS requirement "violates the Administrative Procedure Act because it is arbitrary and capricious, in turn because the Government failed to address Fourth Amendment issues when considering it and failed to rationally consider the associated costs and benefits." 
"The requirement that charter boats transmit their GPS location to the Government appears to be a search, and no warrant authorizes that search," it said.
The regulation—issued pursuant to the Magnuson-Stevens Fishery Conservation and Management Act of 1976—was proposed by NOAA. (The Commerce Department has delegated regulatory authority for the Magnuson-Stevens Act to that agency.) It which would have applied to charter boats in Alabama, Florida, Georgia, Louisiana, Mississippi, North Carolina, and South Carolina.
The court also ruled against another aspect of the new regulation, which would have required charter boat owners to report "all fish harvested and discarded, and any other information requested," including "information about the permit holder, vessel, location fished, fishing effort, discards, and socio-economic data." The court held that this rule violated the Administrative Procedures Act, because it "did not give fair notice that it would require the type of data specified." 
There was concern that the new regulations would lead to surveillance of all recreational fishermen. "This [decision] stops that right in its tracks," NCLA attorney John Vecchione told the Beach Observer and Beach Bulletin.
---
FREE MINDS
More lawmakers move to decriminalize psychedelic plants. "Local leaders in the city of Ferndale, Michigan, passed a resolution this week that advocates say decriminalizes psychedelic plants and fungi, including drugs such as psilocybin mushrooms, ayahuasca and DMT," reports Marijuana Moment:
Ferndale is the fourth Michigan city to pass such a measure. Detroit, Ann Arbor and Hazel Park have adopted similar policy changes.

Last year activists also took steps to put psychedelics legalization on the statewide ballot, but they ultimately decided to delay the reform campaign and aim for 2024 instead.

While the resolution approved Monday by the Ferndale City Council cannot end Michigan's statewide prohibition on psychedelics, it makes it the city's "lowest law enforcement priority" to investigate and arrest people for "planting, cultivating, purchasing, transporting, distributing, engaging in practices with, or possessing" entheogenic plants and fungi.
Lawmakers in three other Midwestern states—Illinois, Iowa, and Missouri—are introducing legislation this year to decriminalize pscyhedelic plants. And a pair of Rhode Island lawmakers recently introduced a similar proposal. "State Rep. Brandon Potter and state Sen. Meghan Kallman are sponsoring legislation that would legalize the personal use of psilocybin, or psychedelic mushrooms," reports Fox News. "Contingent on approval from the Food and Drug Administration…their bill would also permit psilocybin to be used to treat chronic mental health disorders."
---
FREE MARKETS
The New York Times delves into Tennessee's new "adult cabaret" law:
A bill signed into law this week in Tennessee makes staging "adult cabaret" on public property or anywhere a child could see it a criminal offense. The law forbids performances in those places by topless, go-go or exotic dancers, strippers, or male or female impersonators who, as the law defines it, provides entertainment that is "harmful to minors."

The word "drag" does not appear in the legislation. And to some legal experts, the description provided in the letter of the law would not apply to drag as they know it. But many in the state are still trying to grasp how the measure will ultimately affect drag events, theater performances that involve drag, and even transgender and gender nonconforming people as they go about their lives.

The law is part of a cascade of legislation across the country fueled by a conservative backlash to drag events, which has also spurred protests from far-right groups and threats directed at performers. Now that it is one of the first to succeed, with lawmakers in other states pursuing legislation with similarly ambiguous language, the law has prompted concerns about how it will be enforced and the implications it could have.
A South Carolina lawmaker recently introduced a similar law.
---
QUICK HITS
• A Montana court has struck down a state law that would have required parental permission for a minor to get an abortion, while declining to rule yet on another law requiring parental notification.
• New Jersey wants to ban non-flushable baby wipes.
• Writer Stephen Elliott's lawsuit against the creator of the "Shitty Media Men" list has been dismissed, after the creator—Moira Donegan—and Elliott reached a settlement. "Stephen got paid," tweeted Katie Herzog, who talked with Elliott about the terms.

• Author "R.L. Stine is revising his popular Goosebumps books series and making edits to the published work with a more inclusive language," notes Deadline. "The move from Scholastic comes after Penguin hired sensitivity readers to edit Roald Dahl's books from language deemed inappropriate in today's world."
• Another train has derailed in Southern Ohio. This time, officials say no hazardous materials leaked.