Banks Increasingly Back Political Scheme To Track Gun Purchases by Credit Card
Politicians lean on the financial industry to target activities they don't like.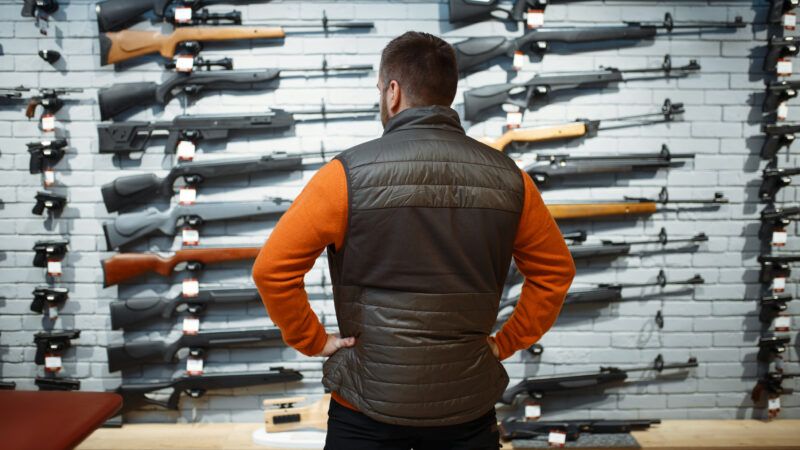 (Nomadsoul1 | Dreamstime.com)
The first credit card processor to announce plans to track purchases at gun shops is Discover Financial Services. The company hints that its competitors, specifically Visa, MasterCard, and American Express, are on the same schedule to implement a controversial gun-specific merchant category code announced last year. Given that the ideologically charged bank behind the new code has big plans for targeting gun purchases you can expect more fireworks to follow.
"Discover Financial Services, a provider of credit cards, told Reuters it will allow its network to track purchases at gun retailers come April, making it the first among its peers to publicly give a date for moving ahead with the initiative, which is aimed at helping authorities probe gun-related crimes," the news service reports. "Discover's announcement came after the International Organization for Standardization (ISO), which decides on the classification of merchant categories used by payment cards, approved in September the launch of a dedicated code for gun retailers."
Merchant category codes (MCCs) are an IRS-developed scheme for tracking transactions. Behind the push for the gun-specific merchant category code is Amalgamated Bank, which boasts that it "supports sustainable organizations, progressive causes, and social justice." It's basically a political operation that uses its presence in the financial industry to advance political goals, and it joined with Democratic politicians to urge adoption of the new MCC. Why? Because at a time when everything is politicized, an ability to monitor buying and selling is enormously important to those who want to restrict or control whole areas of life.
"We all have to do our part to stop gun violence and it sometimes starts with illegal purchases of guns and ammunition," Priscilla Sims Brown, president and CEO of Amalgamated Bank, gloated when the ISO approved the new category code last September. "The new code will allow us to fully comply with our duty to report suspicious activity and illegal gun sales to authorities without blocking or impeding legal gun sales."
When the code was approved, firearms-specific payment firm GunTab warned that it was a step towards filing government-mandated Suspicious Activity Reports with the authorities on gun purchases.
"Your bank files a Suspicious Activity Report with your name for every day your cash activity exceeds $10k," the company noted. "Anti-gun advocates want to apply this same ambiguous approach toward preventing gun violence."
It didn't take long for advocates of the code to confirm that suspicion.
"Banks are developing technology to identify potential mass shooters, according to a CEO backing the push to get credit-card companies to more closely track gun purchases," Bloomberg reported last November. "'Detection scenarios' are in the works that, if triggered, would prompt banks to file a Suspicious Activity Report to the Treasury Department's Financial Crimes Enforcement Network, Amalgamated Bank Chief Executive Officer Priscilla Sims Brown said at the New York Times DealBook conference Wednesday."
But the code applies to stores that deal in firearms, not just to gun sales. That means ringing up trail cameras or camping gear might land you on the naughty list. Or the purchase might be entirely blocked.
"Credit card companies may be changing how they process gun store sales, but it's still up to banks to allow purchases coming in with that MCC," cautions DirectPayNet, which works with merchants tagged as "high risk"—a category including adult entertainment, dating, and e-cigarettes as well as firearms. "Banks can see what companies are higher risk, extraneous, or essential (especially during a recession). They control what a cardholder can purchase, basically. So the pushback might not be from credit cards or processors, but from banks. The question is, should banks hold that much power over the decisions of individual cardholders?"
If you're Amalgamated Bank the answer is an obvious "yes" since the outfit uses finance as a political tool. But it's hardly alone in weaponizing finance for political purposes as we've seen in the aftermath of the U.S. Justice Department's Operation Choke Point, which leaned on the financial industry to shun payday lenders, adult entertainment, gun dealers, and other politically disfavored enterprises.
"The general outline is the DOJ and bank regulators are putting the screws to banks and other third-party payment processors to refuse banking services to companies and industries that are deemed to pose a 'reputation risk' to the bank," George Mason University law professor Todd Zywicki wrote in 2014. "Most controversially, the list of dubious industries is populated by enterprises that are entirely, or at least generally, legal."
That program to marginalize legal businesses formally ended in 2017. But American Banker reported in 2019 that financial institutions were still pressured to deny services to "politically divisive clients" and that "efforts to use banks as a lever for broader social change are just getting underway."
Inevitably, if one political faction is willing to lean on private industry to implement harassments and restrictions that can't be achieved through the legislative process or aren't permitted by the Constitution, its opponents will enter the battle.
"Credit-card companies could face fines up to $10,000 per violation for tracking firearm and ammunition sales in Florida, under a measure approved Tuesday by a Senate committee," reports the Orlando Weekly. "The Republican-controlled Senate Banking and Insurance Committee voted 7-3 along party lines to approve a bill (SB 214) that would target yet-to-be-enacted plans by some credit-card companies to create a separate 'merchant category code' for sales at firearm businesses."
With Republican majorities in the state's Senate and House, and Gov. Ron DeSantis very comfortable in a world in which everything is political warfare, SB 214 looks likely to pass. Mississippi, Oklahoma, Texas, and West Virginia may approve similar laws. Then the fight will really begin.
"A Discover spokesperson said following the publication of the story that other payment network companies had already decided to implement the new code in April, and that Discover was following their lead," Reuters added of the credit card industry's adoption of the gun-specific MCC code.
Ultimately, the key to staying out of political conflicts over guns or any other transactions that authoritarians want to restrict is to use payment systems that don't require a third party's approval. Cash is always good. Cryptocurrency, despite its recent tribulations, may ultimately fill this role. Freedom can only survive if we are able to spend our money on things government officials don't like.