Goodbye and Good Riddance to Operation Choke Point
The Department of Justice says it's shutting down the dragnet program that targeted porn makers, payday lenders, gun shops, and other small businesses.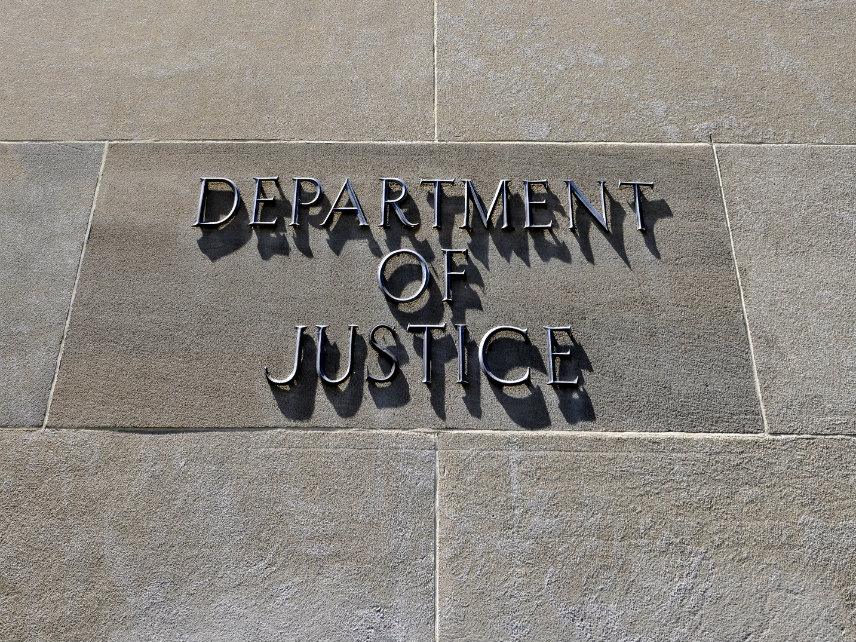 A financial dragnet that ensnared porn stars, gun dealers, payday lenders, and other politically disfavored small businesses has been shut down.
Operation Choke Point launched in 2012 as a joint effort between the Department of Justice (DOJ) and the Federal Deposit Insurance Corporation. (The Consumer Financial Protection Bureau would later get involved too.) It was supposed to be a crackdown on online payday lenders making loans into states where high-interest lending is illegal. It quickly morphed into a questionably constitutional attack on a wide range of entrepreneurs who found their assets frozen or their bank accounts closed because they were considered "high-risk" for fraud.
In a letter to Rep. Robert Goodlatte (R-Va.), chairman of the House Judiciary Committee, Assistant Attorney General Stephen Boyd called Operation Choke Point "a misguided initiative" and confirmed that DOJ was closing those investigations, Politico reported late Thursday night.
"Law abiding businesses should not be targeted simply for operating in an industry that a particular administration might disfavor," Boyd wrote. "All of the Department's bank investigations conducted as part of Operation Chokepoint are now over, the initiative is no longer in effect, and it will not be undertaken again."
If anything, Boyd is understating the degree to which Operation Choke Point was unlawful and just plain creepy.
The repudiation of Operation Choke Point is a welcome development, says Walter Olson, a senior fellow at the libertarian Cato Institute.
"It should serve as a warning that the government doesn't get to flag for banks—or businesses generally—which legal-but-suspect domestic customers it would like them to ostracize," Olson told Reason on Friday. "Those in power must refrain from signaling that they'd be pleased if certain categories of otherwise legal customer get cut off from their access to economic life."
Operation Choke Point began as an extension of the Obama administration's Financial Fraud Task Force, but the dragnet investigation was never given proper statutory authority by either the administration or Congress. In fact, details about Operation Choke Point were deliberately withheld from Congress at first, a fact The Wall Street Journal uncovered in 2013.
By labeling certain industries as being at a high risk for fraud, the feds were able to increase oversight requirements for some accounts to such a high level that it became unprofitable for banks to work with certain clients, explained Iain Murray, the Competitive Enterprise Institute's vice president of strategy, in a 2014 post at National Review Online.
As Murray pointed out, the Obama administration's own guidance document for the program included a list of industries targeted with greater scrutiny, including payday loans, credit repair services, fireworks, firearms, ammunition, "As Seen on TV" products, gambling, home-based charities, pornography, online pharmaceuticals, and sweepstakes. Targets of Operation Choke Point—such as porn star Teagan Presley, who was profiled by Vice News in 2014—often didn't have any idea why their bank accounts were being frozen or closed.
"The very premise is clearly chilling—the DOJ is coercing private businesses in an attempt to centrally engineer the American marketplace based on it's own politically biased moral judgment," wrote Reason's Elizabeth Nolan Brown in 2014.
Republicans have criticized Operation Choke Point for years. An ongoing congressional effort to reform the Consumer Financial Protection Bureau included a provision that would have reined in the operation.
There's no compelling reason for the government to stop individuals from engaging in the free exchange of goods and services based on nothing more concrete than the suspicion that some of those exchanges could be tainted by fraud. Operation Choke Point was a wide-ranging, illegal investigation that chose its targets for reasons grounded in little more than than officials' own sense of morality, and it's closure is a clear win for liberty.
Now, if only we could get DOJ to apply such level-headed, clear-eyed analysis to civil asset forfeiture.