Police Officer Who Kneeled on a 12-Year-Old Girl's Neck Faces a Federal Lawsuit
According to the suit, the officer "acted with malice or in reckless disregard of Jane Doe's federally protected rights."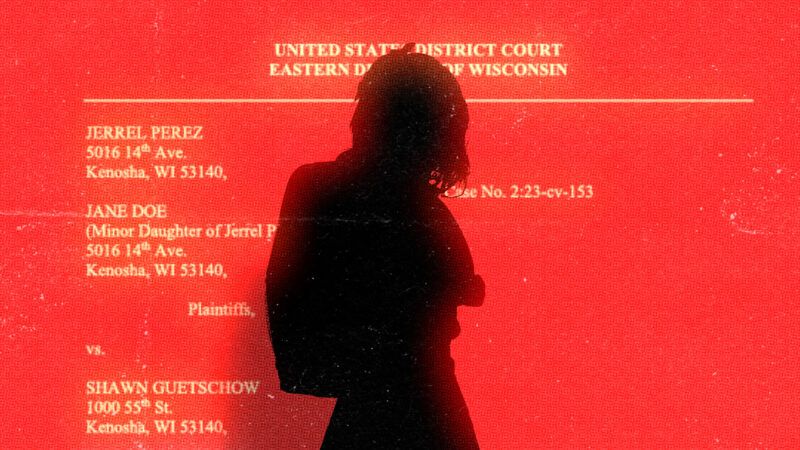 (Illustration: Lex Villena)
Last year, an off-duty police officer placed a 12-year-old girl in a prolonged, illegal chokehold while breaking up a fight at a Kenosha, Wisconsin, middle school. Now, the girl and her family are suing the officer, alleging that his actions constituted excessive force and unlawful arrest.
According to the lawsuit, filed Monday in the U.S. District Court of the Eastern District of Wisconsin, Shawn Guetschow, an off-duty Kenosha police officer working as a security guard at a local middle school, unlawfully restrained a 12-year-old girl while breaking up a fight that occurred last March. The complaint states that the sixth-grader—named only as Jane Doe—was acting in self-defense after being attacked by another student in the school's cafeteria. While attempting to break up the fight, Guetschow allegedly fell backward while holding onto Doe, hitting his head on a cafeteria table.
According to the complaint, Guetschow appeared to believe that the girl had caused his fall, leading him to retaliate. He "immediately gripped Jane Doe around her neck and positioned her on the floor in a prone position," placing his knee on the girl's neck and pushing her face into the floor. The suit further claims that "at various times, Guetschow repositioned himself in order to increase the amount of pressure that he was exerting against the back of Jane Doe's neck with his knee." Doe told Guetschow that she couldn't breathe but was ignored.
Eventually, Guetschow handcuffed the girl and arrested her—later urging his colleagues to press charges against the girl. While Doe was eventually charged with disorderly conduct, the lawyer for the girl's family, Drew DeVinney, told CNN that the issue was "resolved," and she was not convicted.
The complaint alleges that, due to the chokehold, Doe experienced a litany of injuries, including "a traumatic brain injury, cervical strain, and recurrent headaches." The incident also allegedly caused her to experience "mental trauma, and anxiety, including severe emotional distress, which has required Jane Doe to undergo mental health treatment and counselling and to change schools."
Ultimately, the complaint argues that Guetschow's actions constituted an illegal use of excessive force and unlawful arrest and, therefore, violated the girl's Fourth Amendment rights. "Shawn Guetschow's unreasonable and excessive use of force against Jane Doe was a cause of the injuries sustained by Jane Doe, including the violation of her constitutional rights, loss of liberty, past and future pain," the lawsuit states, adding that Guetschow "acted with malice or in reckless disregard of Jane Doe's federally protected rights."
The complaint also seeks to hold the local police department accountable for the incident, accusing it of being aware that Guetschow could become violent. "Guetschow's field performance [at a different police department] was marked as 'unacceptable' and he was described as 'emotional, panicked or loses their temper,'" the suit alleges. "The failure to adequately train and supervise off duty police officers, including Guetschow, caused Jane Doe injuries."
"She's humiliated, she's traumatized. Every day, I gotta hear 'daddy I don't want to go to school.' It breaks me because I wasn't there to help her," Jerrel Perez, the girl's father, said in a March press conference. "I want to see this officer get charged because if it was me or another parent or any adult that put their knee on a kid, that would be abuse."
It's unclear whether the lawsuit will be successful, particularly due to broad qualified immunity protections that largely shield police officers from accountability in civil rights cases. However, regardless of the outcome, the suit sends a clear message to the Kenosha Police Department—and any officers who might be inclined to use excessive force when breaking up schoolyard fights.
"This happened at a school," DeVinney said in a March press conference. "So let this be a learning opportunity to those responsible. If you commit an act of unlawful violence against one of our kids, the legal consequences will be steep."