San Francisco Passes Moratorium on Delivery Warehouses To Shake Down Amazon
City politicians and union activists have said the temporary ban on new delivery warehouses is meant to send a message that the company can't just open a new facility without first providing generous "community benefits."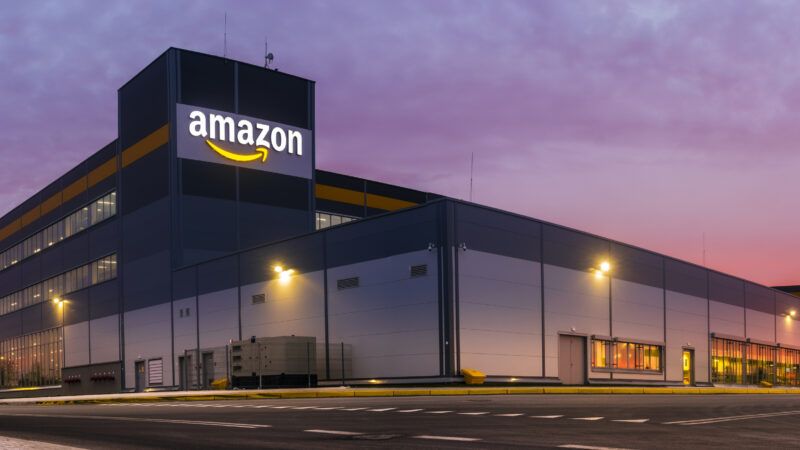 ( Mariusz Burcz/Dreamstime.com)
San Francisco's Board of Supervisors has passed a temporary ban on new package delivery facilities in an effort to shake down Amazon.
On Tuesday, the board voted unanimously to impose "interim zoning controls" for 18 months on parcel delivery services. Those interim controls will require new package delivery services to go through the city's conditional use authorization process—a long, expensive, and fraught prospect. The San Francisco Chronicle and San Francisco Standard both describe the ordinance as an 18-month "moratorium."
Amazon has been in the process of establishing a new 725,000 square foot distribution center in the city's Showplace Square neighborhood since late 2020. Neighboring residents and a nearby art school have consistently opposed the plan, citing the potential for more traffic and noise, as well as Amazon's record on safety and labor issues.
"The massive Amazon project will completely change the character of our neighborhood creating traffic congestion, safety issues, pollution, and low-paying jobs at a company hostile to worker rights," said one resident in a written public comment.
A coalition of trade unions—including the Teamsters, the United Commercial Food Workers, Service Employees International Union, and the Building Trades Council—have embraced the ordinance as well. They held an energetic rally outside City Hall yesterday before the vote.
The proponents of this moratorium on new delivery services are pretty blatant that the idea behind it is to shake down Amazon.
"If you are going to come into our neighborhoods you are going to talk to the people in the neighborhood. You are going to provide them with community benefits," said Shaman Walton, who introduced the moratorium bill, at yesterday's city hall rally, per the Chronicle.
Jim Araby of the United Food and Commercial Workers likewise said at yesterday's rally that "this legislation is the first step to make sure there is an actual process, that you can't just plop down a 700,000 square foot in the middle of a community and say we are going to buy you off with five dollars and an ice tea."
Long and protracted approval processes are a favorite tool of organized labor and neighborhood activists to extract concessions from project sponsors.
Unions' ability to delay these proceedings with frivolous appeals and lawsuits gives them the leverage necessary to force developers to hire all-union labor. Neighborhood groups will do the same in pursuit of developer-provided "community benefits"—whether that's a new park, new community space, or a $1 million cash payment.
Araby, the union rep, told the local Potrero View that the jobs at the planned Amazon facility "should be union jobs, not only when it's built, but when it's operated."
San Francisco's typical approval process is already pretty long and protracted. It gives ample room for third parties to delay things with an eye toward extracting concessions.
The 18-month moratorium slows things down even more. It seems to be an attempt by the Board of Supervisors to prevent other organs of the city's government from being too welcoming to Amazon.
When introducing the moratorium bill at a February Board of Supervisors meeting, Walton complained of being blindsided by the city's Office of Economic and Workforce Development (OEWD)—which had already signed a memorandum of understanding (MOU) with Amazon about its plans for the Showplace Square site.
"I had no idea that the Office of Economic and Workforce Development had signed an MOU with the company in District 10 until right before it was reported in the news," he said. "At least the OEWD could have reached out to our office to have a courtesy conversation."
"It just feels a little janky," Supervisor Aaron Peskin told the Standard of the MOU back in January. "Because, basically, it's a sign that labor, and traffic, and environmental impacts to brick-and-mortar businesses are all being ignored and Amazon is being embraced."
The irony is that Amazon only came into possession of its Showplace Square site because of San Francisco's intensive approval process for new development, and the power it gives project opponents to gum things up.
The previous owner of the site, Recology, had pursued plans to convert its trash hauling facility into 1,000 units of new housing. Neighbors vocally opposed that plan, arguing that doing so would forfeit an industrial-zoned site that could be used by locally owned auto repair shops and smaller manufacturers.
"Facing an uphill approval process that was likely to drag on three or four years, not including delays from environmental lawsuits common in San Francisco, the rubbish company gave up and sold the 6-acre site to Amazon in 2020," reports the Chronicle.
Now Amazon is trying to use that industrial site for a distribution center while local activists complain that would be out-of-step with the increasingly residential character of the neighborhood. The solution city politicians appear to have settled with is to layer more process onto whatever development happens at the site.
This is hardly the first time that San Francisco's efforts to preserve small business through its zoning code has backfired. The city restrictions on chain retail, meant to prevent Starbucks from taking over town, also tripped up plans for a local, family-owned burrito chain from opening another location.
One would think that this series of regulatory own-goals might convince city politicians, community activists, and organized labor to give up on micromanaging zoning rules. Instead, they seem more determined than ever to fight every development block by block.