Are Josh Hawley and Ted Cruz Ignorant About Child Porn Penalties or Just Demagogic?
Even if the senators are genuinely confused, that underlines the recklessness of their attack on Ketanji Brown Jackson.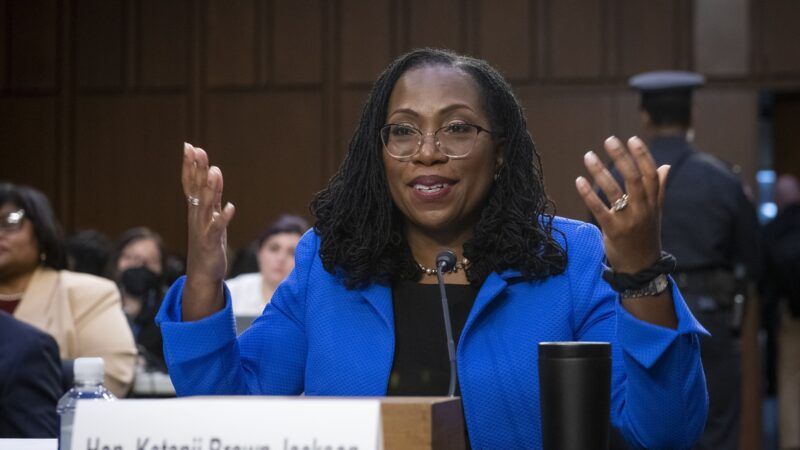 Responding to Republican criticism of her sentencing decisions in child pornography cases, Supreme Court nominee Ketanji Brown Jackson has patiently explained two things her interlocutors already should have known. First, the current federal sentencing scheme for people convicted of possessing or sharing child pornography is a mess—a point that the bipartisan U.S. Sentencing Commission (USSC), joined by federal judges across the country, has been making for more than a decade. Second, a judge's job at sentencing is not to blindly obey federal guidelines or to rubber-stamp the prosecution's recommendation but to make an independent assessment of what penalty is just given the details of the case.
To some extent, the ignorance of Jackson's leading Republican critics is clearly feigned. Sens. Josh Hawley (R–Mo.) and Ted Cruz (R–Texas) are both attorneys who, like Jackson, graduated from Ivy League law schools (Yale and Harvard, respectively) and clerked for Supreme Court justices. Hawley, who has been a senator for three years, was previously Missouri's attorney general. Cruz, who has been a senator for nine years, was previously solicitor general of Texas.
Both senators presumably understand that imposing a prison sentence shorter than prosecutors sought does not necessarily show a judge is especially lenient, although both are pretending otherwise. Both likewise must recognize the important distinction they seem determined to obscure: between defendants convicted of sexually abusing children, including those charged with producing child pornography, and defendants convicted of looking at the resulting images.
Hawley nevertheless describes the latter category of defendants as "child predators" and "sex criminals" who are "preying on children," while Cruz describes them as "sexual predators." Based on that sort of deliberate obfuscation, Andrew C. McCarthy, a former federal prosecutor who writes for National Review, concluded that Hawley's attack on Jackson was "disingenuous," "a smear," and "meritless to the point of demagoguery."
But there is also evidence that Hawley and Cruz don't know much about the subject on which they are opining. "Senator Hawley is a bright guy," McCarthy writes, "but if he ever handled a child-pornography case in the brief time he spent as a practicing lawyer before he sought public office, that is not apparent. Nor does it appear, from the admittedly sparse research that I've done, that child pornography was a priority of the Missouri Attorney General's Office during Hawley's two-year stint as AG."
McCarthy, by contrast, had extensive experience with such cases as an assistant U.S. attorney in New York. He describes the challenges posed by mandatory minimum sentences based on technologically obsolete distinctions.
Under federal law, receiving child pornography triggers a five-year mandatory minimum, while possessing child pornography does not, even though it amounts to the same thing for defendants who view or download online images. Distributing child pornography, including noncommercial sharing through peer-to-peer software or other means, is subject to the same mandatory minimum.
"The receipt and distribution sentencing provisions are so heavy-handed," McCarthy explains, "that judges and lawyers end up engaging in the unsavory practice of 'fact-pleading'—i.e., ignoring facts that suggest the defendant was up to more than simple possession in order to avoid triggering the mandatory minimum. That is an abuse of process, but it allows for a reasonable sentence, which may well be a non-prison sentence, with the proviso that it could turn into prison if the offender recidivates."
While "I do not exactly have a reputation for being soft on crime" and "would have no qualms if Congress imposed a sentence of life imprisonment for real sex offenders who prey on children," McCarthy says, "the required five-year sentence we're talking about is too harsh." That mandatory minimum, he notes, is harsher than the sentences that were authorized in terrorism cases he handled and about the same as the sentence received by "a Mafia boss" under a plea deal in a racketeering case, which "made no sense."
In child pornography cases, McCarthy says, "it often turned out that the culprit was a kid who wasn't much older than the children depicted in the porn." His office generally "did not prosecute minors federally except for serious violent crimes." That meant that "if the offender was a day short of his 18th birthday, we would drop the case; but if it was a day later, and we took the case, he'd be looking at a mandatory-minimum sentence of several years' imprisonment," which was "insanity."
Whether or not the mandatory minimum applies, the penalties recommended by the sentencing guidelines are based on congressionally prescribed "enhancements" that cover nearly all defendants caught with child pornography. Additional punishment hinges on things like use of a computer, which is ubiquitous, and the number of images involved, with each video counting as 75 images.
As Jackson explained at her confirmation hearing today, the latter factor, although frequently emphasized by prosecutors, does not necessarily correspond to the seriousness of a defendant's conduct. Judges aim to "do justice in the terrible circumstances by eliminating unwarranted disparities" and by "ensuring that the most serious defendants get the longest periods of time," she said. "When modes of commission of the crime change, such that in two seconds someone can receive or distribute thousands of images, that is no longer…an indicator of a person who, relative to other people, has committed this crime in a more aggravated way. What we are trying to do is be rational in our dealings with some of the most horrible kinds of behavior. This is what our justice system is about. It is about judges making determinations in handing out penalties to people who have done terrible things."
Before the internet became the primary way to obtain child pornography, Jackson noted, people with a large number of pictures might have collected them by mail over "a long period of time," possibly "one photo at a time," a pattern of persistent and determined behavior that "showed really aggravated, terrible conduct." While "it is all terrible," she said, "we are differentiating among defendants." And "on the internet, with one click, you can receive [or] distribute tens of thousands" of pictures. "You can be doing this for 15 minutes," she added, "and all of a sudden, you are looking at 30, 40, 50 years in prison."
Because of enhancements like that, Jackson said, the guidelines are "not consistent with how these crimes are committed and therefore there's extreme disparity." Under the current system, someone who views, possesses, or shares child pornography can be sent to federal prison for two decades, while someone else who does the same thing might receive probation or a sentence of less than a year. That situation is hard to reconcile with anyone's idea of justice.
In a 2012 report to Congress, the USSC noted that "the current sentencing scheme results in overly severe guideline ranges for some offenders based on outdated and disproportionate enhancements." In 2021, the commission reported that "most courts believe" the sentencing scheme for nonproduction cases "is generally too severe and does not appropriately measure offender culpability in the typical non-production child pornography case." That view is reflected in the fact that most defendants in such cases (59 percent in fiscal year 2019) receive sentences below the guideline range.
Douglas Berman, a sentencing expert at Moritz College of Law, notes that "Judge Jackson's record of imposing below-guideline CP sentences is quite mainstream." In a letter they sent to the Senate Judiciary Committee on Monday, nine retired federal judges, including two who were nominated by Republicans, agreed with Berman's assessment.
"Judge Jackson's record—both as a Commissioner on the United States Sentencing Commission and as a judge on the District Court for the District of Columbia—is entirely consistent with the record of other district court judges across the country (appointed by presidents of both parties) as well as with the position of the Department of Justice," the former judges write. "Judge Ketanji Brown Jackson's record in individual cases is entirely consistent with the nationwide patterns described by the U.S. Sentencing Commission, and what the DOJ prosecutors or U.S. court probation departments have recommended." They add that "to the extent she departed, it was well within the mainstream of what other judges"—"appointed by both Republicans and Democrats"—"were doing nationwide."
If we take Hawley at his word, all of this is news to him. "Some have said that the federal sentencing guidelines are too harsh on child sex crimes, especially child pornography," he said during his opening statement at Jackson's hearing on Monday. "I've heard that argument a lot in recent days….I can't say that I agree with that. The amount of child pornography in circulation has absolutely exploded in recent years."
Hawley made it sound as if he was unfamiliar with the longstanding, widespread, bipartisan criticism of federal penalties for nonproduction child pornography offenses until after he launched his attack on Jackson last week. If so, Hawley was remarkably incurious.
Hawley's indictment of Jackson included the fact that, as a member of the USSC, she "advocated for drastic change in how the law treats sex offenders by eliminating the existing mandatory minimum sentences for child porn." He neglected to mention that the rest of the commission, including the Republican members, agreed with her critique of "the existing mandatory minimum sentences."
The USSC's 2012 report recommended that Congress "amend the statutory scheme to align the penalties for receipt and possession offenses." While members disagreed about whether any mandatory minimum should be retained for nonproduction offenses, they "unanimously" agreed that if Congress decided to do so, "that statutory minimum should be less than five years."
Maybe Hawley honestly did not know about that 10-year-old recommendation. But even if his confusion was sincere, that hardly excuses him for failing to research the subject before accusing Jackson of being soft on "child predators." And even after he was clearly aware of the arguments against the current penalty scheme, he was unable to rebut them. As a reason for rejecting the widely held position that current penalties are "too harsh," he cited "the amount of child pornography in circulation," which has absolutely nothing to do with determining a just sentence for a particular defendant.
"I take these cases very seriously as a mother, as someone who, as a judge, has to review actual evidence in these cases and, based on Congress's requirements, take into account not only the sentencing guidelines, not only the recommendations of the parties, but also things like the stories of the victims," Jackson said yesterday. "Also things like the nature and circumstances of the offense, the history and characteristics of the defendant….Judges have to take into account the personal circumstances of the defendant because that's a requirement of Congress."
As Hawley originally presented his case against Jackson, all that mattered was that Jackson had imposed sentences below the ranges recommended by the guidelines, without regard to whether those recommendations made any sense. As Cruz refined the critique yesterday, all that mattered was that Jackson had imposed sentences shorter than the ones recommended by prosecutors (which are themselves often less severe than the guideline sentences). When Jackson pointed out that judges also are obliged to consider recommendations from the federal probation office, based on a detailed assessment of the defendant and his conduct, Cruz confessed that he had not seen those.
"We don't have those," Cruz said. "The committee has not been given the probation officers' recommendation. We would welcome them."
A Washington Post analysis published last week found that Jackson "met or exceeded the probation recommendation" in four of the seven cases that Hawley had cited as evidence of her supposedly unusual lenience. In one case, Jackson's sentence was within the guideline range. In two cases, her sentences were less severe than the probation office recommended but still more severe than what the defense requested. "In other words," the Post reported, "only in two of the seven cases cited by Hawley did Jackson render a sentence that was below the probation office's recommendation."
If the Post was able to obtain this information last week, surely staffers working for Hawley or Cruz could have done so as well. The fact that they did not underlines how reckless and demagogic the attack on Jackson was.