Loudmouthed NYPD Union Head Resigns Amid FBI Probe
Ed Mullins is innocent until proven guilty—a distinction he often didn't extend to others.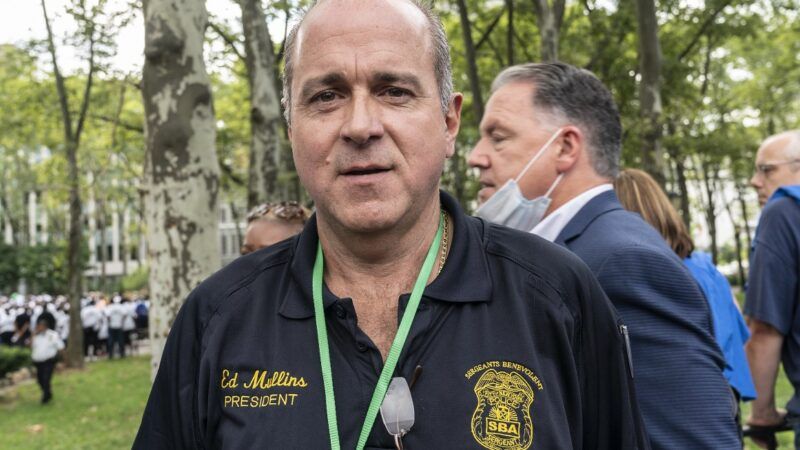 Ed Mullins, the "bombastic" and "controversial" (adjectives chosen by the New York Post) head of New York Police Department's Sergeants Benevolent Association (SBA), resigned from his leadership position following an FBI raid of the union's office and Mullins' home Tuesday.
The FBI is, as is typical, is staying mum, but the Post reports via sources that Mullins is being investigated for possible wire fraud and misappropriation of union funds.
Mullins, of course, is innocent until proven guilty—heck, he hasn't even been charged with any crimes yet! But the reason the Post uses words like "bombastic" and "controversial" is because Mullins has a reputation for not just defending all sorts of terrible police behavior but lamenting the very idea of treating citizens as human beings that have innate rights to be protected from police violence.
The Twitter account for the SBA, operated by Mullins, was frequently used by him to spout off harshly against policies he didn't like, which in one instance included the Fourth Amendment. In 2018, when the Twitter account for New York City's Civilian Complaint Review Board tweeted out a reminder that the Fourth Amendment protects citizens from "unreasonable searches and seizures" and encouraged citizens to file a complaint if their rights have been violated, Mullins raged in his response:
You are all a disgrace. You sit on your ass and target the NYPD all while growing up on the nipple of what's easy. You have no clue what a NYPD officer does yet target us and disparage our integrity. One day you will dial 911 when evil is at your door and thank god for the NYPD. https://t.co/8I00FD7hny

— SBA (@SBANYPD) May 5, 2018
Perhaps he was still feeling a bit testy about New York City's "stop and frisk" policing tactics being ruled unconstitutional back in 2013.
Mullins was also very much not on board with the decriminalization and then full legalization of marijuana. Back in 2014, Mullins complained when Mayor Bill de Blasio tried to pull back on marijuana arrests in New York City that it represented "the beginning of the breakdown of civilized society."
New York City would, indeed, start following the trend of most other American cities and cut back on marijuana arrests, and the state finally legalized it earlier this year. To the extent that civilized society has broken down, it certainly is not due to marijuana use. Nevertheless, Mullins' responses to these shifts included more whining on Twitter that he couldn't just arrest people he saw smoking marijuana in public.
Mullins also tweeted out an unredacted arrest report for de Blasio's daughter when she was arrested for allegedly blocking traffic during police reform protests last year. Twitter pulled down the post for violating policies about revealing private information that can be used to locate people. Mullins faces disciplinary charges for releasing that information, as well as for other offensive tweets, including one calling a health commissioner a "bitch" and one calling a City Council member a "first class whore" (and not as a compliment).
Mullins may be out as the head of the SBA, but he is still a sergeant in the New York Police Department. That could change if he's actually charged with a crime, but those who follow police disciplinary procedures in New York City know it could also drag out for years. Of course, the police unions themselves are responsible for making it extremely hard for the NYPD to toss its bad apples. But if Mullins is actually misappropriating union funds, don't be surprised if the force doesn't rally to his defense.
But hey, even if he is charged and convicted, he'll probably get to keep his fat police pension, so weep not for Mullins' future.