Off-Duty Cop Pulls Gun on Man Buying Mentos; Police Union Condemns Fourth Amendment
Not a good weekend for relationships between officers and citizens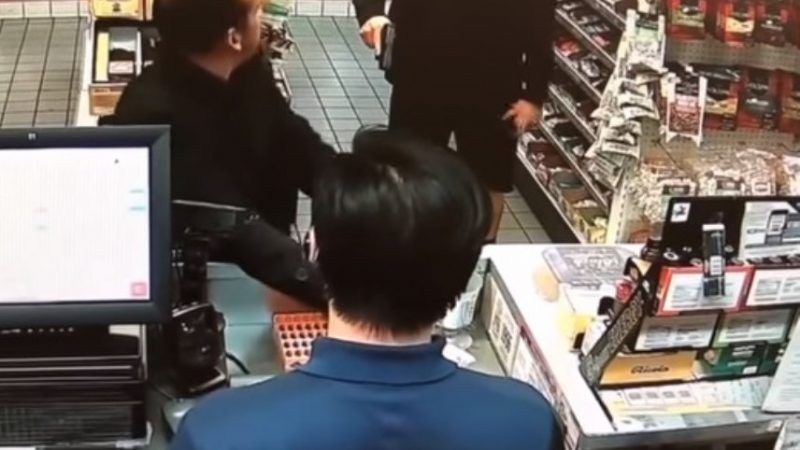 Two weekend stories from both sides of the country demonstrate the generally screwed-up relationship some members of the law enforcement community have with the citizenry.
First: It's hard to fathom what was going on in the mind of an off-duty Buena Park, California, cop when he decided to pull out his gun after mistakenly thinking a man was shoplifting a pack of Mentos. The man, Jose Arreola, had paid for them. The officer missed the exchange of money and only saw Arreola grabbing the mints and pocketing them and jumped to the wrong assumption.
The incident happened in March, but apparently is just now being publicized as Arreola retains a lawyer and is demanding compensation. Here's the video:
Though the police wouldn't comment on the story, the Buena Park Police Department posted a note from Chief Corey Sianez on Facebook:
The video of the incident clearly shows our officer drawing his gun, but not pointing it, at a subject he allegedly believed was committing a theft inside the mini-mart of a Chevron gas station in Buena Park. We were aware of this incident after it occurred and we immediately began conducting an administrative investigation into the conduct of the officer involved. The complainant also filed a formal complaint against the officer alleging misconduct and also retained an attorney. I want you to know that after I watched the video I found it to be disturbing, as I'm sure it was to you. However, because there is an ongoing personnel investigation and potential litigation pending against the city, I am unable to discuss the details of our investigation. I can definitely assure you that our investigation will be thorough and if the officer is found to be in violation of any policies and procedures, he will be held accountable. Thank you for your patience and understanding.
This response is notable for what it leaves out. Sianez blames his silence on the investigation and "potential litigation." But even after all this is over, Arreola and the citizens of Buena Park probably won't get any answers about this still-unidentified cop's behavior. California state law deliberately conceals information from the public about police misconduct and what discipline officers face. As the law currently stands, we'll probably never know what the authorities do about a cop who pulls his gun out because he thought he saw somebody steal mints.
There's a bill in the state Senate in California to make public some investigation and discipline records involving police conduct, but it focuses on cases of actual use of force and gun discharges. So even if that legislation were enacted, Buena Park citizens concerned about this behavior probably wouldn't get any answers.
Second: In New York City, a police union president's over-the-top reply to another New York agency is less violent but probably no less disturbing. As an amusing way to connect with annual May the Fourth Star Wars cultural celebration, the city's Civilian Complaint Review Board tweeted this:
#MayTheFourth Amendment protect you from unreasonable searches and seizures. And if you feel your rights have been violated by an NYPD officer, file a complaint here: https://t.co/85crBmm5PG pic.twitter.com/dD7vumSaux

— NYC CCRB (@CCRB_NYC) May 4, 2018
Silly, but there was a whole host of tweets Friday trying to tap into the "May the Fourth" cultural moment. It was on point. Less focused was this absurdly furious response by the Twitter account of New York Police Department Sergeant Benevolent Association (SBA) President Ed Mullins:
You are all a disgrace. You sit on your ass and target the NYPD all while growing up on the nipple of what's easy. You have no clue what a NYPD officer does yet target us and disparage our integrity. One day you will dial 911 when evil is at your door and thank god for the NYPD. https://t.co/8I00FD7hny

— SBA (@SBANYPD) May 5, 2018
So apparently just telling people how to file a complaint if they feel as though the police have violated their constitutional rights is too much disrespect for the SBA.
This is far from the first time we've seen such a bonkers over-the-top response from SBA. They're the ones responsible for a video last year that went viral for all the wrong reasons, suggesting that criticism of the police is a form of "blue racism" in a video that misquoted Martin Luther King Jr.'s "I Have Dream" speech. I noted back then that they appeared to be objecting to a police sergeant even having to face trial for shooting a mentally ill woman in Bronx. (A judge acquitted the officer in February, and he has returned to work.)
The tone of the tweet here is similar. The SBA seems to object to the very existence of a process to hold officers accountable if they violate a citizen's constitutional rights.
This blog post has been corrected to note that a judge acquitted the NYPD officer charged with shooting a mentally ill woman.