A.G. Merrick Garland Tells FBI To Investigate Parents Who Yell at School Officials About Critical Race Theory
School boards want some perturbed parents branded domestic terrorists.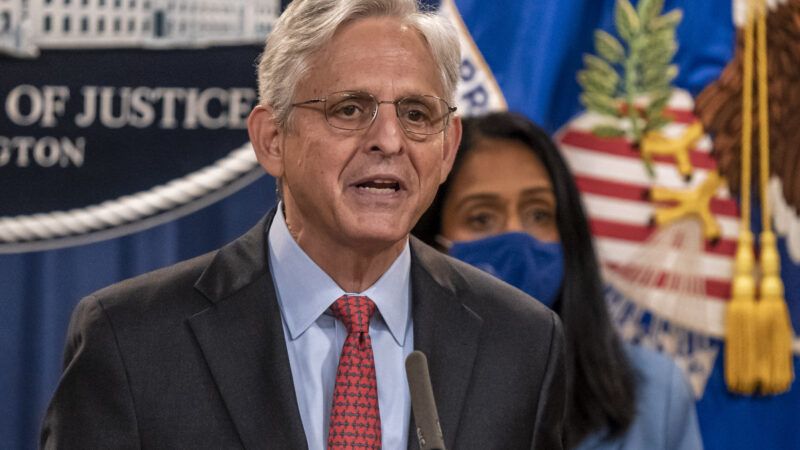 Taking note of a supposed "spike" in harassment and intimidating behavior directed at public school officials, Attorney General Merrick Garland has instructed the FBI to be on the lookout for angry parents demanding accountability at school board meetings.
On Monday, Garland sent a memo to the federal law enforcement agency directing it to coordinate with the nation's 14,000 school districts. This action comes after the Biden administration received a plea from the National School Boards Association (NSBA) to protect schools from the "imminent threat" of parents sending "threatening letters and cyberbullying" school officials. The association considers such activities to be akin to "domestic terrorism."
"As these acts of malice, violence, and threats against public school officials have increased, the classification of these heinous actions could be the equivalent to a form of domestic terrorism and hate crimes," wrote the NSBA.
Has some great number of teachers, principals, and district leaders come under violent attack? Of course not. What both the Justice Department and the concerned school boards are really talking about it is the increased number of recent community meetings that have featured angry feedback from parents. These parents are sick of COVID-19 mitigation efforts that have relegated actual students to afterthought status within the education department: the farce of virtual learning, mandatory closure when asymptomatic cases are detected, ceaseless masking. Young people who have the least to fear from the pandemic—the severe disease and death rate for the under-18 crowd is extremely low—have been forced to make tremendous educational and social sacrifices to bend the curve of COVID-19. Families are fed up with a public education system that puts the needs of students last, and they are speaking up about it.
Many parents are also increasingly concerned about the curriculum in their schools. Garland's memo garnered widespread attention in conservative media circles yesterday after it was shared on Twitter by Christopher Rufo, a senior fellow at the Manhattan Institute who works to expose what he has termed "critical race theory." As I wrote previously, whether or not CRT is literally being taught in many K-12 schools hinges in part on a semantics argument. CRT, the obscure academic theory positing that the structures of U.S. society are racist to their core—and thus it is impossible to separate or ignore racism when confronting other issues—is not exactly sweeping U.S. kindergartens; but CRT—the tendency to reduce individuals to crude racial stereotypes that is pushed by divisive and misguided anti-whiteness gurus like Robin DiAngelo and Ibram X. Kendi—has certainly become an important component of corporate and university diversity training, and is, to some extent, trickling down to K-12 instruction.
Parents should be forgiven for not wanting their kids to be taught from the perspective that "objectivism," "individuality," and "a sense of urgency," are aspects of whiteness, and that black students struggle to think analytically for racial and cultural reasons. These are racist assumptions; they are false, and they do not belong in schools. Yet they were elements of "Characteristics of White Supremacy Culture," an instructional document that has drawn plenty of citations in educational settings. To the extent that the phrase critical race theory is shorthand for this sort of thing, the outrage about it seems justified.
But even if it were not, parents should still enjoy the right to speak up at school board meanings and demand a say in their children's education. Virginia Gov. Terry McAuliffe, a Democrat, recently lashed out at anti-CRT efforts, asserting that "I don't think parents should be telling schools what they should teach."
He must have forgotten that the public school system is supposed to serve the needs of families, and not the other way around. Direct meddling in the day-to-day teaching decisions of teachers can be burdensome and counterproductive, but these parents aren't monitoring the classrooms: They're showing up to public meetings to exercise their First Amendment rights and participate in the democratic process of managing a public institution. And they often encounter furious resistance from public officials, who have turned off microphones, ended comment periods early, and occasionally mocked parents behind their backs.
It's true that some school board meetings have turned raucous, and undoubtedly there are examples of parents overreacting, or even engaging in harassment. But there's no evidence whatsoever that this represents some great danger necessitating the involvement of the FBI.