By Openly Defying the Texas Abortion Ban, a Physician Invites a Lawsuit That Will Make Constitutional Objections Unavoidable
Alan Braid says he broke the law, which prohibits the vast majority of abortions, to make sure it would be tested in court.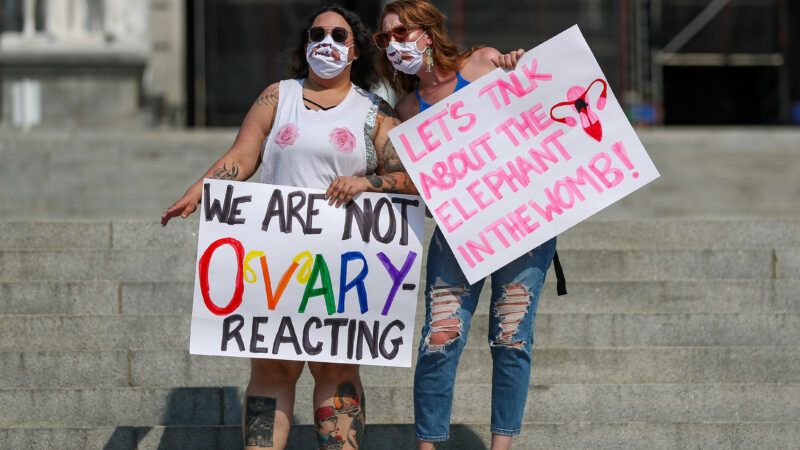 (Paul Weaver/Zuma Press/Newscom)
Opponents of the new Texas abortion ban have had trouble identifying defendants they can sue to prevent enforcement of the law, which relies on private civil actions to deter the conduct it forbids. Now a Texas physician is inviting such a lawsuit by announcing that he defied the ban—a move that could finally make it possible to challenge the constitutionality of S.B. 8, which is plainly inconsistent with the Supreme Court's abortion precedents.
S.B. 8 prohibits abortion after fetal cardiac activity can be detected, which typically happens around six weeks into a pregnancy, before many women realize they are pregnant. The abortion providers and abortion rights supporters who challenged the law in Whole Woman's Health v. Jackson estimated that it would affect at least 85 percent of Texas women seeking abortions. But in an attempt to frustrate pre-enforcement challenges, the law bars state and local officials from implementing its terms, instead authorizing "any person" to sue "any person" who performs a prohibited procedure, "aids or abets" it, or "intends" to do so.
The U.S. Court of Appeals for the 5th Circuit recently ruled that the Texas officials named as defendants in Whole Woman's Health v. Jackson lacked the "enforcement connection" necessary to justify such a challenge—a conclusion that also poses a formidable obstacle to United States v. Texas, the Justice Department lawsuit seeking an injunction to block enforcement of S.B. 8. The 5th Circuit noted, however, that Texas judges who hear the civil actions authorized by the law would be obligated to consider constitutional objections to it.
San Antonio gynecologist Alan Braid, whose abortion clinics joined the other plaintiffs in Whole Woman's Health v. Jackson, could trigger such a case by revealing that he deliberately violated S.B. 8. "On the morning of Sept. 6," he writes in a Washington Post opinion piece published on Saturday, "I provided an abortion to a woman who, though still in her first trimester, was beyond the state's new limit. I acted because I had a duty of care to this patient, as I do for all patients, and because she has a fundamental right to receive this care. I fully understood that there could be legal consequences—but I wanted to make sure that Texas didn't get away with its bid to prevent this blatantly unconstitutional law from being tested."
As Braid notes, S.B. 8 has dramatically reduced access to abortion in Texas, since the threat of litigation has led clinics to curtail their services, forcing women to travel out of state for banned abortions, assuming they can afford the time and expense that requires. He describes one 42-year-old patient who already has "four kids, three under 12," but was too far along to qualify for a legal abortion in Texas. "I advised her that she could go to Oklahoma," he says. "That's a nine-hour drive one way. I explained we could help with the funding. She told me she couldn't go even if we flew her in a private jet. 'Who's going to take care of my kids?' she asked me. 'What about my job? I can't miss work.'"
Multiply that situation many times, and you can see that S.B. has had its intended effect even without producing a single lawsuit against someone who performs or facilitates a prohibited abortion. The threat of such litigation is especially daunting because S.B. 8 limits the defenses available to the targets of the lawsuits it allows and prevents them from recovering their legal expenses even if they nevertheless manage to win. Prevailing plaintiffs, meanwhile, are promised at least $10,000 in "statutory damages" per abortion, plus compensation for attorney's fees, and they need not allege any personal injury to bring a case.
Those incentives suggest that someone is bound to sue Braid, a decision that will ultimately replace S.B. 8's chilling effect with a ruling that the law is inconsistent with the right to abortion that the Supreme Court has said is guaranteed by the Constitution. According to the Court's 1992 ruling in Planned Parenthood v. Casey, which retained the "central holding" of its 1973 decision in Roe v. Wade, state laws are unconstitutional when they have "the purpose or effect of placing a substantial obstacle in the path of a woman seeking an abortion of a nonviable fetus"—a description that clearly applies to S.B. 8.
When the Court declined to intervene in Whole Woman's Health v. Jackson earlier this month, it cited the "complex and novel antecedent procedural questions" that the 5th Circuit later addressed. But once a private party sues Braid, the constitutional issues raised by S.B. 8 will be unavoidable. The only way to uphold the law will be to renounce Roe v. Wade and its progeny. Although most of the current justices seem to disagree with those precedents, that does not necessarily mean they are prepared to abandon half a century of jurisprudence, along with all the expectations built on it, in one fell swoop.
Update: Oscar Stilley, who describes himself as a "disbarred and disgraced former Arkansas lawyer," filed an S.B. 8 complaint against Braid on Monday in Bexar County, which includes San Antonio. Stilley, who is serving a 15-year federal sentence for tax fraud that he received in 2010, told The Washington Post his interest had been piqued by the $10,000 bounty and news coverage of Braid's stance. Stilley said he is not opposed to abortion but thought the law should be tested in court. "If the law is no good," he said, "why should we have to go through a long, drawn-out process to find out if it's garbage?"