Why Is This Beer Banned in 15 States?
Plus: Doctor admits to breaking Texas abortion law, why child care centers can't find workers, and more...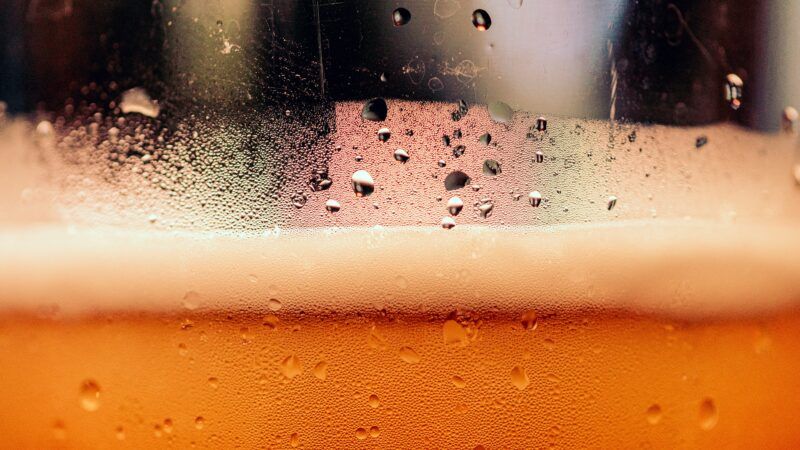 A special edition Samuel Adams beer is helping to highlight silly state alcohol restrictions. Each fall, Samuel Adams puts out a new "Utopias" beer, with this year's set to be released on October 11. The 2021 Samuel Adams Utopias clocks in at 28 percent alcohol by volume (ABV)—making it illegal in 15 states.
"If you live in Alabama, Arkansas, Georgia, Idaho, Missouri, Mississippi, Montana, North Carolina, New Hampshire, Oklahoma, Oregon, South Carolina, Utah, Vermont and West Virginia, don't even look. Utopias is illegal in those states because of its high alcohol content," according to the Samuel Adams website.
Your typical beer used to clock in around or under 5 percent ABV. But recent years have seen an explosion of craft beers—especially India pale ales—with 6, 7, or even 8 percent ABV, and many companies rolling out even higher-alcohol-content brews. (For comparison, wine tends to have an ABV around 11 or 12 percent, and spirits above 40 percent.)
Many states have ABV-based rules around where alcohol can be sold. For instance, in Mississippi, only beer at 5 percent ABV and under can be sold in grocery and convenience stores, though beer up to 10 percent ABV can be sold in specialty stores. In Ohio, liquor at more than 21 percent ABV can only be sold in liquor stores, though groceries and other stores can sell lower ABV spirits and liqueurs.
In addition, many states outright ban beer above a certain ABV, even though it's perfectly legal to buy wine or spirits at that alcohol level.
"Such laws are largely holdovers from the demise of Prohibition, when states, concerned about the return of legal alcohol, imposed their own piecemeal restrictions as checks on drunkenness and alcoholism," explained The Week a few years ago. "Like many blue laws, they've since sat on the books, growing dusty, outdated, and forgotten. That is, until the recent craft beer explosion."
The good news is that a number of states have been responding to market forces and raising their limits for beer ABV. It's a trend that began in the '00s. "Montana raised its limit to 14 percent in 2008, while Vermont upped its cap to 16 percent," notes The Week. "Alabama and West Virginia followed suit one year later, increasing their ABV limits to 13.9 percent and 12 percent, respectively, from 6 percent."
In recent years, this trend has grown, with more states loosening ABV restrictions by locale or overall and some, like West Virginia, pushing them even higher. In 2019, West Virginia moved its ABV limit up to 15 percent.
Utah in 2019 finally let go of its rule requiring a limit of 4 percent ABV (or 3.2 percent alcohol by weight) for beers sold in grocery and convenience stores—though nonstate stores are still limited to selling 5 percent ABV beer. Kansas dismissed a similar rule back in 2017, allowing beer up to 6 percent ABV to be sold outside specialty stores. Minnesota now remains the only state where such a law is in place.
In 2017, Tennessee raised its overall beer ABV limit from about 6.2 percent to around 10.1 percent.
In 2016, Ohio said beer could go above 12 percent ABV so long as it's labeled "high alcohol beer."
But unlike Ohio, a number of states still cap their beer ABV limits in the mid-teens range no matter what sort of labeling it has.
This is especially true in the South. In Georgia, for instance, the ABV cap for beer is 14 percent. In North Carolina, it's 15 percent and in South Carolina, it's 17.5 percent.
---
FOLLOW-UP
A Texas abortion doctor seems to be inviting lawsuits against him, by very publicly announcing that he performed an abortion in violation of the new state law. The Supreme Court recently declined to block the law, on the grounds that a preenforcement challenge to it didn't fly. So the doc's admission could be a way to spur legal action that would allow the constitutionality of the law to be considered.
"On the morning of Sept. 6, I provided an abortion to a woman who, though still in her first trimester, was beyond the state's new limit," writes Alan Braid in The Washington Post. "I acted because I had a duty of care to this patient, as I do for all patients, and because she has a fundamental right to receive this care. I fully understood that there could be legal consequences — but I wanted to make sure that Texas didn't get away with its bid to prevent this blatantly unconstitutional law from being tested."
"I understand that by providing an abortion beyond the new legal limit, I am taking a personal risk, but it's something I believe in strongly. Represented by the Center for Reproductive Rights, my clinics are among the plaintiffs in an ongoing federal lawsuit to stop S.B. 8," he points out. More here.
---
FREE MINDS
This is chilling. A Chinese student studying in Canada shared just three posts on Twitter — using a fake name and location — critical of Xi Jinping and government corruption. He had two followers. And then the police started contacting him and his family. https://t.co/gs32JeIg3H pic.twitter.com/l1CTZ1fR2o

— Sarah McLaughlin (@sarahemclaugh) September 19, 2021
---
FREE MARKETS
Child care worker shortage stems from strict regulations, state sloth. The Washington Post details a disturbing situation in U.S. child care. "The child-care services industry is still down 126,700 workers — more than a 10 percent decline from pre-pandemic levels, Labor Department data shows. While many industries complain they can't find enough workers, the hiring situation is more dire in child-care than in restaurants right now." Workers are quitting, or simply not returning, citing low pay and benefits. ("The pay is absolute crap for what's required for the position," one former child care worker, Tanzie Roberts, told the Post. "I can't afford to live on my own and work the child-care jobs that I am qualified for.")
Unable to find staff, many centers are shutting down or contemplating it. At the root of this conundrum may be the stringent regulations placed on day cares and other child care facilities.
"The reason child-care centers pay less than service sector jobs is tied to their business model. Staffing costs are by far the biggest budget item because many must abide by local laws that mandate one caregiver per three to five kids, depending on their ages and the area of the country," reports the Post. "Child-care labor costs can be as much as 50 to 60 percent of a day care budget, according to a Treasury report. By contrast, restaurant labor costs tend to be about 30 percent of their budgets."
"Another problem that child-care providers cite in hiring is increased difficulty in obtaining the necessary criminal background checks for workers during the pandemic, especially from state government offices," the Post says. "Some states have been especially slow to release background checks during the pandemic, numerous child-care directors and advocates told Post."
Strangely, a lot of the folks cited in the article (and the article itself) call for more government subsidies and involvement in the industry in order to save it. But isn't that only guaranteed to raise regulations, obstacles, and costs?
---
QUICK HITS
• The Pentagon admitted that the people killed in its most recent Afghanistan drone strike were innocent civilians, not terrorists. Now their families want some measure of justice. "The US [knew] that inside this area, inside the car, [were] children, why [did] they target innocent [people] in this area?" asked Emal Ahmadi, whose 2-year-old daughter and her seven cousins were killed by the American strike.
• Coinbase is letting the Department of Homeland Security access its analytics database.
Coinbase has inked their largest deal with the Feds yet, signing a $1.36M contract to provide ICE with financial surveillance software.

— Alex Gladstein ???? ⚡ (@gladstein) September 18, 2021
• Incarceration rates are down. Is that a sign of progress, or the pandemic? The Marshall Project explores.
• Facebook calls fake news on The Wall Street Journal.
• The 10 fastest-growing large cities in the U.S. are all suburbs.
• Democrats can't use the budget bill for immigration reform.
• Beto O'Rourke is back. "In recent weeks, Mr. O'Rourke has been making calls to Democratic leaders across Texas to inform them that he is seriously considering taking on Gov. Greg Abbott, a Republican who is up for re-election next year," reports The New York Times.
• Against surrogacy bans:
"Restrictions on women's free choice is anathema to freedom and liberty" — @Ella_M_Whelan argues one of the greatest battles for women in the 21st century is the fight to make decisions about their bodies https://t.co/pFifN0MEqp

— The Critic (@TheCriticMag) September 20, 2021
---
CORRECTION: This post previously misstated the ABV limit for beer sold in Mississippi stores. The state allows beer up to 10 percent ABV to be sold anywhere that holds a beer permit.