Since the FDA Has Not Approved Any Vaping Products, All of Them Are Now 'Subject to Enforcement Action'
The agency's decisions so far reflect a bias against the flavored e-liquids that former smokers overwhelmingly prefer.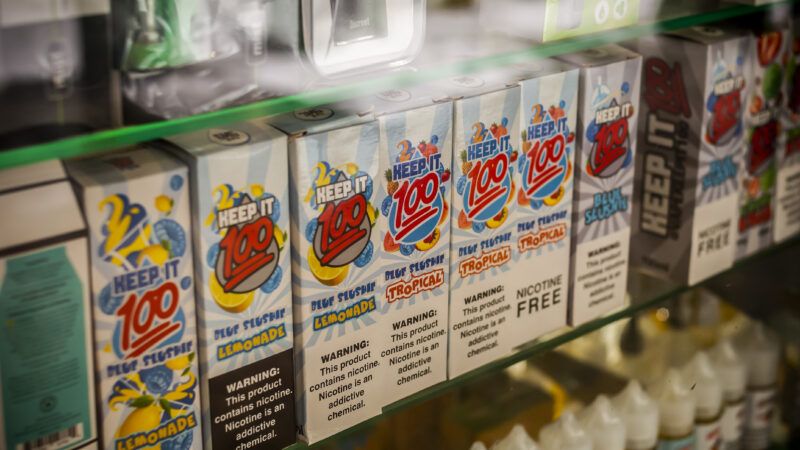 (Richard B. Levine/Newscom)
When a court-set deadline for "premarket" review of nicotine vaping products came and went on Thursday, the Food and Drug Administration (FDA) had received millions of applications but had not approved any. As a result, the agency says, every vaping product sold in the United States—including myriad e-liquids, devices, and parts—is "marketed unlawfully" and "subject to enforcement action at the FDA's discretion."
Seven years after the FDA officially declared its intention to regulate e-cigarettes as "tobacco products," in other words, the entire industry remains in legal limbo, existing solely thanks to the agency's enforcement discretion and limited resources. The FDA laughably maintains that it is bringing "regulatory certainty" to a market it concedes has great potential to reduce smoking-related disease and death. In reality, the agency, despite its promises of regulatory flexibility, is perpetuating a situation in which companies that tried to play by the rules have no idea whether they will still be in business next week, next month, or next year.
As of September 9, 2020, the deadline set by U.S. District Judge Paul Grimm in response to a lawsuit by anti-vaping groups, the FDA had received 6.5 million applications from more than 500 manufacturers of "new tobacco products," the vast majority of them vaping liquids or devices. That was a far cry from the 25 annual applications the FDA originally expected—a projection that suggested nearly all vaping companies would be deterred by the effort and expense required to comply with the agency's daunting regulations. Grimm gave the agency an additional year to act on those applications.
While the FDA brags that it has acted on "about 93% of the total timely-submitted applications," that number is highly misleading. Three-quarters of those actions involved 4.5 million applications from a single manufacturer, JD Nova, that the FDA deemed incomplete in August because they did not include an "adequate Environmental Assessment" for each of the products, many of which had never actually been sold. In addition to seeking approval for hypothetical products, the company submitted a separate application for every flavor, strength, and size of its existing e-liquids, as required by the FDA.
As Filter's Alex Norcia noted at the time, the environmental assessment demanded by the FDA is "an onerous and complicated section that covers a product's environmental impact from the point of manufacture to disposal." Because JD Nova did not meet that requirement to the FDA's satisfaction, its applications were never formally filed. But later that month, the FDA issued its first "marketing denial orders" (MDOs), rejecting 55,000 applications for "flavored" vaping products from three companies because they "lacked sufficient evidence that they have a benefit to adult smokers sufficient to overcome the public health threat posed by the well-documented, alarming levels of youth use of such products."
The FDA noted that the rejected products included "flavors such as Apple Crumble, Dr. Cola and Cinnamon Toast Cereal." Acting FDA Commissioner Janet Woodcock said "flavored tobacco products are very appealing to young people," so "assessing the impact of potential or actual youth use is a critical factor in our decision-making about which products may be marketed."
For tobacco harm reduction advocates, that rationale is alarming because it suggests a bias against e-liquids in flavors other than tobacco, which are enormously popular among smokers who switch to vaping. It also implies that the FDA's requirements for overcoming that bias may be impossible to satisfy, especially for small businesses that could not afford to spend hundreds of thousands or millions of dollars on new research.
"Based on existing scientific evidence and the agency's experience conducting premarket reviews," the FDA said, "the evidence of benefits to adult smokers for such products would likely be in the form of a randomized controlled trial or longitudinal cohort study, although the agency does not foreclose the possibility that other types of evidence could be adequate if sufficiently robust and reliable. Because this evidence was absent in these applications, the FDA is issuing MDOs."
Less than a week later, the FDA denied applications from three companies for about 800 other flavored products. It said it would "continue to review other premarket tobacco applications for non-tobacco flavored ENDS [electronic nicotine delivery systems] to determine whether there is sufficient product-specific scientific evidence of a benefit to adult smokers to overcome the risk posed to youth." All told, the FDA says, it has issued "132 MDOs for more than 946,000 flavored ENDS products."
The FDA has yet to act on applications from major manufacturers such as Juul, which in 2018 preemptively stopped selling most of its flavors in response to the agency's concerns about underage vaping. "How the FDA could fail to make a decision on Juul products is beyond me," said Michelle Eakin, chair of the American Thoracic Society's Tobacco Action Committee, in a press release. "Juul has the largest share of the e-cigarette market and its products were a primary driver in the sky-rocketing rise in youth e-cigarette use. The FDA has delayed long enough. Until the agency addresses Juul, Puffbar and other companies that are driving the youth e-cigarette market, it is failing to do its job."
Critics like Eakin think the FDA should ban all non-tobacco-flavored vaping products, despite the fact that former smokers overwhelmingly prefer them, because they also appeal to teenagers. Under the Family Smoking Prevention and Tobacco Control Act, the 2009 statute that the FDA used to assert authority over e-cigarettes (even though legislators did not contemplate that product category when they wrote the law), the agency is supposed to consider a product's impact on "the population as a whole," which includes underage vaping. But that collectivist calculus also includes reductions in smoking facilitated by vaping products. If banning flavored options makes these products less appealing to current and former smokers, that policy could perversely lead to more tobacco-related deaths than would otherwise occur.
"There is robust evidence that non-tobacco-flavored e-cigarettes help adults quit smoking," notes Competitive Enterprise Institute senior fellow Michelle Minton. "It seems their availability in non-tobacco flavors is, in fact, a major reason why e-cigarettes are at least twice as effective for smoking cessation as other nicotine replacement therapies."
Because of the standard set by the Tobacco Control Act, it is not enough for a manufacturer to show that its products are much less hazardous than combustible cigarettes. Nor is it enough to plausibly project that more vaping will mean less smoking (among teenagers as well as adults) and therefore fewer premature deaths. A manufacturer also has to persuade the FDA that the "public health" benefit from allowing its product to stay on the market outweighs the potential cost of vaping by teenagers who otherwise never would have used nicotine.
As a general matter, that should not be difficult, since the health hazards of nicotine itself are minimal compared to the hazards of cigarette smoking, the vast majority of teenagers who vape frequently are current or former smokers, and there is little evidence that vaping products are a "gateway" to smoking among teenagers. To the contrary, recent trends suggest the availability of these products has accelerated the downward trend in adolescent smoking, and there is reason to think that banning flavored e-liquids would have the opposite effect.
But if every manufacturer has to present "product-specific," "robust and reliable" evidence that the benefits of each variation it sells will outweigh the costs, that is a recipe for eliminating all but the biggest, wealthiest companies. Even a manufacturer that presents a "randomized controlled trial" or "longitudinal cohort study" indicating that flavored vaping products play an important role in reducing smoking has to contend with speculation about "the impact of potential or actual youth use."
Since 2015, Minton notes, the FDA "has approved new tobacco products from three companies, including flavored tobacco." Those products included "eight varieties of Swedish Match North America's snus, the heated tobacco product, IQOS, made by Philip Morris, and combustible cigarettes with reduced nicotine made by 22nd Century Group." In those cases, "the FDA was happy to accept more general evidence about the product category's appeal to adults and youth, as well as their general risks to public health." But when it comes to flavored vaping products, the FDA seems to be demanding more.
"America's tobacco and nicotine regulatory system is broken beyond repair," says Gregory Conley, president of the American Vaping Association, which supports vaping as a harm-reducing alternative to smoking. "It is absolutely absurd that the same agency that found time to ban over six million vaping products manufactured by small businesses is now indicating they need more time to review products with massive market shares. Even worse, after spending five-plus years peddling false hope to businesses across America, the FDA now can't even be bothered to grant formal extensions to the remaining pending applicants. This decision brings even more uncertainty on the day FDA had previously pledged to provide the public with answers."
Norcia reports that some manufacturers, having concluded that satisfying the FDA is impossible, are shifting toward synthetic nicotine, which is not derived from tobacco and therefore is arguably not subject to the agency's jurisdiction under the Tobacco Control Act. Assuming that legal strategy is successful, there could be many vaping products that are not even notionally subject to FDA regulation. And if the FDA refuses to approve flavored products, vapers who prefer them will still find lots of black-market alternatives, which likewise will be completely unaffected by government-prescribed standards. Given the recent experience with lung injuries caused by black-market THC vapes, that is a situation a public health agency should be keen to avoid.