America's Longest War Is Over
Plus: Backpage on trial, Texas abortion providers ask SCOTUS to stop ban, vegan "butter" and "cheese" are safe, and more…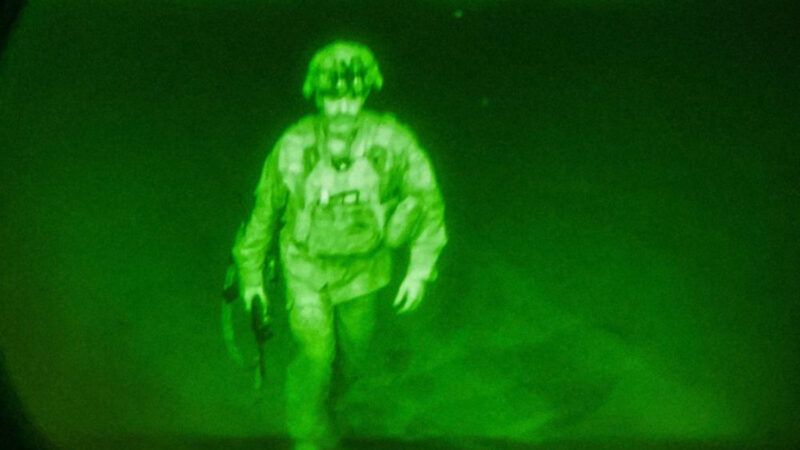 (U.S. Central Command Public Affairs)
After nearly two decades, the U.S. war in Afghanistan is over. An American withdrawal more than a year in the making has been completed. "Every single U.S. servicemember is now out of Afghanistan," General Kenneth F. McKenzie Jr. of U.S. Central Command announced yesterday. "I can say that with 100 percent certainty."
The last member of the U.S. military to leave was Major General Chris Donahue, who had been helping to lead evacuation missions. "Since August the 14th, over an 18-day period, U.S. military aircraft have evacuated more than 79,000 civilians from Hamid Karzai International Airport," including 6,000 Americans "and more than 73,500 third-country nationals and Afghan civilians," said McKenzie. "In total, U.S. and coalition aircraft combine to evacuate more than 123,000 civilians, which were all enabled by U.S. military service members who were securing and operating the airfield."
Launched in October 2001, the war in Afghanistan has now spanned four presidential administrations.
In this time period, 2,461 American troops died in the conflict, in addition to 3,846 U.S. contractors, 66,000 members of the Afghan military and police forces, and more than 47,245 Afghan civilians. Seventy-two journalists, 444 aid workers, and 1,144 allied service members were also killed, as were 51,191 fighters for the Taliban and other opposition forces, reports the Associated Press.
Members of Congress never voted to declare war in Afghanistan.
The war has cost America $2 trillion, and the estimated interest costs may be up to $6.5 trillion.
Key committees rarely talked about the costs, notes A.P.:
Number of times lawmakers in same subcommittee have mentioned costs of Afghanistan and Iraq wars, through mid-summer 2021: 5.

Number of times lawmakers on Senate Finance Committee have mentioned costs of Afghanistan and Iraq wars since Sept. 11, 2001, through mid-summer 2021: 1.
"Tonight's withdrawal signifies both the end of the military component of the evacuation but also the end of the nearly 20-year mission that began in Afghanistan shortly after September 11th, 2001," McKenzie said yesterday.
But will we stay out? Or, perhaps a better question, will our "withdrawal" be meaningfully different?
On Sunday, America launched a drone strike on the suicide bombers from the Islamic State groups' Afghanistan affiliate in retaliation for attacks that killed at least 170 people, including 13 American service members, last week. The specifics of the strike are murky, but there are reports that civilians—including seven children—were killed. It's unclear if these deaths stemmed from an ISIS attack or if they're a result of the U.S. drone strike.
"The United States has been killing civilians in Afghanistan, Pakistan, Syria, and Somalia for years, under the guise of the so-called 'war on terror,' with impunity," pointed out Paul O'Brien, executive director of Amnesty International USA, in a statement.
"It is unconscionable that the Biden administration continues airstrikes in this shroud of secrecy. This airstrike is a glimpse into the future U.S. involvement in Afghanistan if the Biden administration pushes ahead with an 'over the horizon' counter-terrorism program that does not prioritize civilian protection," O'Brien said.
Asked if the U.S. would work with the Taliban to take on the Islamic State group's Afghanistan affiliate, McKenzie said:
I can't foresee the way future coordination between us would go. I would leave that for—for some future date. I will simply say that they wanted us out; we wanted to get out with our people and with our—and with our friends and partners. And so for that short period of time, our issues…our view of the world was congruent, it was the same.
Still, many in the U.S. media and policy world seem unwilling to let the war in Afghanistan go. (For President Joe Biden, "the end of the 'forever war' is more of an inflection point than an actual conclusion," suggests Ashley Parker at The Washington Post.) Since withdrawal has begun, newspapers and cable TV have been filled with folks clamoring for us to stay.
Never mind that "in terms of actual staying power, all our nation-building efforts couldn't even match what the Soviet Union managed in its dotage," as New York Times columnist Ross Douthat puts it. "That knowledge has not prevented a revival of the spirit that led us to this sorry pass."
"I don't mean the straightforward criticisms of the Biden administration's handling of the withdrawal," continues Douthat, who seems to be the only pundit in America who has learned from previous errors of judgment on Afghanistan.
I mean the way that in both the media coverage and the political reaction, reasonable tactical critiques have often been woven together with anti-withdrawal arguments that are self-deceiving, dubious or risible.

The argument, for instance, that the situation in Afghanistan was reasonably stable and the war's death toll negligible before the Trump administration started moving toward withdrawal: In fact, only U.S. casualties were low, while Afghan military and civilian casualties were nearing 15,000 annually, and the Taliban were clearly gaining ground—suggesting that we would have needed periodic surges of U.S. forces, and periodic spikes in U.S. deaths, to prevent a slow-motion version of what's happened quickly as we've left.

Or the argument that an indefinite occupation was morally necessary to nurture the shoots of Afghan liberalism: If after 20 years of effort and $2,000,000,000,000, the theocratic alternative to liberalism actually takes over a country faster than in its initial conquest, that's a sign that our moral achievements were outweighed by the moral costs of corruption, incompetence and drone campaigns.

All these arguments are connected to a set of moods that flourished after 9/11: a mix of cable-news-encouraged overconfidence in American military capacities, naïve World War II nostalgia and crusading humanitarianism in its liberal and neoconservative forms. Like most Americans, I shared in those moods once; after so many years of failure, I cannot imagine indulging in them now. But it's clear from the past few weeks that they retain an intense subterranean appeal in the American elite, waiting only for the right circumstances to resurface.
---
FREE MINDS 
Backpage on trial. The trial of Backpage founders Michael Lacey and James Larkin and several other former executives begins tomorrow—more than three years after they were arrested and the platform was seized by the federal government. "As journalists and publishers with more than 40 years of experience in the business of news, we firmly believe our prosecution represents epic government overreach and an unprecedented assault on the First Amendment and freedom of speech," Lacey and Larkin say in a new statement. More:
On April 6, 2018, the federal government eradicated an entire classified ads website containing speech that was 100-percent legal for the site to publish—speech presumptively protected by the U.S. Constitution and also protected by federal statutes.

The publication of speech posted to interactive websites by users is legally protected; so is "offensive" speech and speech the government does not like. Numerous federal courts said just that, in cases involving Backpage.com. Yet our prosecutors steadfastly refuse to admit that the First Amendment has any bearing on our prosecution for being associated with Backpage.com—a website the eminent jurist Richard Posner called a First Amendment-protected "avenue of expression of ideas and opinions." 

Read the whole thing here.
---
FREE MARKETS 
Vegan "butter" and "cheese" OK. The U.S. District Court for the Northern District of California says Miyoko Creamery can call its vegan products "butter" and "cheese." The products are made from substances such as cashews and coconut oil. Last year, the California Department of Food and Agriculture ordered the company to stop using dairy-related words on packaging. But "the state's showing of broad marketplace confusion around plant-based dairy alternatives is empirically underwhelming," wrote Judge Richard Seeborg in a recent ruling. Seeborg ruled that the creamery has a First Amendment right to use these words.
---
FOLLOWUP
American Civil Liberties Union (ACLU) and abortion providers ask Supreme Court to intervene. Yesterday, I noted that a Texas law restricting abortions and allowing people to sue if they suspect one has taken place after fetal cardiac activity can be detected is slated to take effect on September 1. Abortion providers and the ACLU have now asked the U.S. Supreme Court to intervene, saying the law "would immediately and catastrophically reduce abortion access in Texas."
"We have filed an emergency motion in the Supreme Court to block this law before clinics are forced to turn patients away, and patients will have to travel out of state—in the middle of a pandemic—to receive constitutionally guaranteed healthcare," Nancy Northup, president and CEO of the Center for Reproductive Rights, said. "Many will not be able to afford to. It's cruel, unconscionable, and unlawful."
"The emergency application was directed to Justice Samuel A. Alito Jr., who reviews such requests from that region of the country," reports The Washington Post. "Alito called for the response from the state officials and individuals named in the case."
The state has until 5 p.m. today to respond.
Fallout from the Supreme Court's eviction moratorium ruling.  
Sources say the legislature will meet as early as Wednesday in an extraordinary session to extend the eviction moratorium until January 15, 2022. To address the SCOTUS ruling, it will create a mechanism for homeowners to challenge a tenant claim of extraordinary hardship in court

— Zack Fink (@ZackFinkNews) August 30, 2021
Meanwhile in New York:
New York's largest landlord group is threatening to sue the state Legislature if lawmakers extend the pandemic-era eviction moratorium slated to expire Tuesday—a new measure that sources say could run through Jan. 15—arguing the law negatively impacts property owners.

"If New York State lawmakers enact legislation that disregards and attempts to circumvent the decision by SCOTUS, we will immediately take legal action, this time asking for damages," said Joe Strasburg, president of the Rent Stabilization Association—a trade association that represents 25,000 building owners and managers in over one million apartments throughout the five boroughs.
---
QUICK HITS
As a general matter, no one should use our hate crime data. Period. That's it.

There's absolutely no way to trust comparisons over time, and cross-state comparisons go beyond useless to clearly misleading.https://t.co/junSFgOaFT

— John Pfaff (@JohnFPfaff) August 30, 2021
• Economist Emily Oster throws water on a study purporting to show a major drop in baby IQs during the pandemic. "Taken at face value, these results are worrisome. However—and I cannot stress this enough—they are completely implausible," writes Oster. "There is absolutely no way that there was a reduction in IQ of 82 points as a result of being born during the pandemic."
• The Federal Trade Commission is going after gas stations.
• An Ohio hospital has been ordered to treat a COVID-19 patient with ivermectin. "A suburban Cincinnati woman, whose husband has been on a ventilator at West Chester Hospital with COVID-19, won a court order forcing the hospital to treat her husband's novel coronavirus infection with an antiparasitic treatment commonly used for livestock," reports The Enquirer.
• CVS is going to expand its mental health services, after a successful pilot program.
• A new South African coronavirus variant called C.1.2 has scientists worried. "It contains many mutations associated in other variants with increased transmissibility and reduced sensitivity to neutralising antibodies, but they occur in a different mix and scientists are not yet sure how they affect the behaviour of the virus," says Reuters.
• "The Department of Education announced Monday that it would launch civil rights investigations into five states whose governors have banned school districts from imposing mask mandates on students and teachers," reports Reason's Eric Boehm. "The department's Office for Civil Rights says those mandates might 'discriminate against students with disabilities who are at heightened risk for severe illness from COVID-19 by preventing them from safely accessing in-person education.'"
• Cathy Young on Chris Rufo's terrible Afghanistan tweets.
• Protecting and serving:
DOJ says a drug dog not alerting but seeming to almost alert because he's sniffing a lot can help form the legal basis for the police to conduct a search of a car.https://t.co/T9oSkd0T9h pic.twitter.com/lJysTtxgi6

— Brad Heath (@bradheath) August 30, 2021