Colorado Police Officer Sued for 'Recklessly' Shooting Family Dog
The police department is the same one where an officer injured a 73-year-old woman with dementia last year.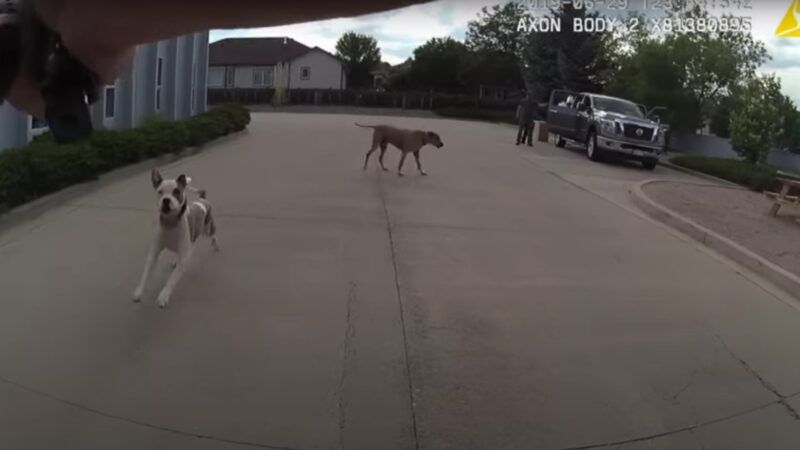 A family is suing a police officer in Loveland, Colorado, and the town after they say the officer needlessly shot their dog in a 2019 incident.
A civil lawsuit filed in Larimer County District Court accuses Loveland police officer Mat Grashorn of "recklessly killing" Wendy Love and her husband Jay Hamm's 14-month-old dog, a Staffordshire terrier and boxer mix named Herkimer. The lawsuit alleges that Grashorn's shooting of Herkimer was an unreasonable seizure under the Fourth Amendment and violated their constitutional rights.
On June 29, 2019, Grashorn was responding to a call from a business owner about a suspicious truck parked on the owner's commercial property when he encountered Love, Hamm, and their three dogs. The couple was making firewood deliveries that day, and according to the lawsuit, stopped in the parking lot to give the dogs some water.
Body camera footage released along with the lawsuit shows Grashorn stepping out of his police cruiser. Love and Hamm's other dog, Bubba, is sleeping on the ground but gets up and begins running toward the officer. Grashorn draws his gun on the dog, but the couple yells at the animal to come back. It pauses and turns toward its owners, but Herkimer jumps out of the truck and lopes toward Grashorn with its tail wagging. Grashorn shoots the dog. (The audio is not captured by the body camera, which retains 30 seconds of footage before it is turned on, but not sound.) Warning: graphic content below.
After the shooting, Grashorn refused to allow the distraught couple near Herkimer, ordering them to go back to their truck. When Hamm demanded to know why Grashorn had shot the dog, Grashorn yelled that he had "no way of knowing" whether Herkimer was friendly and that he "wasn't in the business to get bit."
The lawsuit says that Loveland police refused to let the couple retrieve their dog and take it to a veterinarian until a Loveland police supervisor arrived on the scene. Hamm was ticketed for having a "dangerous dog." The ticket was later dismissed by the district attorney.
Herkimer died four days after being shot. An internal review by the Loveland Police Department found the shooting was justified.
"This is yet another agonizing illustration of all that is wrong at the Loveland Police Department," Love and Hamm's attorney, Sarah Schielke, said at a press conference Wednesday. "Herkimer could have been any of our beloved pets. Dogs are our family. And he was shot dead in broad daylight. In the middle of suburbia. By the police. With no consequences to the officer whatsoever. And then found to be reasonable by his superiors. What in the actual hell is going on at the Loveland Police Department?"
Schielke also represents Karen Garner, a 73-year-old woman who filed a lawsuit in April claiming that a Loveland police officer fractured her arm and dislocated her shoulder after stopping her for allegedly shoplifting $13.88 worth of items from Walmart.
According to the lawsuit, Garner suffers from dementia and sensory aphasia, which makes it difficult for her to communicate and understand other people. Body camera footage of the June 26, 2020, incident showed the officer, Austin Hopp, stopping Garner as she was walking home and picking wildflowers. He threw Garner, disoriented and confused, to the ground after she didn't respond to his commands to stop.
Schielke later uncovered surveillance video from the Loveland Police Department showing Hopp watching the body camera footage with two other officers and joking about it. "Ready for the pop?" Hopp says to the other officer as they watch the video of him dislocating Garner's shoulder.
Hopp is now facing charges of felony assault, causing serious bodily injury, attempting to influence a public servant, and misconduct.
Last month, the city of Loveland settled a different wrongful arrest lawsuit for $290,000.
Reason has been covering sad incidents of "puppycide" like Herkimer's for decades now. In 2019, a Faulkner County, Arkansas, sheriff's deputy was fired and charged with animal cruelty after he casually shot a small dog because the owner refused to walk outside to talk to him. The shootings lead not only to devastated families and viral news stories, but expensive lawsuit settlements for cities. In 2019, St. Louis paid $775,000 to a woman whose dog was shot during a no-knock SWAT raid over an unpaid gas bill. The Detroit Police Department has settled a string of lawsuits for shooting dogs during drug raids.