Video: Arkansas Cop Casually Shoots a 9-pound Dog
"OK, I'm going to come to you, and if your dog gets aggressive, I'm going to shoot it."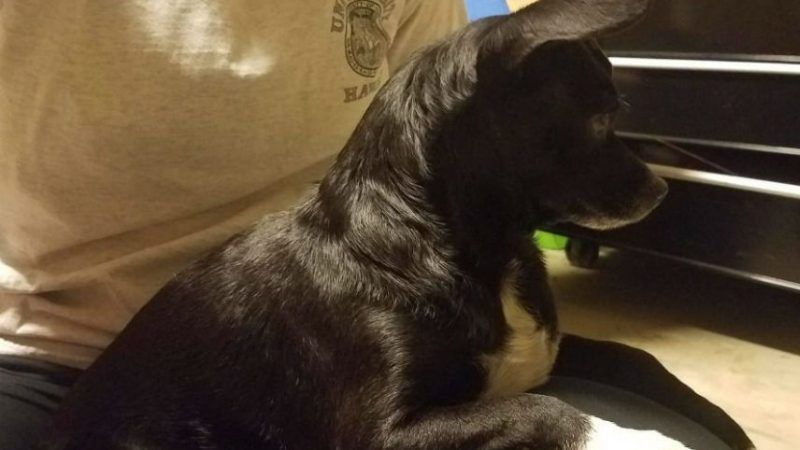 Update: the Faulkner County Sheriff's Office announced in a Facebook post Saturday night that, although he did not appear to violate any department policies, the deputy responsible for the shooting has been fired.
Graphic video released Friday show's a sheriff's deputy in Faulkner County, Arkansas casually shooting a small dog after the owner refused to walk outside of his yard to talk to the deputy, in what the owner says was an act of retaliation.
According to local news outlet NEA Report, the Faulkner County Sheriff's Office responded to a call of an aggressive dog in the town of Conway. When deputy Keenan Wallace arrived outside of Conway resident Doug Canady's house, Canady refused to walk out to the sidewalk to talk to him.
"OK, I'm going to come to you, and if your dog gets aggressive, I'm going to shoot it," Wallace responds in cell phone video captured by Canady.
The dog in question was more chihuahua than pit bull, but nevertheless, Wallace strode onto the lawn, and when the small animal started yapping at him from several feet away, he shot it in the face.
Watch the video below:
The dog, somewhat miraculously, survived with a shattered jaw. A GoFundMe page to raise money for the animal's veterinary bills has already exceeded its goal.
Arkansas outlet KATV reports the deputy has been placed on paid administrative leave while the sheriff's office investigates the shooting. The deputy is a K-9 handler.
Reason has been reporting on egregious incidents of police shooting dogs for years now. As I wrote last September, reporting on a new pilot program to train officers how to read dog behavior and avoid shooting them:
[T]he proliferation of video technology and social media has led to local stories of dog shootings going viral and ricocheting around the country. There's a whole category of stories on Reason's website called "puppycide." For example, there was the time last year that a Louisiana cop shot a 12-pound dog and then allegedly told the family it was a "shame" he "had to waste that bullet because it's a really expensive bullet." Or the NYPD officer who shot a woman's dog seconds after it slipped through the door and walked toward him wagging its tail. Or the Oklahoma cop who used a high-power rifle to shoot a dog through a fence during a five-year-old's birthday party. Or there was the time in 2012 that a SWAT team in St. Paul executed a wrong-door raid, shot the family dog, and then allegedly forced three handcuffed children to sit next to their dead pet.

Just how many dogs a year are shot by police is not known or tracked in any systematic way. A Justice Department official speculated in a 2012 interview with Police magazine that the number could be as high as 10,000 a year, calling it "an epidemic," but that figure is little more than a guess. A 2012 study by the National Canine Research Council estimated that half of all intentional police shootings involved dogs. Public records obtained by Reason showed Detroit police shot 54 dogs last year. Chicago police shot or shot at 700 dogs over the last decade, according to the Chicago Tribune.
But the above video might be one of the most malicious and inexcusable instances caught on camera, besides maybe the time a Detroit cop was caught on dashcam video executing a dog while it was chained to a fence.
To the extent that the dog posed any threat to the sheriff's deputy, there was no attempt, at least in the video, to resolve the situation with anything other than lethal force. The deputy didn't ask the Canady to restrain the dog. He didn't attempt to use a less-than-lethal alternative, like the taser he was armed with and which he subsequently drew on Canady. He simply pulled his gun and shot to kill.