Cuomo Replacement Kathy Hochul Says New York's Real COVID Death Toll Is 12,000 Higher Than Cuomo Claimed
Hochul's office reports that some 55,400 people have died of the coronavirus in New York, much higher than the 43,400 claimed by Cuomo, who left office Monday.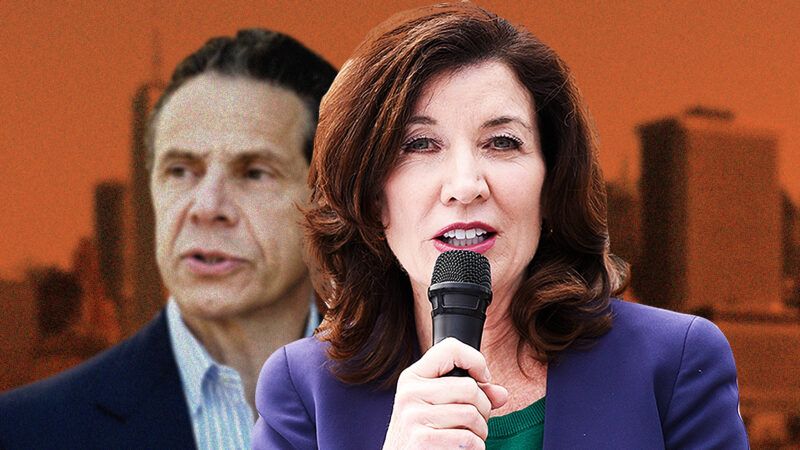 (Illustration: Lex Villena; Kenneth Wilsey, NYS DEC)
Florida's cooking the books, or so went the refrain this past winter and spring as the now-discredited whistleblower and former state Department of Health employee Rebekah Jones went on a media tour to promote the idea that her state was manipulating COVID death data to save face.
In reality, New York was the state with disturbing discrepancies between Department of Health data and that which was reported to the Centers for Disease Control and Prevention (CDC): Under now-disgraced Gov. Andrew Cuomo, who left office this week, the state's COVID death toll was logged as 43,400. But incoming Gov. Kathy Hochul, who has taken over post–Cuomo resignation, made moves during her first days in office to correct the official count to 55,400. "Transparency will be the hallmark of my administration," Hochul said to MSNBC on Wednesday. "The public deserves a clear, honest picture of what's happening," she told NPR. "That's how we restore confidence."
Whyever would Cuomo obfuscate the number of total COVID deaths in the state? Perhaps to distract from allegations of COVID-handling malfeasance, the embarrassment of the nursing home death toll cover-up, or to score a point or two in his sparring matches with New York City Mayor Bill de Blasio.
Substacker and number cruncher PoliMath reported the number discrepancy back in February, and in July, an overly diplomatic Associated Press headline read "New York takes conservative approach counting virus deaths."
Cuomo chose to tout, in his Emmy Award–winning briefings (no longer!), a state death toll that only included lab-confirmed COVID cases for those who died in hospitals, nursing homes, and residential adult-care facilities. It did not include people who died at home, in prisons, in residential homes for people with disabilities, or in hospice care. It also did not include people who most likely died of COVID, but did not officially test positive. Experts estimate there were roughly 5,000 of those types of cases in New York City alone, in part due to the fact that since New York was hit hard before testing capacity had been built out, it was difficult to get a confirmed result.
Regardless, Cuomo's creative accounting involved a great deal of cherry-picking that made it so that the keen observer—or, frankly, even a dullard—when comparing state health department data and official CDC data would have been left confused by the discrepancy: The state reported more deaths to the CDC, which were then reflected in the agency's data, than the state was willing to show on its own dashboards or in Cuomo's briefings. (It's worth noting that New York City has been a defector, long reporting data directly to the CDC while putting pressure on the state to bring its practices up to snuff.)
Bad politician behavior aside, the reporting issues with state COVID data, by little fault of their governors, have also hobbled states' responses. A Politico investigation this month revealed that the virus had "exposed a patchwork system in which state officials struggled to control the spread of Covid-19 because their outdated surveillance systems did not allow them to collect and analyze data in real-time" and that "in January 2021—the deadliest month of the pandemic—states were more than five weeks behind in submitting mortality data to the CDC."
State reporting systems were plagued by all kinds of technical and logistical problems, some by their own doing. Lab test-processing bandwidth was low in many places; many lab results were not sent to state departments of health electronically and were instead faxed (really!) or sent via mail and manually entered; delays in entering health data into a centralized system meant delays in assigning contract tracers to a given case; contact tracers sometimes struggled to make contact with the infected individual, only getting in touch with them many days after they'd been initially infected. Many states struggled with jurisdiction if a resident whose case they were following via contact tracing also crossed state lines regularly.
Some blame can be placed, contra libertarian cheering, on reduced or inadequate funding for state health bureaucracies; some blame can be placed, according to Politico's investigation, on waning federal interest over time in modernizing state and national disease-reporting systems, since some federal officials believed "pandemics were not a top national security threat." This had devastating effects:
"In Alabama, during surges, data systems crashed from an influx of cases hitting the system. In Vermont, more than 1,300 of Covid-19 lab results in December 2020 were received through fax, email or snail mail—not through the state's electronic reporting system. In Washington state, labs were up to 10 days late reporting Covid-19 results during peak periods. In Wyoming, the state health department had to "deduplicate" thousands of records in its electronic system each month to ensure positive results were counted just once."
How much better could the virus have been managed had state-level public health officials had the systems in place to be able to competently manage data reporting and contact tracing? We'll never know, but the existing systems in many states were anything but nimble. Of course, in New York's case, blame should also be assigned to the Emmy-winning governor who got a little too conceited, thinking that repeatedly lying to the public about all manners of misdeeds wouldn't catch up to him in the end.