Democrats Plot Huge New Federal Health Program as Part of $3.5 Trillion Budget Plan
Plus: Steven Horwitz's economic theories, Hawaii cops sued over fatal shooting, and more...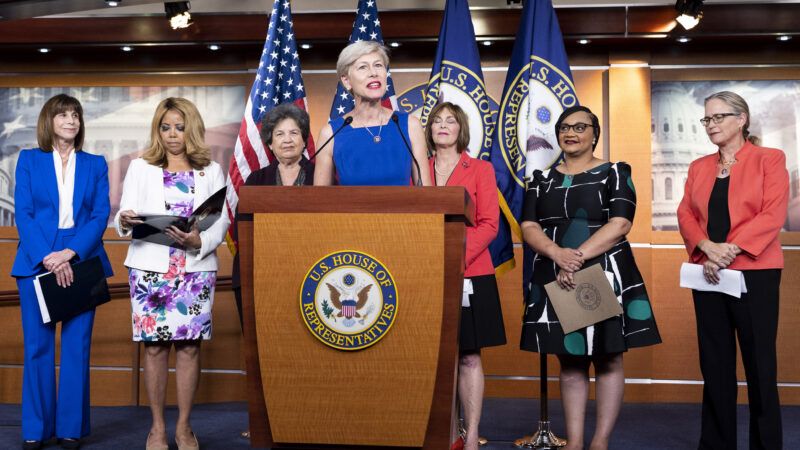 (Michael Brochstein/ZUMAPRESS/Newscom)
The program "would be complex and costly, burdened by bureaucracy and rulemaking that would unnecessarily delay access to care for millions," hospital federation warns. Congressional Democrats seek a new federal health care program to join Medicare and Medicaid. The proposal is expected to be included in the upcoming $3.5 trillion budget bill. It would apply to people in 12 states that have declined to expand Medicaid coverage in recent years and provide coverage for some additional 2.2 million people who are currently ineligible for Medicaid.
Details of the plan are still unclear, but it will reportedly involve subsidizing private insurance purchases from the Affordable Care Act (ACA) exchanges as a first step while setting up an entirely new federal coverage program for the long run. Eventually, the "federal fallback option" would be run through the Centers for Medicare & Medicaid Services.
The idea has "drawn pushback from some in the health care industry, given that it could be a stepping stone to a larger, government-run 'public option,'" reports The Hill.
"We have significant concerns with any proposal that would establish a new Federal Medicaid look-alike program to fill the coverage gap," the Federation of American Hospitals wrote in a recent letter to Congress. "The formation and implementation of a new federal program or a Medicaid public option would be complex and costly, burdened by bureaucracy and rulemaking that would unnecessarily delay access to care for millions."
However, the group supports efforts to expand subsidies for people to purchase private insurance on the ACA exchanges in the 12 states that won't be bribed by federal funding into expanding Medicaid enrollment.
Until recently, 13 states fit this bill. But, in July, the Missouri Supreme Court said the state must expand its coverage. "Missouri voters approved Medicaid Expansion in August 2020 by a vote of 53.25% to 46.75%. It required the state to submit a Medicaid expansion state plan amendment to the federal government by March 2021, and for Medicaid expansion to take effect by July 1, 2021," Northeast News explains.
However, when state lawmakers passed the 2022 fiscal year budget, they failed to include funding for the state's portion of the cost of Medicaid expansion.

A lawsuit was brought by Missouri residents who would gain eligibility under the expansion. Missouri DSS argued that the ballot initiative was unconstitutional since the state constitution says ballot measures can't be used to appropriate state funds. In June a circuit court judge ruled that Missouri's Medicaid expansion ballot measure was unconstitutional because it didn't include a funding mechanism.

The case was appealed, and the Missouri Supreme Court vacated the lower court's ruling, and noted that the Medicaid expansion eligibility criteria outlined in Missouri Article IV, Section 36(c) are "now in effect."
The plan to expand federal health coverage for people in the other 12 states—a "federal fallback option"—is only one of a number of health-related spending proposals in the spending plan sought by President Joe Biden and congressional Democrats.
"Technically, Biden's social spending package isn't a health-care bill. But it'd still amount to the biggest health expansion since Obamacare," Washington Post health care reporter Rachel Roubein writes. These plans also include expanding Medicare coverage and a prescription drug element.
"Democrats aren't expected to include a measure lowering Medicare's eligibility age in the package," notes Roubein. "Progressives including Rep. Pramila Jayapal (D-Wash.) have been pushing hard for the policy, but probably to no avail."
---
FOLLOW-UP
More on mask mandates in schools. A lawsuit over Florida's ban on school mask mandates continues this week, as Arizona prepares to go to trial in September over the same. "A judge will hear arguments Sept. 13 over whether it was legal for state lawmakers and Gov. Doug Ducey to bar schools from requiring students and employees to wear masks," reports the Arizona Daily Star. "The date set by Maricopa County Superior Court Judge Katherine Cooper is designed to allow time for whichever side loses to quickly seek Supreme Court review. That is important as, absent a court order, the new law takes effect on Sept. 29." Meanwhile…
More on the Proposition 22 decision. Cathy Gellis at Techdirt has a good analysis of the recent California court decision concerning Proposition 22, which this Roundup touched on earlier this week. "Whether it actually is a victory for labor is debatable but also somewhat besides the point," suggests Gellis. "The relative merits of any of these things (Uber, Prop. 22, AB 5) is not what's at issue. Instead, the question is whether the decision correctly interprets the California Constitution." That's more complicated. Read Gellis' whole post for why.
---
FREE MINDS
A new lawsuit against police in Hawaii County alleges that officers didn't announce themselves before barging into the room where 31-year-old Daniel Buckingham was killed. Buckingham struck one of the officers with a knife, prompting police to shoot him 13 times.
"Hawaii County police said in a press release in June that officers did announce their presence several times, but that cannot be heard on body camera footage the department released," reports Honolulu Civil Beat.
Police said in a press release that Buckingham was armed with two knives, one small and one large, and that when police breached the door, he swung the larger one at an officer, striking him in the forearm.

However, no video footage was recovered from the camera of that injured officer and the department said in June it is investigating why. The video police released doesn't include any clear footage of the knife or the shooting. Without video, Bickerton said he doesn't know whether or not Buckingham lunged at them with a knife.
---
FREE MARKETS
Patrick Horan looks at the "nuanced" theories of late libertarian economist Steven Horwitz, who died in June. "The economics professor's ideas about monetary policy synthesized different viewpoints on how to mitigate recessions and inflations," Horan writes in Discourse magazine.
While Horwitz wrote on topics ranging from disaster relief to family economics, for both academic and popular audiences, he also wrote prolifically on monetary economics and business cycles. Horwitz was one of a small number of macroeconomists to be influenced by the Austrian school of economics associated with Ludwig von Mises and F. A. Hayek. Austrian macroeconomics emphasizes the role central banks play in generating credit-fueled bubbles. Although Horwitz accepted major tenets of what is commonly called Austrian business cycle theory (ABCT), he also embraced insights from other macroeconomic schools of thought. Horwitz's nuanced approach and rejection of dogma made him one of the best macroeconomists to come from the Austrian tradition.
More here.
---
QUICK HITS
Reporters Without Borders has built a virtual library in the video game Minecraft to give gamers access to censored books and articles. https://t.co/PLGhZIZdqA pic.twitter.com/LVPe9yOjCQ

— Will Rinehart (@WillRinehart) August 23, 2021
• The Federal Trade Commission's revised antitrust complaint against Facebook fails again, suggests MarketWatch. "Antitrust enforcers can't show that Facebook has monopoly power, nor can it show that it's harming consumers."
• Spike Cohen, who was the Libertarian Party's 2020 vice presidential candidate, tweeted and then walked back misinformation about the Pfizer COVID-19 vaccine and deaths. "The FDA approved the Pfizer vaccine in less than a year, despite it having killed thousands of people, because of its efficacy in reducing COVID symptoms," Cohen tweeted on Wednesday afternoon. A few hours later, he deleted that tweet, commenting:
CORRECTION: this tweet was based on the fact that VAERS has received thousands of reports of deaths due to COVID vaccines. I mistakenly thought these deaths had already been verified by CDC or a third party as caused by the vaccine. They have not, so I'm retracting that claim.

— Spike Cohen (@RealSpikeCohen) August 25, 2021
• Vaccination is on an upswing in the U.S.
• "The Sixth Circuit U.S. Court of Appeals ruled Wednesday that chalking the tires of parked cars is unconstitutional," reports ABC 12 News. The case stems from a lawsuit filed by a woman who received 15 parking tickets in the city of Saginaw, Michigan.
• A federal appeals court granted Facebook's motion to dismiss a lawsuit alleging it was guilty of housing discrimination. "I believe this case is now ready for a Ninth Circuit appeal, where anything could happen," writes law professor Eric Goldman.
• Libertarian think tanks weigh in on the American Civil Liberties Union's fight with Grand Rapids, Michigan, over the city's forced fingerprinting policy. "Not every interaction with the police should result in a background check," said Patrick J. Wright, vice president of legal affairs at the Mackinac Center for Public Policy, which filed an amicus brief along with the Cato Institute. "The Fourth Amendment protects individuals from unreasonable search and seizure, and the Michigan Supreme Court should put an end to this unconstitutional practice."