Ex-Governor Cuomo Has His Emmy Unjustly Revoked
Andrew Cuomo was a very bad governor. His ability to convince people otherwise during his pandemic press briefings is surely a performance deserving of an Emmy.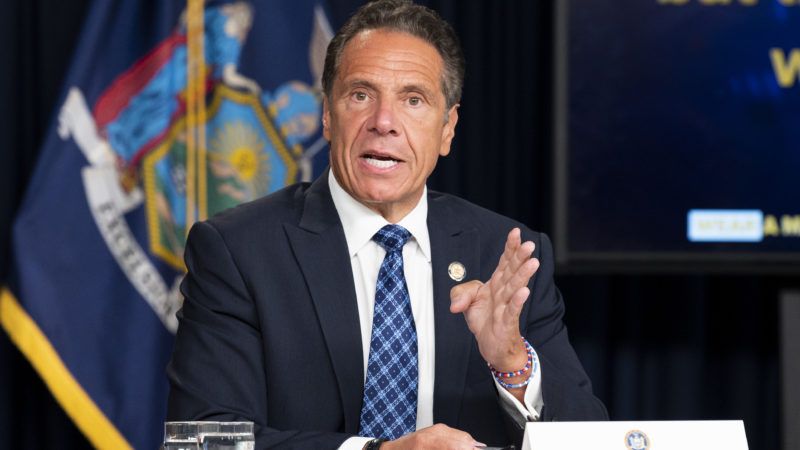 (Michael Brochstein/ZUMA Press/Newscom)
Andrew Cuomo officially resigned as governor of New York yesterday in response to a damning report by the state's attorney general that detailed 11 women's sexual harassment allegations against him. As a final indignity, the ex-governor has also been stripped of his Emmy.
"The International Academy announced today that in light of the New York Attorney General's report, and Andrew Cuomo's subsequent resignation as Governor, it is rescinding his special 2020 International Emmy Award," said the International Academy of Television Arts & Sciences in a statement today.
The organization had previously given Cuomo its Founders award back in November 2020. That honor, per the Academy's website, is reserved for people who have "crossed cultural boundaries to touch our common humanity." Past recipients include Oprah Winfrey, Al Gore, and Steven Spielberg.
Cuomo certainly did his share of crossing boundaries while in office. Yet it was his commanding performance at COVID-era press conferences during the early months of the pandemic that ultimately netted him the Emmy.
"The Governor's 111 daily briefings worked so well because he effectively created television shows, with characters, plot lines, and stories of success and failure," said International Academy President Bruce L. Paisner in November. "People around the world tuned in to find out what was going on, and New York tough became a symbol of the determination to fight back."
Given the serious allegations of sexual harassment and retaliation made against Cuomo, it's completely reasonable that the Academy would want to distance itself from the disgraced former governor. The Associated Press notes that the organization reversed its decision to give a Founders award to Kevin Spacey after the actor was accused of sexual misconduct.
Nevertheless, if the goal of the Academy was to honor Cuomo for an Emmy-caliber performance, the latest revelations about his conduct make him no less deserving of its award.
Cuomo's masterful handling of his daily COVID briefings made him a darling of both mainstream media and New York voters. Opinion polls showed close to 80 percent of state voters had a favorable opinion of him.
He managed to pull those numbers despite his objectively scandalous handling of New York's response to the pandemic. It was under Cuomo that the state issued guidance requiring nursing homes to accept COVID-positive patients being discharged from hospitals without proper testing and isolation protocols in place to prevent spread, resulting in potentially thousands of excess nursing home deaths.
Some 15,000 nursing home residents ultimately died in New York, the most of any state, and a fact that Cuomo and his administration spent a good deal of time trying to conceal from the public. (The governor issued similar guidance for residential facilities for adults with disabilities.)
The nursing home scandal and cover-up alone should have been enough to prompt the governor's resignation. Instead, Cuomo effectively used his daily press conferences to claim that the state's nursing home deaths were tragically unavoidable and that New York had actually done a better job than most states at preventing them.
When reporters pressed him on this issue, the governor dismissed their questions as partisan attacks.
That Cuomo was able to convince the vast majority of his state that he was an effective executive when disaster was unfolding all around him speaks to his skill as a performer.
Over time more evidence of his maladministration and misdeeds have come to light, from getting his family special access to COVID tests during the early days of the pandemic to running the worst rent relief program in the country.
These other scandals are more evidence that Cuomo's one true skill is his acting ability. He wasn't a good governor, he just played one on TV.