Why OnlyFans Is Double-Crossing Sex Workers
Plus: FTC revives antitrust suit against Facebook, Planned Parenthood pushes back against Montana abortion laws, and more...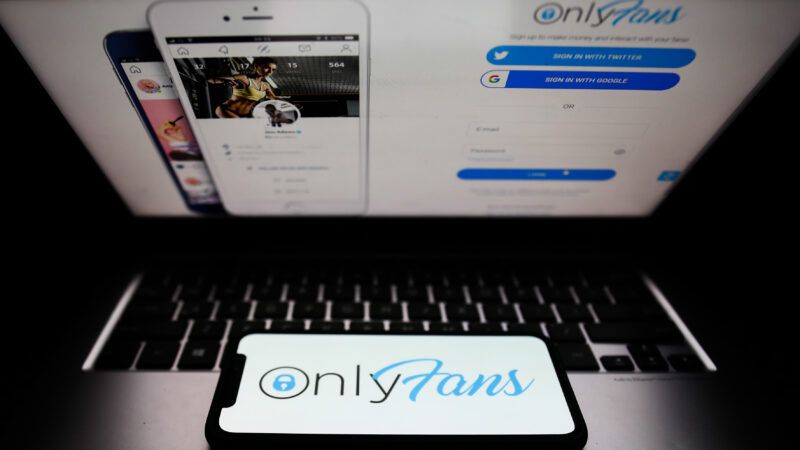 (Jakub Porzycki/ZUMAPRESS/Newscom)
OnlyFans—a website popularized as a place for the sharing and monetizing of erotic imagery—will stop allowing "sexually explicit" content as of October 1. "In order to ensure the long-term sustainability of the platform, and to continue to host an inclusive community of creators and fans, we must evolve our content guidelines," the company said in an emailed statement. "Creators will continue to be allowed to post content containing nudity as long as it is consistent with our Acceptable Use Policy."
The company attributed this change to pressure from banks and payment processors. "These changes are to comply with the requests of our banking partners and payout providers," its statement said. Asked to elaborate, a spokesperson for OnlyFans told me "the platform has no further comments at this time."
Understandably, many sex workers who helped build up OnlyFans and now rely on the site for income are upset—and not mollified by promises that some nudity will still be allowed.
"Please consider telling sex workers that OF will still allow some nudity probably isn't helpful right now," tweeted podcaster and sex worker rights activist Phoenix Calida. "Some of the policy is vague, there's a history of targeting & deplatforming SWs even when their content is within the guidelines. The fears & concerns are justified."
When Facebook and Instagram "updated their terms to crack down on explicit content. What Happened? A bunch of sws got banned for non sw posts. Everything from gofundmes for pets to bikini pics at the beach. All Bc they were sws," Calida added.

A lot of folks have been blaming OnlyFans' pivot away from porn on its desire to be more palatable to venture capitalists. Earlier this year, the company launched a PG version that can be downloaded from Apple and Google's app stores and features things "like cooking tutorials, yoga routines and interviews," notes TechCrunch. "OnlyFans is profitable, but to continue to grow, it is seeking funding at a valuation of over $1 billion."
"OnlyFans would be nothing without the sex workers whose labor built it up into a major platform. Now it's tossing them aside," complained author Kim Kelly, in a sentiment that could be found across Twitter yesterday.
There's no doubt that OnlyFans is screwing over the very users who helped make it successful. But how much culpability the company has and how much anger it deserves are up for debate, since OnlyFans may be a victim in this too.
It may be accurate to say some are trying to cash out but I still think they wouldn't be in this position without the "Onlyfans has sex trafficking" articles. Why cash out when you can make 100x more? Only because they are scared of being completely defunded like PornHub https://t.co/8DZKL78WlP

— Ashley Lake (@AshleyLatke) June 19, 2021
It's impossible to know how much of this decision relates to marketability and venture capital funding, and how much relates to insurmountable political and financial pressure. But the latter is a very real issue, and not one so easily overcome. It's plagued platform after platform that provide a digital home for sex workers.
We saw this with Craigslist and Backpage, when they were the biggest purveyors of online sex work ads. Authorities pressured them to accept credit card payments, since these would be trackable and usable by prosecutors to help find and punish people who did use the site for exploitation. When Backpage agreed, it was then accused of profiting off exploitation; some even went so far as to threaten Visa and Mastercard if they wouldn't stop doing business with Backpage. Faced with political pressure and public accusations that they were facilitating sex trafficking, the credit card companies complied. The case had to go all the way to a federal appeals court, which ruled that the bullying of the credit card companies to drop Backpage had been unconstitutional. As this all played out, Backpage went back to free adult ads and tried alternative payment methods, like cryptocurrency. Both actions—moves brought about by unconstitutional political pressure—have since been used by prosecutors as evidence of criminal activity such as "money laundering."
Yep. And this is why "blockchain solves this," isn't true unless we also fight back against repressive government attacks https://t.co/AfCUmwUCcx

— Evan Greer (@evan_greer) August 20, 2021
The debacle highlights the impossible situation that platforms friendly to sex workers find themselves in these days, where almost any move they make short of ditching all adult elements will be used—in public pressure campaigns, civil lawsuits, and criminal prosecutions—to accuse them of serious wrongdoing. Specifically, activists toss around words like "sex trafficking," "human trafficking," and "child sex abuse material" with abandon, arguing that anything except total capitulation to moral groups' demands is a decision to willfully facilitate these things.
Since Backpage was seized by the feds and Craigslist stopped allowing even personals ads, sites such as OnlyFans and Pornhub have become the next big targets of anti-porn and anti–sex work crusaders, with the media and lawmakers in their thrall.
We've seen the same playbook used against porn sites as was previously used against classified-ad sites, with conservative groups—like the old Morality in Media, now rebranded as the National Center on Sexual Exploitation (NCOSE), and Exodus Cry—targeting the banks, credit card companies, and payment processors that enable these sites. Meanwhile, the same lawmakers that pushed FOSTA (the 2018 law making hosting prostitution ads a federal crime) have been pressuring the U.S. Department of Justice to investigate OnlyFans.
Blaming Onlyfans & not the real force behind it misdirects our energy. The same people behind this will not stop & will continue to pressure Mastercard/Visa to drop other sites too - just like they have to Pornhub & other "free" clipsites. We need to blame the real culprits

— Avalon (@xFaeryPrincessx) August 19, 2021
I'm not saying that OnlyFans has made the right decision in choosing to stop allowing sexually explicit content. But maybe there is no right decision—and authorities have made sure that companies know that. The only ones to really stand up to political pressure and fight back in court have been the folks behind Backpage, and they've been shut down and criminally prosecuted for years, their assets seized and their founders facing the rest of their lives in prison. (The trial starts in September.) There's no doubt that officials wanted to send a message with Backpage, about what happens when platform operators refuse to just roll over and play along with the sex trafficking hysteria.
The most perverse part of it all is that authorities and activists claim to be doing this to "stop sexual exploitation" and save women and children, but their charade only forecloses safer opportunities for sex work, making risk and exploitation more likely while sending digital markets for sex work overseas or underground. They admit this was the case with the Backpage seizure and the passage of FOSTA, yet they plow right ahead with the same antics with whatever new digital platforms become the most popular for sex work.
- sex workers find safer platform
- usual suspects concern troll about human trafficking
- sex workers get banned from the platform, forced to use less safe alternatives, decentralization of activity makes it harder to stop real cases of trafficking

Great work as usual, society. https://t.co/ByWJPFQnne

— Paul ⚡Tweeter Only In Theory⚡ Valentine (@paulrvalentine) August 20, 2021
Now, people are left with one fewer safe and profitable option to engage in sex work on their own terms.
"As anti-porn organizations celebrate, we brace ourselves for the crisis this will likely cause," said the Adult Performance Artists Guild in a statement. "Workers in our industry have families to care for, and this change will push many into potential homelessness."
I'm so sad. Onlyfans was the most validating part of my entire 11 year career. After being told that I was not marketable and having few studios wanting to book me I became a top earner on there. Anyways I'm still posting and creating just need to use Twitter as a diary rn lol

— Arabelle Raphael (@ArabelleRaphael) August 20, 2021
It would be remiss to lay all the background blame on religious activists and government officials, of course. There are plenty of progressive and centrist feminists who crusade against sex work, too. And the progressive crusade in favor of devaluing free speech online and for holding the internet platforms and the infrastructure behind them (web hosting companies, email marketing companies, payment processors, etc.) responsible for user-generated content also puts us in this situation.
"This was the inevitable result not just of right wing fundamentalist moral panic over sex work, but also of DC based progressive nonprofits constantly calling for more deplatforming even at the infrastructure layer, and ignoring warnings about why it was a bad idea," tweets Evan Greer of the digital rights group Fight for the Future.
---
FREE MARKETS
The Federal Trade Commission (FTC) has refiled its antitrust lawsuit against Facebook. The first time around, a federal court said the FTC hadn't proved Facebook was actually a monopoly. But the court left it open for the agency to amend its complaint and file again.
In the new complaint, the FTC's monopoly argument still leaves a lot to be desired. To "prove" Facebook's monopoly status, it defines the relevant market—the sphere Facebook is supposed to be dominating—to exclude many of Facebook's competitors, including Twitter.
---
FREE MINDS
Montana abortion laws challenged. Planned Parenthood has filed a lawsuit over Montana's latest abortion restrictions. From Fox News:
The laws are set to take effect Oct. 1. They would ban abortion after 20 weeks of gestation; restrict access to abortion pills; require abortion providers to ask patients if they would like to view an ultrasound; and prohibit insurance plans that cover abortion procedures from being offered on the federal exchange.

The lawsuit filed in Yellowstone District Court claims the laws violate Montana's constitution, which protects access to abortion before the fetus is viable, generally at 24 weeks gestation. It says the laws will reduce the number of locations where abortion services are offered and will threaten abortion providers with civil and criminal penalties.
---
QUICK HITS
Just spotted: Court dismisses almost all of the bogus lawsuit against Twitter. Unfortunately, FOSTA's cheerleaders achieved their goal of creating enough confusion to skirt past 230 in part.https://t.co/UaNKFYyAfb pic.twitter.com/dP6rV5dn9p

— John Roddy (@riScorpian) August 20, 2021
• A video clip of the "Kabul airport" that circulated widely on social media—reportedly showing chaos as people tried to flee Afghanistan—actually came from a 2019 football game in Texas. "The video shows people running into the AT&T Stadium, the home of the Dallas Cowboys," Newsweek reports.
• The myth of a once-competent United States government.
• On the origins and delusions of America's modern obsession with "disinformation."
• Michael Williams was accused of murder on evidence provided by a dubious secret algorithm that detects noise. "Williams sat behind bars for nearly a year before a judge dismissed the case against him last month at the request of prosecutors, who said they had insufficient evidence," the Associated Press reports.
• Did COVID-19 kill minimalism?
• "There is a reason that Donald Trump and other politicians hate the Sullivan standard so much," University of Utah law professor RonNell Andersen Jones told The New York Times. "It is a key way that we make sure that government officials and other people in power can't silence their critics. It would be a massive blow to American-style free speech to lose it."
• How American feminism has been "recast as [a movement] that served the state's interests through any means imaginable."
• The Texas Education Agency said that it will halt enforcement—for now, at least—of Gov. Greg Abbott's order that schools can't impose mask mandates.