Backpage.com Wins First Amendment Victory Against Censorious Sheriff
A federal appeals court tells Tom Dart to stop threatening payment processors that do business with the classified-ad site.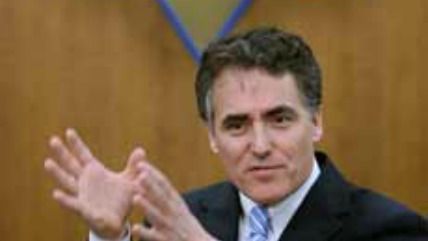 Yesterday a federal appeals court ordered an injunction aimed at preventing Cook County, Illinois, Sheriff Tom Dart from using his official position to discourage credit card companies from doing business with the classified-ad site Backpage.com. Last summer Visa and MasterCard severed their ties to Backpage after Dart sent them a letter suggesting that processing payments for the site made them complicit in sex trafficking and money laundering. After a federal judge rejected Backpage's request for a preliminary injunction, the company appealed to the U.S. Court of Appeals for the 7th Circuit, which concluded that Dart's campaign against Backpage violates the First Amendment. In a ruling by Richard Posner, a three-judge panel instructed U.S. District Judge John Tharp to issue the following injunction:
Sheriff Dart, his office, and all employees, agents, or others who are acting or have acted for or on behalf of him, shall take no actions, formal or informal, to coerce or threaten credit card companies, processors, financial institutions, or other third parties with sanctions intended to ban credit card or other financial services from being provided to Backpage.com.
Dart argued that he was merely exercising his own First Amendment rights by expressing his distaste for Backpage's "adult" section, which he says facilitates underage prostitution and other illegal activities. The 7th Circuit did not buy that defense. "While he has a First Amendment right to express his views about Backpage," Posner writes, "a public official who tries to shut down an avenue of expression of ideas and opinions through 'actual or threatened imposition of government power or sanction' is violating the First Amendment."
Posner notes that Dart wrote his June 29 letter to Visa and MasterCard on official stationery "as the Sheriff of Cook County," asked them to "immediately cease and desist" from processing payments for Backpage ads, accused them of "willfully play[ing] a central role in an industry that reaps its cash from the victimization of women and girls across the world," mentioned the "legal duty" of financial institutions to file "suspicious activity reports" in "cases of human trafficking and sexual exploitation of minors," cited the federal money laundering statute, and requested "contact information for an individual within your organization that I can work with on this issue." After Visa and MasterCard immediately complied with Dart's "request" that they "cease and desist" from doing business with Backpage, his office issued a triumphant press release under the headline "Sheriff Dart's Demand to Defund Sex Trafficking Compels Visa and MasterCard to Sever Ties with Backpage.com."
Posner concludes that "Visa and MasterCard were victims of government coercion aimed at shutting up or shutting down Backpage's adult section (more likely aimed at bankrupting Backpage—lest the ads that the sheriff doesn't like simply migrate to other sections of the website)." Under the guise of expressing his own opinions, Posner says, Dart "is using the power of his office to threaten legal sanctions against the credit-card companies for facilitating future speech, and by doing so he is violating the First Amendment unless there is no constitutionally protected speech in the ads on Backpage's website—and no one is claiming that. The First Amendment forbids a public official to attempt to suppress the protected speech of private persons by threatening that legal sanctions will at his urging be imposed unless there is compliance with his demands."
More on Dart's crusade against Backpage here.