Utah Legislator: If You Don't Want to Be Attacked by Police Dogs, 'Stay Home'
The state legislature is considering reforms in response to the use of dogs against cooperative suspects.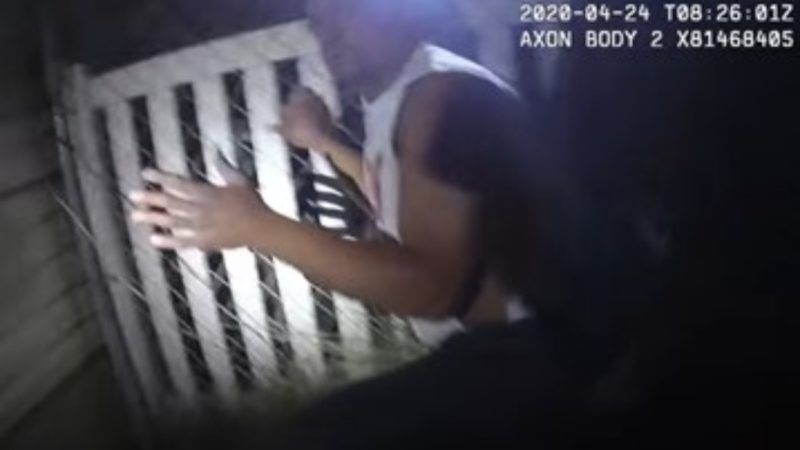 After body camera footage showed that a Salt Lake City police officer had sicced a dog on a cooperative suspect, an internal audit revealed what Mayor Erin Mendenhall described as "a pattern of abuse": In two-thirds of the 27 cases where a police dog had bitten someone since 2018, the use of force was questionable enough to consider criminal charges against the officers. The scandal prompted state legislators to propose a bill that would codify the appropriate use of police dogs. But state Sen. Don Ipson (R–St. George) has a simpler solution: If people don't want to be attacked by police dogs, he said last week, they should "stay home."
Ipson made it clear that he was not keen on the proposed legislation. "I don't have a lot of sympathy," he told fellow members of the Utah Senate's Judiciary, Law Enforcement, and Criminal Justice Committee. "We don't want to harm the public. But if they don't want to get bit, stay home."
There are a few problems with Ipson's stance. First of all, Jeffery Ryans, the 36-year-old man who was bitten in the incident that prompted Salt Lake City to review the use of police dogs, was smoking a cigarette in his own backyard when he was accosted by cops on April 24. They were there because someone had called 911 after hearing Ryans arguing with his wife, who had obtained a protective order against him. According to Ryans, he had moved back in with his wife weeks earlier at her invitation. She told him she had asked that the protective order be lifted, but he did not realize it was still in force because her request was pending.
Whatever the circumstances of the encounter, body camera footage obtained by The Salt Lake Tribune clearly showed that Ryans was cooperating with police when Officer Nickolas Pearce told his dog to attack. "Get on the ground!" Pearce shouted. "Get on the ground, or you're going to get bit!" Ryans crouched, then kneeled on the ground with his hands in the air. Pearce nevertheless set the dog on Ryans, who said, "I'm on the ground! I'm on the ground! Why are you biting me? I'm on the ground! Stop! Ow! What the fuck?" But as far as Pearce was concerned, the dog was doing exactly what he was supposed to do. "Good boy," Pearce said.
Last month Salt Lake County District Attorney Sim Gill charged Pearce with second-degree aggravated assault, a felony punishable by up to 15 years in prison. Ryans "wasn't resisting arrest," Gill said. "He certainly wasn't posing an imminent threat of violence or harm to anyone, and he certainly wasn't concealed. He was fenced in an area and was being compliant."
Even if Ryans was not on his own property when he was attacked, of course, Pearce's use of force would have been excessive. "It is absolutely appalling that Sen. Ipson would make such a terrible statement in support of police violence," Lauren Simpson, policy director at the Alliance for a Better Utah, said in response to the legislator's comments. "Suggesting that people should just 'stay home' if they don't want to experience police brutality is truly one of the more obscene things to be uttered recently by a sitting lawmaker in Utah."
Contacted by the Tribune, Ipson revised his position. "Ipson apologized for misspeaking by saying Utahns should stay home if they want to avoid being bitten by police dogs," the paper reports, "but he stood behind his underlying argument—which is that committing crimes puts people at risk of encounters with law enforcement." And then, apparently, all bets are off.
"I'm 73 years old," Ipson said. "I've never been threatened by a K-9 dog. If you don't want to have a confrontation with a police officer or a K-9 dog…you don't break the law."
Ryans, who plans to sue the Salt Lake City Police Department, has a somewhat different perspective. The injuries that Pearce's dog inflicted on his lower left leg, which caused infections as well as nerve and tendon damage, required multiple surgeries and lost him his job as a train engineer. "I felt like a chew toy," he told the Tribune. "I didn't know why this was happening to me. That's what was going through my mind: Why?"
Ryans, who is black, thinks his race helps explain the police response. "People need to know black lives matter," he said. "Everybody matters, but you can't just treat people differently because of their religion or their skin color. I developed myself to get to where I'm at right now. I should have the same respect as others. We don't get it."
The attack on Ryans is reminiscent of a case that the U.S. Court of Appeals for the 6th Circuit heard in 2018. Alexander Baxter, a burglary suspect arrested in 2014, alleged that Nashville cops sicced a police dog on him while he was sitting on the ground with his hands in the air. Even if that was true, the 6th Circuit ruled, the officers "did not violate clearly established law" and were therefore entitled to qualified immunity. In other words, the court said Baxter was not allowed to sue police under 42 USC 1983 for the same alleged behavior—siccing a dog on a nonresisting suspect—that Utah prosecutors thought was clearly felonious.
In June, the U.S. Supreme Court declined to review Baxter's case. Justice Clarence Thomas dissented. "I have previously expressed my doubts about our qualified immunity jurisprudence," he wrote. "Because our §1983 qualified immunity doctrine appears to stray from the statutory text, I would grant this petition."