Chris Matthews, MSNBC's Least Woke Host, Retires Amid #MeToo Allegations
"Compliments on a woman's appearance that some men, including me, might have once incorrectly thought were okay, were never okay."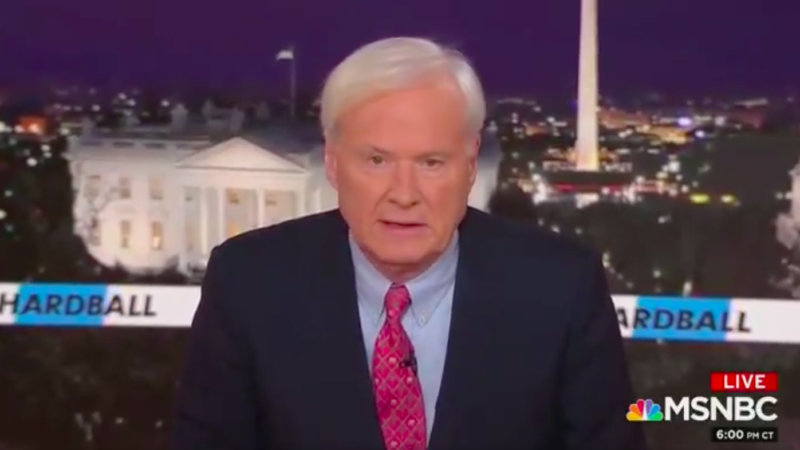 Long-running MSNBC primetime host Chris Matthews announced his retirement during his show's opening on Monday night—implicitly due to allegations of sexual harassment recently revisited by critics and purported victims, as well as scrutiny over his questioning of Sen. Elizabeth Warren (D–Mass.) and wariness of Sen. Bernie Sanders (I–Vt.).
"After conversations with MSNBC, I decided tonight would be my last Hardball," said Matthews. "Compliments on a woman's appearance that some men, including me, might have once incorrectly thought were okay, were never okay. Not then and certainly not today. And for making such comments in the past, I'm sorry."
Chris Matthews announces — on a Monday — he's retiring and that today's "Hardball" will be the last.

"After my conversation with NBC, I decided tonight will be my last Hardball. I'll tell you why. The younger generations are ready to take the reigns." pic.twitter.com/Y3HV9Qy35l

— Tom Elliott (@tomselliott) March 3, 2020
His resignation followed days of criticism from various corners of the internet: from female journalists taking note of his alleged history of making sexist remarks toward female guests, from those in Warren's camp who thought his recent questioning of her was too sharp, and from Sanders supporters who took umbrage with a World War II analogy that was unflattering toward their candidate.
On Saturday, GQ's Laura Bassett noted that Matthews "has a pattern of making comments about women's appearances in demeaning ways," and listed several of the accusations: calling co-worker Erin Burnett a "knockout," saying Sarah Palin was "very attractive," and allegedly making sexually-charged comments about female guests on his show—including Bassett, who claimed that he once told a makeup artist to keep putting makeup on her because "I'll fall in love with her."
"This tendency to objectify women in his orbit has bled into his treatment of female politicians and candidates," she wrote.
There's enough here for a reasonable person to be perturbed, and Matthews himself admitted that he said things he should not have said. Even so, the sudden resignation shows the punitive power of a #MeToo movement that has often failed to draw important distinctions between genuinely disturbing behavior and mere boorishness.
Moreover, the other two recent criticisms of Matthews—his handling of Warren, and a comment about Sanders—were incredibly overblown. Indeed, the Warren episode is a great example of why some people are justifiably concerned that #MeToo overreach will render important and necessary conversations between men and women impossible.
After the South Carolina debate, Matthews grilled Warren over her contention that former New York City Mayor Michael Bloomberg, a rival for the 2020 Democratic presidential nomination, had told a pregnant female employee to "kill it." Bloomberg denied making this remark, and Matthews pressed Warren to state whether she thought he was lying. Here was how Bassett framed this exchange:
MSNBC host Chris Matthews, whose long history of sexist comments and behavior have somehow not yet gotten him fired, tested the boundaries of his own misogyny again on Wednesday night. After the tenth Democratic presidential debate, the Hardball anchor grilled Elizabeth Warren about one of her lines of attack against Mike Bloomberg during the debate: that a pregnant female employee accused Bloomberg of telling her to "kill it."

"You believe he's lying?" Matthews asked Warren of Bloomberg's denial.

"I believe the woman, which means he's not telling the truth," said Warren, who recently had to defend her own credible story of pregnancy discrimination.

"And why would he lie?" Matthews said. "Just to protect himself?"

"Yeah, and why would she lie?" Warren responded pointedly.
"I just wanna make sure you're clear about this," Matthews said. Right there on America's purportedly liberal network, the anchor spoke to a 70-year-old United States senator who is running for president—and a renowned Harvard Law professor, no less—like she couldn't possibly understand her own words, as if she were a child choosing between a snack now or dessert later.
Bassett implied that it was a misogynistic act and a betrayal of liberal values to scrutinize Warren here. But this is nonsense: Warren's credibility is very much an issue. She has a long history of misrepresenting her family's situation. And when her surrogates accused Sanders of privately warning Warren that a woman couldn't win the presidency, CNN implicitly took her side and failed to press the issue with her. Rather than being criticized, Matthews should be applauded for actually forcing Warren to stand by her smears.
Anyone who suggests that harshly scrutinizing Warren is a form of sexism—on the same spectrum of behavior as commenting about women's appearances—is undermining the #MeToo movement's more praiseworthy goals. They are conflating sexual harassment with the sometimes uncomfortable but vitally important job of forcing politicians to own what they say. It's not sexist to make Warren explain in detail what she believes, and the candidate is more than capable of holding her own in such situations.
The Sanders incident, while not framed as a harassment issue, was similarly silly. Matthews had stated on air that Sanders's victory in the Nevada caucus called to mind Nazi Germany's sudden and decisive victory over France in 1940. Matthews was thus accused of likening Sanders supporters to Nazis, but obviously his analogy was merely referencing one side's overwhelming advantage over an opponent, and had nothing to do with the ideology of the Third Reich.
Matthews has a had a long career, and it may or may not have been the right day for him to retire. But at a time when his flaws are on full display, it's also worth remembering his positive attributes. Matthews was one of the more principled anti-interventionists on television: a Democrat with an independent streak who often seemed to intuitively grasp the appeal of Donald Trump better than his cable news colleagues. And he was not afraid to call out incompetence on his own side, recently lamenting—correctly—that the Iowa caucus debacle made it look like the Democratic Party was incapable of organizing even a "three-car funeral." Alas, as the entire left-of-center media quickly pivots to woke cultural signaling, there was no longer room for someone like him.