As Impeachment Moves Forward, Trump's Story Changes
Plus: more vaping panic, good news about robots, moving forward with marijuana decriminalization, and more...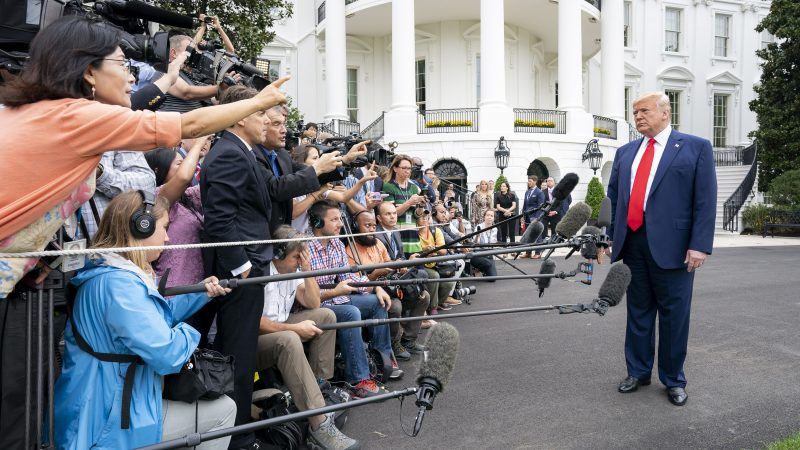 (White House/ZUMA Press/Newscom)
"I want nothing. I want nothing. I want no quid pro quo." Those were Donald Trump's words this week, as members of the House of Representatives grilled various ambassadors and other officials about the president's dealings with Ukraine. One by one, they portrayed a pretty damning situation for Trump.
The Republican messaging around impeachment this week has been that the president was simply concerned about widespread corruption in Ukraine, that he wanted Ukrainian President Volodymyr Zelenskiy to look into the Biden family's business there as a part of a larger corruption investigation, and that he conditioned no aid on this reasonable and unrelated request. Meanwhile, an array of folks with firsthand knowledge of the situation have testified that Trump's primary (or sole) corruption concerns involved his political rival Joe Biden, that Rudy Giuliani and others had been working behind the scenes to make this happen, and that everyone involved understood this was not merely a stray request.
But Trump himself hasn't exactly kept the narrative straight.
Back in October, when news of Trump's July phone call with Zelensky had just broken, Daily Mail politics editor David Martosko asked the president: "What exactly did you hope Zelensky would do about the Bidens after your phone call?" Trump's response:
Well, I would think that, if they were honest about it, they'd start a major investigation into the Bidens. It's a very simple answer….

I would say that President Zelensky—if it were me, I would recommend that they start an investigation into the Bidens. Because nobody has any doubt that they weren't crooked. That was a crooked deal—100 percent.
Last night, CNN anchor Jake Tapper re-upped that comment on Twitter, prompting people to point out that this sounds a lot different than Trump's explanation of things this week.
Ok, but i'm sure he MEANT to say "a wide-ranging investigation of corruption in general." https://t.co/V0m9IJAp5D

— Julian Sanchez (@normative) November 22, 2019
(Some folks seem to be under the impression that Trump's "very simple answer" about the Bidens is new, but it's from October 3.)
During yesterday's impeachment inquiry proceedings, former White House advisor Fiona Hill accused House Republicans of spreading misinformation about Ukrainian interference in the 2016 U.S. election. "This is a fictional narrative that has been perpetrated and propagated by the Russian security services themselves," Hill told the House Intelligence Committee.
Yesterday's testimonies were the last on the schedule. "In the coming days, Congress will determine what response is appropriate," said Intelligence Committee Chairman Adam Schiff.
Democrats have promised to hold an impeachment vote before the end of the year, but that may not be realistic.
It's also possible we're gearing up for a Russia Probe reprise, reports Politico:
Now that House Democrats have wrapped up public hearings on President Donald Trump's pressure campaign to get Ukraine to launch politically advantageous investigations, there are plans to hold at least one public impeachment hearing on Trump's misdeeds as alleged in [special counsel Robert Mueller's] report.
---
FOLLOWUP
More vaping panic. Trump may backtrack on his backtrack on a ban on flavored nicotine vaping products, in the face of pressure from public health lobbyists. Meanwhile, Massachusetts is poised to ban menthol cigarettes along with flavored vaping products; the state of New York is suing Juul; and New York City is also expected to pass a ban on flavored vaping products. "If they ban it, I'm gonna have to go back to smoking cigarettes," New York City resident Abdoul Diallo told CBS New York.
---
FREE MINDS
Some interesting new research on human relationships with robots:
Us vs. Them: Increasing the saliency of robots led to increased tolerance toward human outgroups, more equal treatment of human outgroups, and stronger identification with humankind as one's ingroup: https://t.co/2AR8rpWiAn

The latest by @josh_c_jackson & @kurtjgray pic.twitter.com/GbupEXOuEr

— Cory Clark (@ImHardcory) November 21, 2019
---
FREE MARKETS
Now that a bill to decriminalize marijuana at the federal level has cleared the House Judiciary Committee, what's next? "Major roadblocks must be cleared before the measure can ever become law," notes NBC News.
For one, the Judiciary Committee is only the first committee to have taken up the bill; it also has been introduced in seven other House committees, any or all of which could alter the debate.

And it isn't a lock to pass the Democratic-led House, because members are sharply divided over whether to try to push through sweeping legislation like the MORE Act or to go more slowly, emphasizing regulatory issues like the financial ramifications of decriminalization. Meanwhile, the measure is likely to be dead on arrival in the Republican-controlled Senate, opponents and even its primary sponsor suggested.
The bill would also expunge marijuana convictions and authorize a tax on marijuana sales.
---
QUICK HITS
Trump has signed the CR and there will be no shutdown!
Not this month at least

— Erica Werner (@ericawerner) November 21, 2019