The Kamala Harris 'Case' Against Tulsi Gabbard Doesn't Make Democrats Look Good
Plus: Laura Loomer loses again, no refugees resettled last month, and more...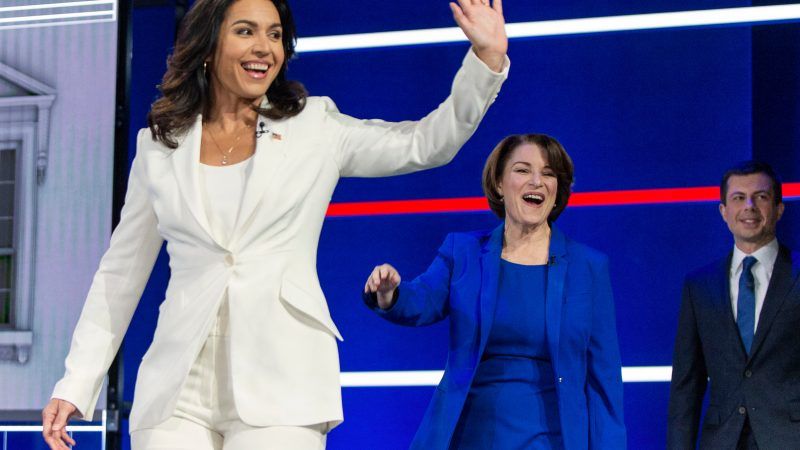 (Brian Cahn/ZUMA Press/Newscom)
The Democrats debate again. "I rest my case," Sen. Kamala Harris tweeted following Wednesday's Democratic presidential debate, her words hanging over a Trump 2020 campaign tweet quoting Tulsi Gabbard.
On stage last night, the California senator and the Hawaii representative got into another lively confrontation, tangling over foreign policy (kind of) and Gabbard's purported lack of party loyalty. It started when Gabbard said the Democratic Party had been captured "by the military-industrial complex and other corporate interests" on foreign policy.
Debate moderators ("in a moment of manufactured drama," as Christian Britschgi correctly called it) then turned to Harris and asked her simply what she thought about what Gabbard said.
Harris responded to the pseudo-question by accusing Gabbard of having "buddied up to Steve Bannon to get a meeting with Trump" and failing "to call a war criminal what he is, a war criminal" (presumably referring to Gabbard's meeting with Syrian President Bashar Assad). Harris also called out Gabbard for criticizing the Democratic Party at all, and for criticizing former President Barack Obama on Fox News. All of this, Harris suggested, made Gabbard unfit to be seeking the Democratic nomination for president. If people want someone who can "rebuild the Obama coalition and bring the party and the nation together," said Harris, "I am that candidate."
Afterwards, on Twitter, the Trump 2020 campaign pulled one sentence out of Gabbard's critique of the foreign policy establishment and the Democratic Party's role in it and used it to take a dig at the Democratic Party.
Harris then used this as "evidence" that Gabbard isn't fit to call herself a Democrat.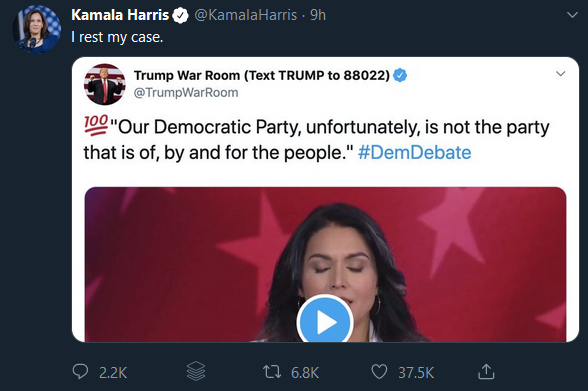 The tone-deafness here is so extreme that it's almost funny. Harris—whose biggest liabilities involve her questionable prosecutorial past—"rests her case" against Gabbard on the flimsy fact that her opponent retweeted Gabbard's words? That's exactly the sort of cockamamie conception of justice that has earned Harris her reputation as a shady cop in the first place.
Harris' attack demonstrates exactly the sort of party-over-people and uphold-the-status-quo-at-all-costs mentality that Gabbard was trying to critique. It should not be considered a mark against a politician that she tries to influence people not already on her side. You can't "bring the nation together" by refusing to talk to anyone who isn't already on your political team.
And if questioning endless war calls one's commitment to Democratic Party values into question, that's a pretty sad comment on the state of the party.
These sorts of weird accusations and insinuations about Gabbard have gone way beyond Harris. Gabbard has had her loyalty questioned by fellow Democrats in a number of ways, with various folks suggesting she's a secret Republican, or backed by Russia, or only running as a Democrat right now to gain traction for an independent presidential bid.
If Gabbard would go independent (and she has denied that that's her angle), Democrats would have only themselves to blame. Despite her support for a huge host of Democratic positions, slight variations of opinion or simply asking questions about Democratic orthodoxies has gotten Gabbard labeled a pariah by her peers.
In an earlier Democratic debate, Gabbard slammed Harris' record as a drug warrior; Harris and her campaign hit back by insinuating that Gabbard was too cozy with Russia and by dissing Gabbard as a bottom-tier candidate with low poll numbers. (This was back when Harris was still flying high from her debate-stage attack on Joe Biden.) These days it's not uncommon for Gabbard to poll near or above Harris.
In other debate-related coverage:
And that's a wrap. Only seven more of these things to go!
---
FREE MINDS
Professional troll Laura Loomer loses another lawsuit. Loomer has been banned by Facebook, Instagram, Twitter, Medium, PayPal, Venmo, GoFundMe, Uber, and Lyft, and she subsequently filed a number of lawsuits protesting decisions to deplatform her or deny her service.
If nothing else, it "seems like a good way to get many lessons in how Section 230 of the Communications Decency Act works," writes Mike Masnick at TechDirt:
In one such lawsuit, she also sued CAIR, the Council on American-Islamic Relations, arguing that CAIR's "reporting" of her Twitter account to Twitter violated all sorts of laws.

Spoiler alert: it did not. It does not violate any law whatsoever to report an account to Twitter.

The court dismissed a variety of claims for procedural reasons, leaving just a claim of "tortious interference of a business relationship," but that has also been dismissed for a bunch of reasons.
---
FREE MARKETS
International student enrollment at U.S. colleges and universities has been declining. Between the 2015–2016 and the 2018–2019 school years, international student enrollment fell by more than 10 percent, according to new data from the Institute of International Education.
This still leaves us with more international students than we were seeing in any of the school years from 2009 to 2014. But it comes at a time when international enrollment is rising in other countries, including Canada, which suggests that "new immigration restrictions are likely to blame for the poor performance of U.S. universities in attracting international students relative to other countries," writes Stuart Anderson at Forbes.
---
QUICK HITS
Last month, for the first time since records began, the number of refugees resettled in the US hit zero. https://t.co/wHSnA6PH1t

— Catherine Rampell (@crampell) November 21, 2019
The Philippines plans to start rounding up people who vape.
Missouri's attorney general said yesterday that out of about 7,000 "rape kits" the state has stored, only about 830 were ever tested.
Now do the same for non-military members next, thanks:
"The U.S. Air Force is now allowing female service members on Beale Air Force Base in California to obtain birth control directly from pharmacists at the on-base clinic. This is a good policy that more states and lawmakers should consider." https://t.co/cOimBpzUn6 #birthcontrol

— R Street Institute (@RSI) November 21, 2019
somebody on twitter today: trump's weird hand-scrawled denial today sounds like a ramones song.

me: pic.twitter.com/mynZjx0E0M

— Alex Kliment (@SaoSasha) November 21, 2019