'We Followed the President's Orders': Gordon Sondland Says There Was a Quid Pro Quo
"It was no secret," he testified.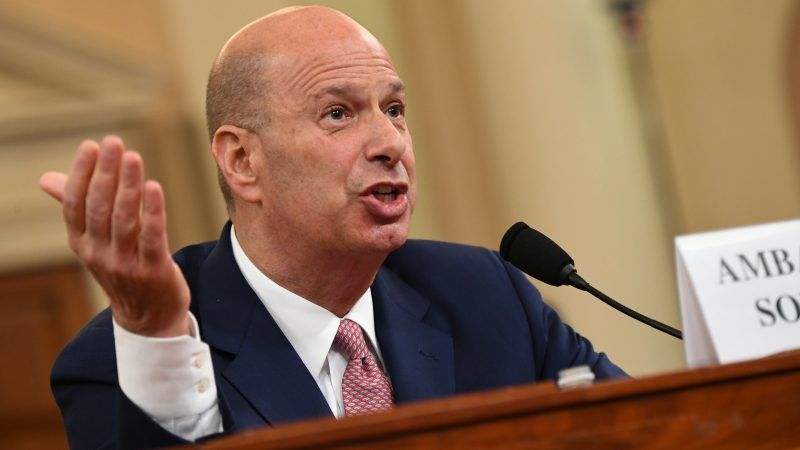 (KEVIN DIETSCH/UPI/Newscom)
Gordon Sondland, the U.S. ambassador to the European Union, told the House Intelligence Committee on Wednesday that there was an explicit and well-understood quid pro quo between the U.S. and Ukraine: If the latter country wanted a White House meeting with President Donald Trump, then Ukrainian President Volodymyr Zelenskiy needed to publicly announce politically-charged investigations into Burisma Holdings, where former Vice President Joe Biden's son Hunter sat on the board, and into a conspiracy theory that Ukraine interfered in the 2016 U.S. presidential election to benefit Democratic candidate Hillary Clinton.
"I know that members of this committee have frequently framed these complicated issues in the form of a simple question: Was there a 'quid pro quo?'" Sondland said in his opening statement. "With regard to the requested White House call and White House meeting, the answer is yes."
The E.U. ambassador linked the request to Trump. "I followed the directions of the president," Sondland testified, telling congressional investigators that those in Trump's circle—including Secretary of State Mike Pompeo, acting Chief of Staff Mick Mulvaney, and former special envoy Kurt Volker—were all fully aware of the condition.
Sondland repeatedly expressed resentment toward Rudy Giuliani, Trump's personal lawyer, and his active role in the interactions with Ukraine. "We did not want to work" with him, he said. "Simply put, we played the hand we were dealt." Had he known about Giuliani's "associations with people now under criminal indictment," then Sondland would not have agreed to the working relationship, he testified.
And it was Giuliani, he said, who pushed the investigations forward at Trump's behest.
"Mr. Giuliani demanded that Ukraine make a public statement announcing investigations of the 2016 election, DNC server, and Burisma," Sondland said. "Mr. Giuliani was expressing the desires of the president of the United States, and we knew these investigations were important to the president."
The Trump administration also froze $400 million in military aid to the country, which Sondland later came to believe was tied to the investigations, although he testified that it was never expressly confirmed to him. He lacked a "credible explanation" that said otherwise, though, and subsequently became "absolutely convinced" that the security assistance hinged on a public statement from Ukraine committing to pursuing the investigations.
On September 1, Sondland would go on to tell Andriy Yermak, a top adviser to Zelenskiy, that the aid was contingent on an announcement pertaining to the political probes.
But the ambassador refuted a key part of several previous witness testimonies regarding a July 10 call between U.S. and Ukrainian officials, during which time Sondland mentioned the investigations. Lt. Col. Alexander Vindman, a top White House adviser on Ukraine, and Volker both said Sondland was reprimanded for the remarks, whereas Sondland says that he received no such protestations.
Varnishing a series of WhatsApp and email exchanges prior to the notorious July 25 call between Zelenskiy and Trump, Sondland sought to show that the effort was not hidden behind closed doors.
"I talked to the Zelenskiy just now…He is prepared to receive Potus' call. Will assure him that he intends to run a transparent investigation and that he will 'turn over every stone,'" Sondland wrote in a July 19 email to Pompeo, Mulvaney, Energy Secretary Rick Perry, Executive Secretary of the Department of State Lisa Kenna, as well as other support staff.
"Everyone was in the loop," Sondland testified on Wednesday. "It was no secret."
Pertaining to the July 25 call, the ambassador said that he was never provided with a readout that included Trump's references to the Bidens.
In that same vein, Daniel Goldman, the Democrats' lawyer, pressed Sondland on whether or not he was aware that an investigation into Burisma was directly connected to a probe into Trump's political rival.
"Today I know exactly what it means," Sondland said. "I didn't know it at the time."