House Republicans Are Spreading 'Fictional Narrative' on Ukrainian Election Interference, Says Former Top White House Adviser
Russia is seeking to "delegitimize our entire presidency," Fiona Hill testified.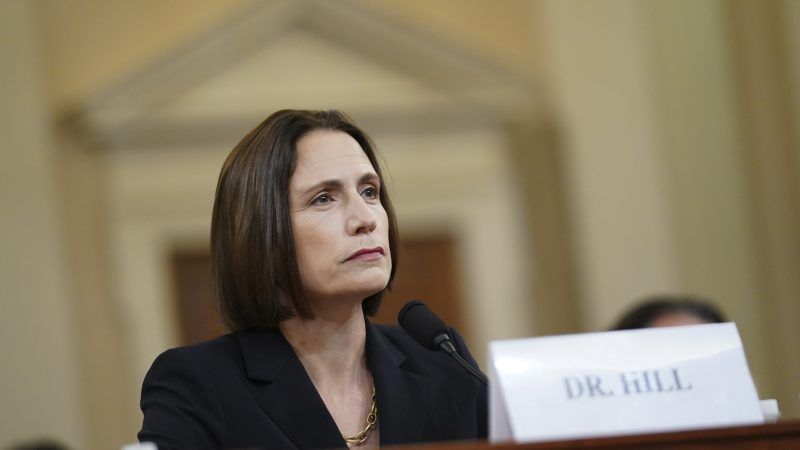 (KEVIN DIETSCH/UPI/Newscom)
Fiona Hill, a former top White House expert on Russia, told congressional investigators today that allegations of Ukrainian election interference are not based in fact. By continuing to promote this theory, she argued, Republicans on the House Intelligence Committee are emboldening Russian aggression.
"Based on questions and statements I have heard, some of you on this committee appear to believe that Russia and its security services did not conduct a campaign against our country—and that perhaps, somehow, for some reason, Ukraine did," Hill told the House Intelligence Committee. "This is a fictional narrative that has been perpetrated and propagated by the Russian security services themselves."
Hill, who served under presidents George W. Bush and Barack Obama as well as Donald Trump, said that Russia has a vested interest in sowing discord within the U.S. and in placing scrutiny on Ukraine.
"As Republicans and Democrats have agreed for decades, Ukraine is a valued partner of the United States, and it plays an important role in our national security," Hill testified. "And as I told this Committee last month, I refuse to be part of an effort to legitimize an alternate narrative that the Ukrainian government is a U.S. adversary, and that Ukraine—not Russia—attacked us in 2016."
Trump is currently the subject of an impeachment inquiry, which is based partly on accusations that he temporarily withheld $400 million in security assistance from Ukraine in order to push its president, Volodymyr Zelenskiy, to publicly announce an investigation into the theory that Ukraine interfered in the 2016 election to help Democratic candidate Hillary Clinton. 
President Vladimir Putin's objective, Hill declared, is to "delegitimize our entire presidency" by shrouding the U.S. democratic process and the rightly elected candidates in doubt and to "pit one side of our electorate against each other."
David Holmes, a career diplomat, testified Thursday that the claims of Ukrainian election interference are part of a three-pronged approach by Russia: to "deflect from the allegations of Russian interference," to "drive a wedge between the United States and Ukraine," and to "degrade and erode support for Ukraine."
Republicans have cited a Politico article from 2017 to support their claims of Ukrainian election interference, arguing that Trump did not push for the probe for partisan gain but because he wanted to curb corruption. 
The piece, penned by Kenneth Vogel and Dan Stern, elaborated on Ukrainian efforts to spread unflattering documents about Paul Manafort, Trump's former campaign chairman. It also noted a Ukrainian official's op-ed that criticized Trump's position on Russia's annexation of Crimea.
Marie Yovanovitch, the former ambassador to Ukraine, argued in her testimony last Friday that those were "isolated incidents" that do not compare with Russia's methodical efforts. The same Politico piece makes an identical concession, saying that there is "little evidence of such a top-down effort by Ukraine."
"There's an effort to take a tweet here, and an op-ed there, and a newspaper story here, and somehow equate it with the systemic intervention that our intelligence agencies found that Russia perpetrated in 2016 through an extensive social media campaign and a hacking and dumping operation," said Chairman Rep. Adam Schiff (D–Calif.). "The House Republican report is an outlier," he said, as it contradicts the findings of the Senate's bipartisan Intelligence Committee, the FBI, and the House Intelligence Committee.
"There were certainly individuals in many other countries who had harsh words for both of the candidates," Hill replied. But what the Russians wanted to do, she said, was different, characterized by an attempt "to create just the kind of chaos that we have seen in our politics." Allegations of Ukrainian interference, according to Hill, are just another means to that end, providing "more fodder than they can use against us in 2020."