NYC Wants to Make It Harder to Get a Milkshake and an Egg Roll Without Taking Off Your Jammies
Local regulators want to put a cap on Grubhub's commissions.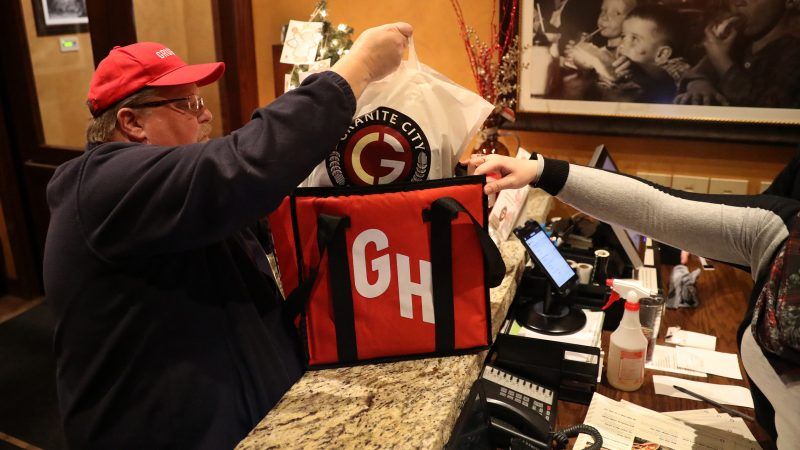 (Chris Sweda/TNS/Newscom)
Food delivery apps are bad for Manhattan's restaurant business. That's the sentiment behind a recent New York City Council push to rein in Grubhub, which some lawmakers say is taking advantage of the small dining establishments it serves.
"I would love for Grubhub to do the right thing and do more," Mark Gjonaj, chairman of the Council's small business committee, told The New York Times. "If they don't, we're going to be looking at serious legislation as we move forward that will make this a much more fair playing field."
Gjonaj is concerned about commission rates charged by delivery apps—Grubhub, Uber Eats, DoorDash, Postmates, and others—which range from 15 to 30 percent. (While some services charge a flat rate, Grubhub employs a sliding scale based on how much visibility a restaurant wants to receive.) With restaurant profit margins topping out somewhere between 3 and 6 percent, a growing chorus says those apps should charge restaurants less to connect them with customers.
Yet Grubhub, which is the largest restaurant ordering app in the country, argues that it is the lucrative bridge between restaurants and customers who wouldn't eat out if they couldn't get their food on Grubhub. A recent survey found that 67 percent of people using food delivery apps did so instead of cooking, which suggests those restaurants may not have received their business otherwise. Only 19 percent said a delivery app supplanted a restaurant visit.
Gjonaj rebuffed claims that delivery behemoths help restaurants develop loyal customers, who then come and eat in person. "As a matter of fact, many restaurant owners have said that the delivery services' orders are cannibalizing their existing customer base," he said in a letter to the New York State Liquor Authority (SLA), referencing the creeping suspicion that restaurant-goers who once enjoyed a meal out now retreat to the comfort of their own home, food in tow.
There is not enough consumer survey data to settle the question. But even if Gjonaj is right and delivery services are slowly chipping away at restaurant profit margins, is that the government's job to fix?
According to the SLA, the answer is yes. In a recent meeting agenda, it proposed making it illegal for those apps to charge more than 10 percent commission. There's one glaring problem with the plan: It would only apply to restaurants with liquor licenses, meaning that liquor-less establishments would need to apply—and pay for—a license in order to reap the benefits.
The policy is protectionist in another way, in that it sends the message that some businesses matter more than others. The New York Hospitality Alliance, for instance, threw their full weight behind the idea, writing that "the current retail environment is difficult enough without behemoth companies demanding ever-increasing percentages of small businesses' revenue in an unregulated manner." While the stance isn't surprising —the group advocates for the restaurant and bar industry—it is slightly hypocritical: the alliance previously and correctly fought against excessive wage regulation in the city.
Commission rates aren't the only scandal plaguing Grubhub. Unlike the other food delivery services, it has also come under fire for charging restaurants for phone calls made through the app that never yielded an order. The company has extended the window available for reviewing unfair charges to 120 days and is working to hone its algorithm around phone transactions, according to the Times. Restauranteurs are rightly upset about years of fees for nonexistent sales, and perhaps the issue should be litigated.
But when it comes to pricing, the New York City Council and State Liquor Authority should remember that it is not their job to determine which businesses win the long-game.