Minimum Wage Hikes in New York City Cause Restaurants to Eliminate Jobs, Cut Hours, Raise Prices
Good intentions do not always lead to good outcomes.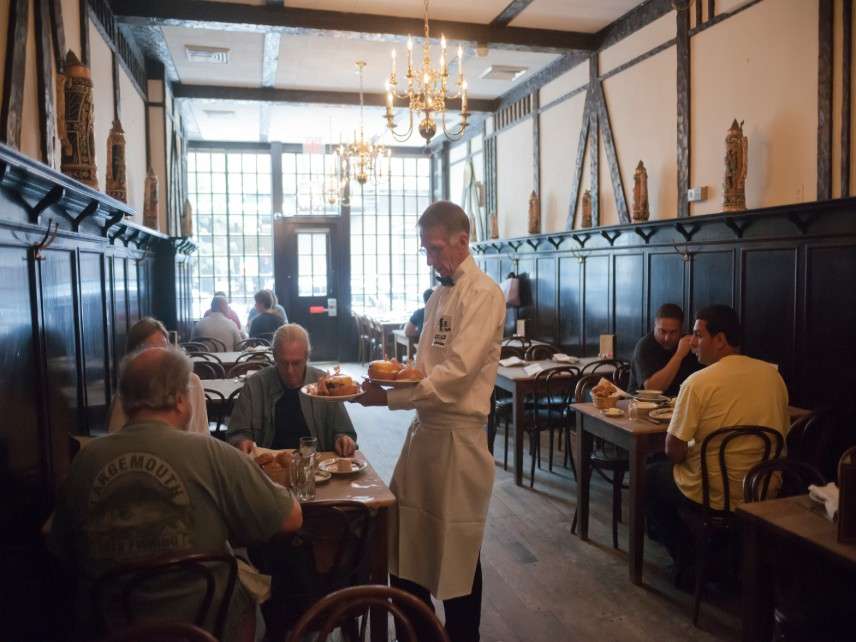 New York is known for its incredible food scene, but legislators in the Big Apple may have bitten off more than they can chew with the newest minimum wage hike.
The city's mandated increase, which took effect on December 31, requires businesses that employ 11 or more people to boost wages from $13 to $15 per hour. But most restaurants operate with the tipped wage, offering servers and bartenders a lower hourly base pay and the opportunity to rake in the rest in tips, which often yields better pay overall. If workers don't earn enough this way, employers are required to make up the difference.
That tipped minimum just rose from $8.65 to $10 an hour. A 16 percent jump is fairly punishing, considering the industry operates on razor-thin profit margins.
A new study conducted by the New York City Hospitality Alliance lends credence to the idea that substantial increases made to the tipped wage are far costlier than they are beneficial. After surveying 574 restaurants, they found that 2019 looks bleak: 75 percent of full-service establishments plan to cut employee hours, and 47 percent will eliminate jobs entirely in response to the forced minimum wage hikes. That follows closely on the heels of a dreary 2018, when 77 percent of full-service restaurants reduced employee hours and 36 percent cut jobs, both of which were also in response to the mandated wage increases.
Susannah Koteen, who runs Lido Restaurant in Harlem, has already had to make do with less by getting rid of her busboys, the lowest employees on the restaurant totem pole. Customer-facing but non-tipped, these workers now reap the full benefits of a $15 minimum wage, but only if they're lucky enough to stay employed.
"A server can bus their own table, but you can't ask a busboy to open a bottle of wine and talk about what it can be paired with," Koteen told CBS News.
Such policies not only disadvantage the most vulnerable in the short-term, but they also close a pathway to the middle class in the long-term. "Our current general manager started as a busser the day we opened. English is not his first language, he has his GED. He is smart, hardworking and cares about customer service," said Koteen. Those success stories—of the "American Dream" ilk—grow fewer and farther between as higher labor costs block avenues to success.
Consumers can expect to pay the price as well—quite literally. According to the NYC Hospitality Alliance Survey study, 87 percent of restaurants will increase prices in 2019, and 90 percent said they already did so last year. Both Per Se and Eleven Madison Park can count themselves among that cohort, as their menu prices rose in January 2018 and again at the start of the new year, directly after the annual wage increases set in. The Grill, another Manhattan establishment, started charging $38 for a mushroom omelet in 2018—a 52 percent jump from the $24 price tag in 2017. (That better be a really, really good omelet.)
All three are decidedly on the ritzier side, so it's feasible that their clientele have deep enough pockets to keep up with the stratospheric food and drink prices. But for lower-end restaurants, price increases can be prohibitive for their patrons.
That is, if they're fortunate enough to stay above water. Two researchers at Harvard Business School found that a median rated restaurant—one with about 3.5 stars on Yelp—has an additional 14 percent chance of closing for every dollar added to the tipped wage. The kneejerk reaction is that such restaurants must be mediocre at best and therefore deserve to close. But many of those establishments operate in underserved communities where money is tight and restaurant-goers have few affordable options. Business owners should be able to enter the marketplace without a boatload of cash, and customers shouldn't be stripped of their access to inexpensive dining.
To add insult to injury, Mayor Bill de Blasio recently unveiled a new policy which would require all businesses with five or more employees to guarantee two weeks of paid time off. That includes restaurants.
"This is an extraordinary step forward, especially because 35 percent of restaurant workers are parents who have already had to skip too many of their children's plays, recitals and games because of lack of paid time off," said Sekou Siby, executive director of Restaurant Opportunities Centers United, an organization that wants to abolish the tipped wage in favor of a higher minimum.
Siby isn't completely wrong. If these laws continue to rack up expenses for restaurant owners at top speed, then it's true that many workers may find themselves with more time on their hands. But it won't be because of paid time off. It will be because they're unemployed.