More Layoffs, Falling Stock Prices Show How Trump's Tariffs Have Harmed American Steelmakers
A Michigan steel plant annnounced it's closing at the end of the year, while U.S. Steel stocks are down 75 percent since Trump's tariffs were announced.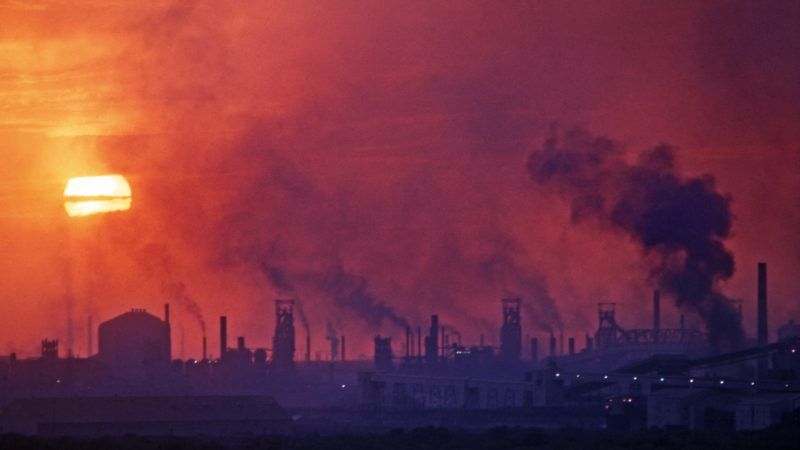 ( Everett Collection/Newscom)
If President Donald Trump's tariffs were supposed to resurrect American steelmakers, there is no doubt they have failed to accomplish that goal.
This week's bad news comes from Rothbury, Michigan, where the Barber Steel Foundry will close at the end of the year, leaving 61 people unemployed. A spokesman for the company, which is owned by the Pennsylvania-based Wabtec Corporation, told Michigan Live that the closure is due to "declining business conditions."
It's the latest in a long run of bad news for U.S. steelmakers. In July, NLMK Pennsylvania, a subsidiary of a Russian-owned steel company, announced that it would layoff 80 workers amid slowing production. Plant president Bob Miller said the plant's inability to win exemptions from tariffs were to blame for the lost jobs.
That followed the June 19 announcement by U.S. Steel that it would shut down two blast furnaces at its flagship plant in Gary, Indiana. The company has also laid off workers and slowed production at a plant in Michigan.
If the problems were contained to layoffs at a few steel mills, they could be explained away by other factors—or written off as mere anecdotes. But as you zoom out from those small-scale problems to look at the industry as a whole, it becomes even more obvious that there is no steel resurrection taking place, despite what Trump has promised would happen.
https://twitter.com/realDonaldTrump/status/1128242506771128320?s=19
The forgotten voters of the 2016 Election are now doing great. The Steel Industry is rebuilding and expanding at a pace that it hasn't seen in decades. Our Country has one of the best Economies in many years, perhaps ever. Unemployment numbers best in 51 years. Wow!

— Donald J. Trump (@realDonaldTrump) April 15, 2019
That's…not happening.
Domestic steel prices spiked in the months after Trump imposed his tariffs on imported steel, but the higher prices (and larger issues, including the uncertainty created by Trump's trade war) slackened demand for steel and prices have now fallen below pre-tariff levels. Lower prices have translated into less revenue for steelmakers, and the jolt once provided by the tariffs is now gone. The three biggest U.S. steelmakers—Nucor, Steel Dynamics, and U.S. Steel—are all expected to fall short of their third quarter projections.
U.S. Steel seems to be in particularly bad shape. In a warning to shareholders issued last week, the Pittsburgh-based company said it expects to lose 35 cents per share during the third quarter, after previously projecting losses of just 6 cents per share. Since the steel tariffs took effect in March 2018, U.S. Steel's stock has fallen by a whopping 75 percent—from a high of $45 in the days after the steel tariffs were announced to a value of just $10.50 per share on Tuesday morning. Nucor stock is down about 25 percent since March 2018, while Steel Dynamics has seen a 30 percent drop.
As Clark Packard, a trade policy expert with the R Street Institute, a free market think tank, said in June: "Tariffs are a really ineffective tool to revitalize a domestic industry."
Indeed, it's not only steel that's taken a hit when it was supposed to be getting saved. Trump's tariffs on imported aluminum created an estimated 300 jobs during 2018 at a cost of $690 million. Two solar panel manufacturers that successfully pushed for new tariffs on Chinese-made solar panels last year are now bankrupt and out of business. And when Whirlpool lobbied the administration to tax imported washing machines, consumers wound up having to pay $1.2 billion more—and higher prices have reduced demand, punishing Whirlpool as well.
The jobs that have been created by Trump's tariffs have come at a heavy cost. According to the Peterson Institute for International Economics, a pro-trade think tank, U.S. consumers and businesses paid about $900,000 for every steel job created or saved by Trump's tariffs.
It is well past time to stop believing that tariffs are going to resurrect or save the American steel industry. Trump has given little more than false hope and faulty economics to the steelworkers and other blue collar employees for whom he's promised a return to the good old days. The slow decline of American steelmaking cannot be halted or reversed by executive order or presidential tweet.
Unfortunately, most of the Democrats running to unseat Trump in 2020 are promising the same sort of protectionism. The beatings, it seems, will have to continue until morale improves.