Proposed Tariff on Washing Machines Is Pure Protectionism
Protectionist measures hurt American workers and consumers.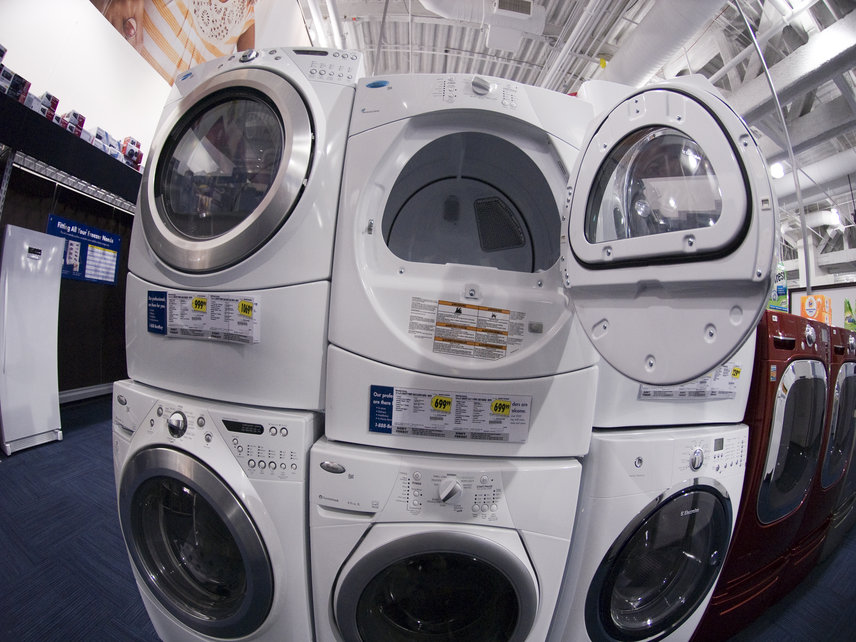 If Whirlpool gets its way, the U.S. International Trade Commission (ITC) will recommend some tariffs on washing machines that could put economic growth through the wringer, costing jobs and raising consumer prices.
The Michigan-based appliance manufacturer filed a petition with the ITC in April, claiming that the South Korean companies Samsung and LG used unfair trade practices to sell Americans washing machines at lower prices than offered by domestic companies. In September, the ITC voted 4–0 in favor of Whirlpool, and now the White House awaits its recommendations. (Whirlpool, for its part, says it wants a 50 percent tariff.)
With potential tariffs on the horizon, American manufacturing jobs could be at risk.
In the last year, both Samsung and LG announced plans to expand manufacturing jobs in the United States. LG announced in February that it would build a $250 million factory in Clarksville, Tennessee, providing 600 jobs. In June, Samsung decided to build a $380 million factory in Newberry, Soth Carolina, providing 950 jobs.
Rep. Ralph Norman (R–S.C.), whose district includes Newberry, has been vocal in his opposition to washing machine tariffs or quotas.
"Higher prices and lower demand results in diminished employment at the manufacturer level, and broad economic harm to the affected communities, like Newberry," the congressman testified to the ITC last month. He said the planned Samsung jobs would replace the 325 lost when a local Caterpillar plant announced last year that it would close.
Norman hopes to dissuade the ITC from recommending the 50 percent tariff that Whirlpool requested. Such a measure, he points out, woud not just mean fewer jobs in his home district; it would increase prices for consumers across America.
Imposing trade barriers would mean invoking Section 201 of the Trade Act of 1974, which gives the president the power to impose temporary tariffs on goods that come into the country at such volume that they harm America's domestic market. The last time this happened was in 2003, when George W. Bush imposed tariffs on steel imports. That decision cost an estimated 200,000 jobs, according to an study from Trade Partnership Worldwide, an economic consulting firm.
A similar dispute was litigated recently when two bankrupt solar panel manufacturers, Suniva and Solarworld, asked for protectionist tariffs against steel imports from China. The ITC voted in favor of Suniva and Solarworld, though the recommendation of tariffs ranging from 10 to 35 percent were less drastic than the two companies desired. The Trump administration has yet to act on the proposal.
"The government is trying to pick winners and losers with Whirlpool trade case, but the real losers are American consumers," Norman said at a Monday event hosted by the R Street Institute, a D.C.–based think tank. "The outcome of this case will have substantial ramifications on trade, and not just for Newbury."