As U.S. Steel Slows Production, It's Time To Stop Pretending Tariffs Work
The biggest American steelmaker says there has been reduced demand for their products in recent months, probably because they raised prices after Trump slapped tariffs on foreign steel.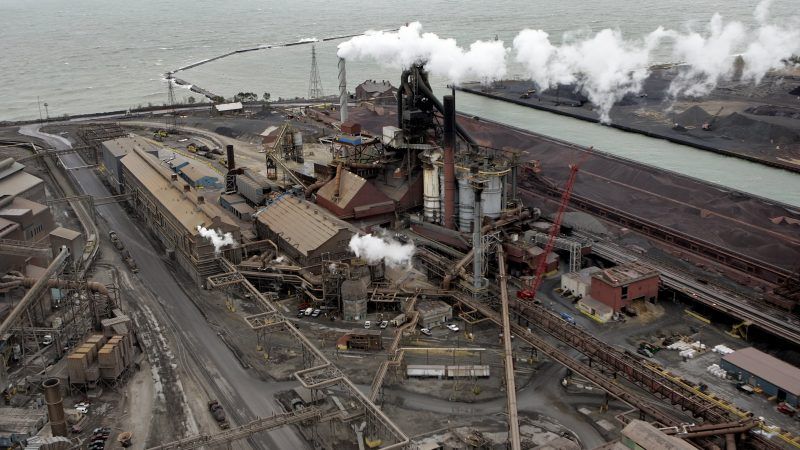 (John Smierciak/TNS/Newscom)
The largest American steelmaking company will reduce production at two facilities due to decreased demand, despite a year-old effort by the Trump administration to prop up domestic steelmakers with protective tariffs.
It's time to admit those tariffs have failed to achieve their primary policy aims.
U.S. Steel announced Tuesday that it would idle one blast furnace at its biggest facility in Gary, Indiana, and another at its plant in Ecorse, Michigan. In a statement, the company said the decision to shut down the two furnaces was because "market conditions have softened."
The Wall Street Journal reports that U.S. Steel, like other domestic steelmakers including Nucor and Steel Dynamics, has reported weaker-than-expected demand and reduced profit expectations in the second quarter of this year. Although President Trump provided a brief boost to the industry last year when he slapped 25 percent tariffs on foreign steel, that balloon appears to have popped.
Those tariffs "allowed domestic producers to raise prices, but falling demand for steel has blunted the benefit of the tariff in recent months," the Journal reported.
Gee, who could have predicted a relationship between higher prices and slackening demand?
On their own, the idling of two U.S. Steel furnaces would be a rather unremarkable blip on the national economy, but Trump has spent the past year turning the steel industry's successes and failures into a metric for his administration's trade policies.
That's why the latest evidence that Trump's trade war is not going according to plan is also some of the most damning yet. Though Trump has expanded his use of tariffs in attempts to combat what he sees as unfair trade practices by China (and threatened to use them to change Mexican policy regarding Central American migrants), the American steel industry's success has always been central to the current administration's argument for greater protectionism. "If you don't have steel, you don't have a country," Trump has proclaimed as justification for his tariffs.
He's also used the supposed resurrection of the steel industry as proof that his bellicose trade policies were working. "Our steel industry was dying, and now it's very vibrant," Trump told The New York Times in January.
Those claims were always heavily embellished. Despite what Trump has said, repeatedly, there were not seven or eight new steel plants opening in the United States. At most, he could plausibly claim to have helped bring a few idled plants back online last year. Hiring remained flat. In November, the American Iron and Steel Institute, an industry group, reported that direct steel jobs were down 4 percent from where they'd been four years ago—mostly because increased automation meant fewer workers were needed even as plants modestly expanded production.
Meanwhile, the tariffs were exacting a painful toll on steel-consuming industries that suddenly had to navigate higher prices from both foreign-sourced steel (because of the tariffs) and domestic steel (because manufacturers like U.S. Steel raised their own prices once the protectionist tariffs kicked in). Through April l, U.S. consumers and businesses had paid about $900,000 for every steel job created or saved by Trump's tariffs, according to an analysis by the Peterson Institute for International Economics.
That happened despite the fact that American steelmakers were strong advocates for the tariffs and appear to have exercised significant influence over their implementation.
Shareholders have lost too. Despite being able to charge higher prices for much of last year, major American steelmakers have seen their stock prices tumble during the trade war. When the tariffs were imposed on June 1, 2018, U.S. Steel stock was trading at nearly $37 per share. On Wednesday afternoon, the price was hovering around $15.25. Other big domestic steel producers have faced similar sell-offs.
Again, this should have been anticipated. The same thing happened in 2002 when President George W. Bush briefly hit imported steel with protectionist tariffs.
Bush ultimately withdrew those tariffs about nine months after they had been imposed. Trump's steel tariffs have been in place for more than a year, though the Trump administration did ease up last month by exempting steel imported from Canada and Mexico.
At this point, it should be abundantly clear that Trump's steel tariffs are working no better than Bush's did. If the tariffs were boosting domestic production—even at terrific cost to consumers, businesses, and shareholders—the administration could at least argue that the trade-off was a necessary one. As it stands, there is no redeeming argument for Trump's steel protectionism. The only question is how much longer it will take for the president to realize that.