A DEA Agent Got a Drug Dealer to Buy a Truck So the Agent Could Seize it Through Asset Forfeiture
Former DEA special agent Chad Scott has been convicted of perjury, obstruction of justice, and falsifying government records.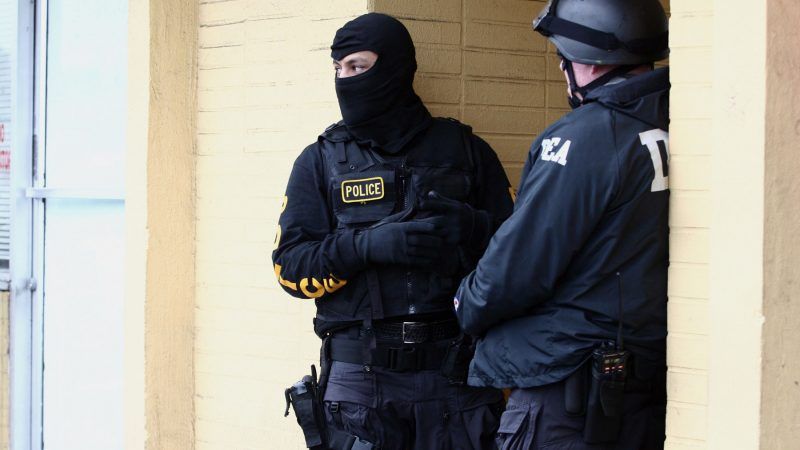 (Yuko Saito-Miller/ZUMAPRESS/Newscom)
A former Drug Enforcement Administration (DEA) agent was convicted Tuesday of lying and falsifying records to hide a long-running scheme to skim money and other property during drug busts. In one scheme, he convinced a confidential informant buy a truck so the agent could seize it through asset forfeiture.
A New Orleans jury found former DEA special agent Chad Scott guilty of seven counts of perjury, obstruction of justice, and falsifying government records. The U.S. government's indictment alleged that from at least 2009 to 2016, Scott and two other members of a New Orleans drug task force conspired to steal money from suspects and from the DEA's evidence locker, and to falsify records to cover their tracks. 
Part of Scott's misconduct involved getting a Houston drug dealer to purchase a $43,000 Ford F-150 so that Scott could seize it through asset forfeiture laws and then use it as a work vehicle. Scott falsified seizure records to make it appear that he had taken the truck in Louisiana.
Federal prosecutors also accused Scott of convincing two drug traffickers to lie on the stand about about a third defendant's involvement in a drug case, in exchange for more lenient sentences. The third defendant's conviction was later overturned.
Under civil asset forfeiture laws, police can seize property suspected of being connected to criminal activity, even if the owner isn't charged with a crime. Law enforcement organizations claim that civil forfeiture is a vital tool to disrupt drug trafficking and other organized crime by targeting illicit proceeds. Civil liberties groups say the practice creates a perverse profit incentive for police.
For example, in Illinois, former La Salle County state's attorney Brian Towne faced criminal charges for misconduct and misappropriating public funds after he allegedly spent asset forfeiture funds on an SUV, WiFi for his home, and local youth sports programs. Town created his own highway interdiction unit and asset forfeiture fund for his office, an unusual move that the Illinois Supreme Court later ruled was illegal. A judge dismissed the charges against Towne after finding his right to a speedy trial was violated.
The New Orleans Advocate reported in 2016 that Scott, who styled himself as "the white devil," was one of the most successful DEA agents in the region when it came to big drug busts and large cash hauls. The Advocate also reported that in 2004 a woman filed a complaint to the DEA and the Louisiana State Police claiming she saw Scott take drugs from a house following an arrest. Because of Scott's status as a case-maker, numerous complaints against him and other red flags were ignored
That changed after Scott was indicted in 2017 as part of a wide-ranging FBI probe into the DEA's troubled New Orleans field division. During Scott's case, federal prosecutors attempted to enter other past misconduct issues going back to 1999 into evidence.
That year, two employees of Houston's Rap-a-Lot Records, which was under DEA investigation, said they were pulled over by Scott and several other law enforcement officers. According to a motion filed by prosecutors, Scott's group "proceeded to remove the occupants from the vehicle, place them in handcuffs, and stand them against a wall. Evidence indicates that [Scott] struck Mr. Simon and took a necklace from him," which he then kept in his evidence locker for several months before returning.
A subsequent investigation by the DEA's Office of Professional Responsibility (OPR) found that, while Scott admitted to knowingly violating the DEA's evidence handling policies, there was insufficient evidence to support the allegations of civil rights abuses. Prosecutors wrote that "evidence indicates that in connection with this incident, [Scott] mishandled evidence" and "made false statements to investigators."
In sworn testimony before the House Oversight Committee in 2000 regarding the Rap-a-Lot investigation, the then-head of the DEA's Houston field office, Ernest Howard, said the OPR cleared Scott and his partner, Jack Schumacher of any misconduct. The hearing was spurred by a letter from Rep. Maxine Waters (D–Calif.) to Attorney General Janet Reno asking for an investigation into claims by Rap-A-Lot's owner that he had been subjected to racial slurs, illegal searches, and frequent traffic stops by DEA agents.
The motion also revealed that in 2004 the DEA reprimanded Scott twice for mishandling confidential informants and violating agency policy.
And in 2005, Scott arrested a man named Julius Cerdes, who claimed that Scott asked him to fabricate a story about another criminal defendant. Specifically, Scott "wanted Mr. Cerdes to say that Mr. Cerdes sold cocaine to the criminal defendant, when in fact this had not occurred," federal prosecutors wrote. "In exchange, Mr. Cerdes was to receive a more favorable disposition of his criminal case. In a subsequent proffer session, Mr. Cerdes lied as instructed, telling the false story."
Yet Scott still had plenty of defenders.
"I knew Chad Scott, and still know him, to be a fine, upstanding public servant whose dedication has been an overwhelming asset to this community," Matt Coman, a former federal prosecutor who worked closely with Scott, told the Advocate in 2016. "His work has gone a long way toward continuing to eradicate the scourge of illegal drugs in this community. He's a fantastic person, a fantastic agent—a credit to that agency."
In a Justice Department press release announcing Scott's conviction, FBI Assistant Special Agent in Charge Anthony T. Riedlinger said the conviction "reinforces the message that no one is above the law. Scott's actions were selfish and placed an unnecessary stain on an otherwise stellar agency." 
Scott faces another federal trial in October on a different set of charges.