Lawsuit: SWAT Team Shot 12-Year-Old in Kneecap During Raid
The Illinois boy now suffers from severe PTSD and will walk with a limp for the rest of his life, the lawsuit says.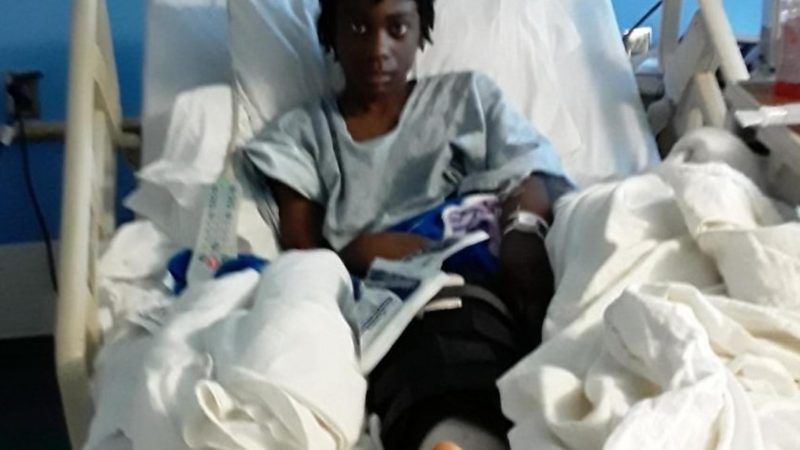 (Law Offices of Al Hofeld, Jr.)
Twelve-year-old Amir Worship was sitting on the edge of his brother's bed with his hands in the air when an Illinois SWAT team officer shot him and shattered his kneecap, according to a lawsuit filed in Illinois state court Thursday.
The suit, filed by Amir's mother, Crystal Worship, alleges that SWAT team officers from the Country Club Hills and Richton Park police departments burst into their house on the night of May 26, throwing flashbangs and detaining the family, including Amir and his 13-year-old brother, at gunpoint. The officers were executing a narcotics search warrant for Worship's boyfriend, Mitchell Thurman, who was subsequently arrested for illegal gun and drug possession.
According to the lawsuit, a SWAT team officer shot Worship in his bedroom after the room had been secured and "and long after it was obvious that a 12-year-old child posed no threat." 
"In fact, 12-year-old Amir was shot, shot while sitting on the edge of the bed with his hands up," the lawsuit says. "An officer shot him with his assault rifle, striking him in the knee and shattering his knee cap. At that moment, this officer was pointing his rifle directly at shirtless Amir as he sat on the edge of his brother's bed."
The suit also alleges that after the officer shot Amir, he covered his body camera and put black tape over his badge number. The Worship family's attorney, Al Hofeld, Jr., told Reason that the police departments denied records requests for body camera footage from the incident.
Worship's 13-year-old brother was also detained at a police station for five hours before being released, the family says. The criminal case against Thurman was later dismissed.
The lawsuit claims that, in addition to several emotional trauma, Amir Worship faces months of intense physical therapy and will walk with a limp for the rest of his life. "Amir will never be able to play sports again," the suit says. "This part of his childhood has been taken from him forever. He will never again experience the sheer physical joy of walking or running normally."
"Our lives changed," Worship said, fighting back tears, at a Thursday news conference announcing the lawsuit. "It will never be the same."
The lawsuit is the latest in a string of civil rights cases brought by Chicago-area families claiming they were terrorized during violent SWAT raids that were often based on sloppy or incorrect information.
"There is a silent epidemic of trauma being perpetrated upon the children and families of color by Chicago and South Suburban police barreling into the wrong homes, handcuffing innocent adults, holding guns on children, handcuffing children, trashing their homes, refusing to show warrants, and screaming dehumanizing commands," Hofeld said in a press release. "Now, children are being shot in their beds."
Chicago's Inspector General Joe Ferguson announced his office is investigating how Chicago police vet information and execute search warrants. The investigation was sparked by a string of lawsuits and a year-long series of stories by local news outlet CBS 2 that revealed a pattern of Chicago police executing busting into the wrong houses and terrorizing innocent families.
Sloppy, unverified search warrants led heavily armed Chicago police and SWAT officers to ransack houses; hold families, including children, at gunpoint; and handcuff an eight-year-old child in one case, CBS 2 found. In another case, 17 Chicago police officers burst into a family's house with their guns drawn during a 4-year-old's birthday party.
Last month, Hofeld filed another lawsuit on behalf of a Chicago family who say police raided their home three times in four months looking for someone the family didn't even know.
Chicago settled a civil lawsuit last June by one family who claimed CPD officers stormed their house and pointed a gun at a three-year-old girl for $2.5 million. 
"Every one of these incidents is an aggravator and a perpetuator of mistrust that exists," Ferguson said announcing the inspector general investigation. "It really calls for a greater accountability and examination."
The Washington Post reported that the Illinois State Police has an open investigation into the raid on the Worship family.
The Country Club Hills Police Department did not immediately respond to a request for comment. The Richton Park Police Department said it had no comment at this time.
"Someone should be held responsible," Crystal Worship said.