The Dismissal of Nicholas Sandmann's Lawsuit Shows There's a Difference Between Unfair Press Coverage and Libel
While the teenager has a legitimate beef about coverage of his encounter with Native American activist Nathan Phillips, that doesn't mean he has a legal cause of action.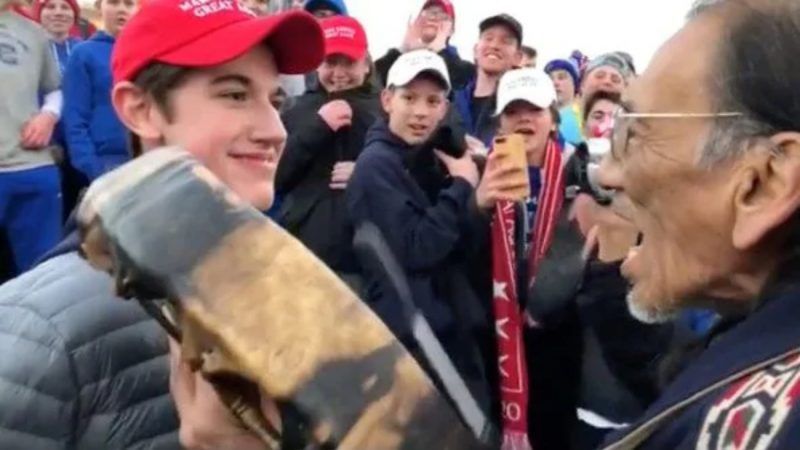 It seems clear that Nicholas Sandmann, the MAGA-hat-wearing Kentucky high school student whose encounter with Native American activist Nathan Phillips on the National Mall last January was widely portrayed as an example of smug bigotry among Trump supporters, got a raw deal, as Robby Soave has argued here. But there is a difference between unfair press coverage and libel, as the dismissal of Sandmann's defamation lawsuit against The Washington Post shows.
In a ruling issued on Friday, U.S. District Judge William Bertelsman goes through the 33 statements in seven Post articles and three related tweets that Sandmann cited in his lawsuit and concludes that none qualifies as defamation under Kentucky law. Twenty-three of the statements did not refer to Sandmann specifically, instead describing the group of students from Covington Catholic High School in Park Hills, Kentucky, who attended the March for Life that day. While Sandman was part of that group, the judge says, the statements were not "about" him and therefore do not meet a minimum requirement for defamation.
As for the rest of the statements, Bertelsman says, none constitutes an objectively false factual assertion, another requirement for defamation. One article, for example, said the students "exchanged taunts" with the group of Hebrew Israelites whose bigoted and inflammatory remarks provoked the confrontation on the Mall to which Phillips said he was responding. "What constitutes 'taunting' is a subjective matter of opinion," Bertelsman says.
When the Post reported that "school officials and the Catholic Diocese of Covington released a joint statement condemning and apologizing for the students' actions," it was likewise noting the opinion of those officials (although it later corrected that characterization by noting that the officials had not actually apologized). When the paper quoted Phillips as lamenting that "my America is being torn apart by racism, hatred, bigotry," it was also reporting someone's opinion.
The expression on Sandmann's face when Phillips was standing in front of him, which many people perceived as a "smirk" but he described as a smile intended to defuse the situation, is open to interpretation as well. And so on.
Perhaps most controversially, Bertelsman concludes that when Phillips told the Post he "felt threatened" after he was "swarmed" by the teenagers and claimed "that guy in the hat [i.e., Sandmann] stood in my way and we were at an impasse," because "he just blocked my way and wouldn't allow me to retreat," he also was expressing his own subjective reaction. "How Phillips 'felt' is obviously subjective," Bertelsman writes, "and whether Phillips was 'swarmed' or 'blocked' is simply not 'capable of being proved objectively incorrect.'"
Sandman's defenders argued that Phillips, who initiated the encounter by "walking very close to Sandmann, beating his drum and singing within inches of Sandmann's face" (as Bertelsman puts it), misrepresented the situation. But Bertelsman sees dueling interpretations and emotional reactions rather than a factual dispute:
The Court accepts Sandmann' s statement that, when he was standing motionless in the confrontation with Phillips, his intent was to calm the situation and not to impede or block anyone. However, Phillips did not see it that way. He concluded that he was being "blocked" and not allowed to "retreat." He passed these conclusions on to The Post. They may have been erroneous, but…they are opinion protected by the First Amendment.
Quoting a 2006 decision by the U.S. Court of Appeals for the 6th Circuit, which includes Kentucky, Bertelsman emphasized that "in determining whether a writing is libelous per se," as Sandmann charged, "courts must stay within the four corners of the written communication." The 6th Circuit continued: "The words must be given their ordinary, natural meaning as defined by the average lay person. The face of the writing must be stripped of all innuendoes and explanations." It was the "innuendoes," reinforced by the comments of pundits and social media users, that really damned Sandmann.
Sandmann also sued CNN and NBC over their coverage, and those cases are still pending.
Even if the Post's coverage fell short of libel, that hardly means it was a model of journalistic practice. After Sandmann filed his lawsuit, the Post admitted that its initial reporting was flawed. According to a March 1 editor's note, "Subsequent reporting, a student's statement and additional video allow for a more complete assessment of what occurred, either contradicting or failing to confirm accounts provided in that story—including that Native American activist Nathan Phillips was prevented by one student from moving on, that his group had been taunted by the students in the lead-up to the encounter, and that the students were trying to instigate a conflict." The paper also noted that "an investigation conducted for the Diocese of Covington and Covington Catholic High School found the students' accounts consistent with videos."
As Bertelsman notes, the "additional video" was available online on January 19, the day after the incident, so the Post could have provided "a more complete assessment of what occurred" all along. By failing to do so, and by omitting the perspective of Sandmann and the other students from its early coverage, it reinforced the impression that they were the aggressors. The Post started to backtrack three days later, when it published a story headlined "Viral Standoff Between a Tribal Elder and a High Schooler Is More Complicated Than It First Seemed." That same day, the Post also published a column by press critic Erik Wemple headlined "'Fuller Picture': How Major Media Outlets Handled Their Evolving Accounts of the Covington Story." But those re-evaluations came after the Post presented Phillips' account without contradiction and ran video of the incident under headlines like "Teens Mock and Jeer Native American Elder on the Mall." Lots of people, including the school and church officials in Kentucky, jumped to unjustified conclusions in this case, and news outlets such as the Post encouraged them to do so.
There are obvious lessons here for journalists. But the case also illustrates a point that Donald Trump should (but won't) take to heart: Journalism can be unbalanced, misleading, and even flat-out wrong without being legally actionable. That's as it should be in a country that values freedom of speech, which requires tolerating all sorts of "fake news," even when it hurts innocent bystanders. As painful as it is to be on the receiving end of irresponsible news coverage, the consequences would be far worse if the government ventured beyond the relatively narrow confines of defamation and tried to mandate fairness.
Update: Bertelsman reconsidered part of his ruling in October 2019, allowing discovery to proceed regarding three statements made by the Post based on Phillips' claim that Sandmann "blocked" him and "would not allow him to retreat."