In Editor's Note, The Washington Post Admits Early Covington Reporting Was Flawed. Nicholas Sandmann's Attorney Says That's Not Good Enough.
"The Sandmanns would never accept half of a half-measure from an organization that still refuses to own up to its error."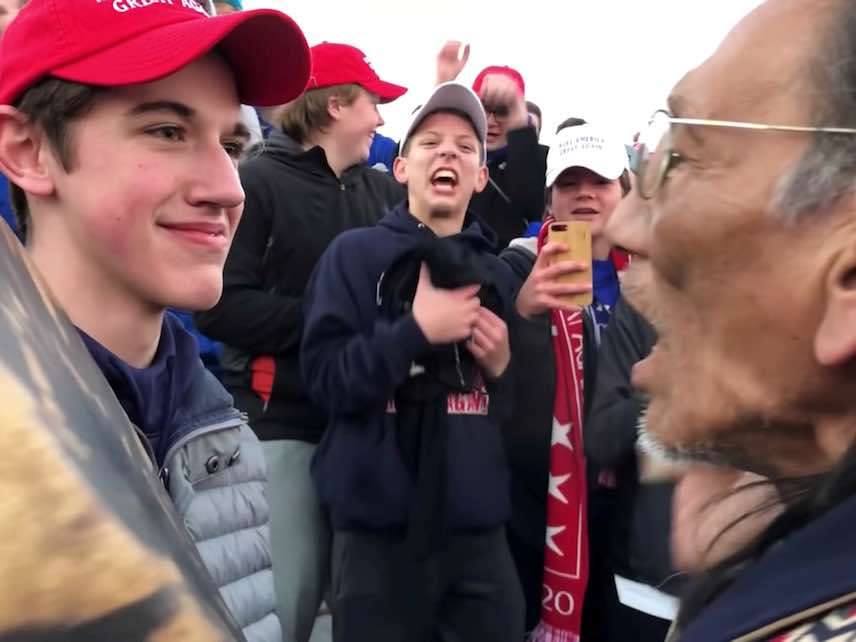 The Washington Post published an editor's note Friday admitting the paper's early reporting on the January 18 incident involving Covington Catholic High School students at the Lincoln Memorial was not completely accurate.
"Subsequent reporting, a student's statement and additional video allow for a more complete assessment of what occurred, either contradicting or failing to confirm accounts provided in" the paper's initial story, the editor's note concedes.
The note specifically cites Native American activist Nathan Phillip's assertions about being taunted and prevented from moving by the Catholic teenagers as claims that did not stand up to scrutiny.
In a statement to Reason, Washington Post Vice President for Communications Kristine Corrati Kelly told me, "While we do not accept the characterizations and contentions regarding our reporting of the incident at the Lincoln Memorial, we have taken steps to address the concerns expressed to us."
Nicholas Sandmann, the Covington student wrongly described as cruelly smirking at Phillips during the encounter, is currently suing The Post over its coverage of the viral video. The Post would not confirm whether the lawsuit motivated the paper to post the editor's note, and defended its handling of the matter in general.
"The full story did not emerge all at once and throughout our coverage, we sought to produce accurate reports," said Coratti Kelly. "Even the comments of the school and church officials changed, and The Post provided ongoing coverage of the conflicting versions of this event and its aftermath, giving prominent attention to the student's account and the investigative findings supporting it. We thus have provided a fair and accurate historical record of how this incident unfolded."
Attorneys for Nicholas Sandmann—the Covington student accused of smirking at Phillips—were not satisfied with the editor's note.
"What The Washington Post put out is barely worth comment," Todd McMurtry, an attorney for Sandmann, told Reason. "WaPo committed gross journalistic malpractice and cannot undo its deeds with an editor's note that purports to correct the record over a month after it led a frenzied mob in trashing a minor's reputation. The Sandmanns would never accept half of a half-measure from an organization that still refuses to own up to its error."