Hempfest Sues Washington's Marijuana Regulators for Censoring Sponsors' Signs
The Seattle festival's organizers argue that banning signs referring to state-licensed cannabusinesses violates the state and federal constitutions.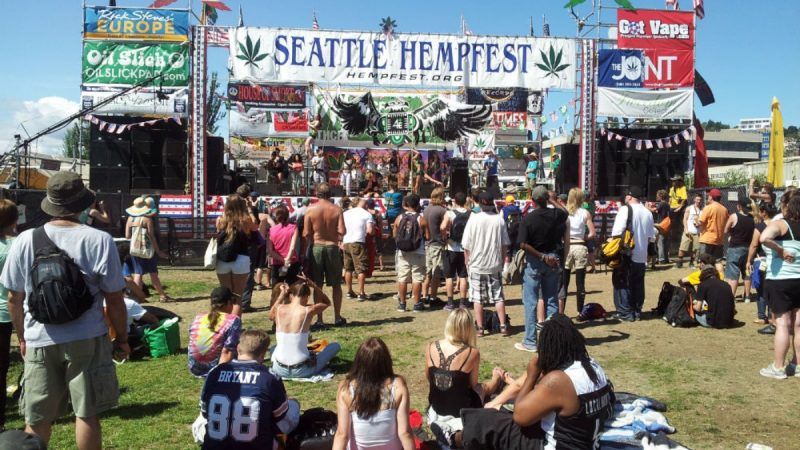 Hempfest, the annual "protestival" that has been held in Seattle every summer for the last 27 years, relies on payments by sponsors to help cover its expenses. Now that marijuana is legal in Washington, state-licensed cannabusinesses, which have an interest in supporting the legal reforms promoted at Hempfest, should be a reliable source of revenue. But under a new interpretation of state limits on marijuana advertising, the Washington State Liquor and Cannabis Board (WSLCB) says such companies may not display "any sign" that refers to them at Hempfest, even in connection with purely informational activities aimed at promoting debate about marijuana policies. In a lawsuit filed yesterday in Thurston County Superior Court, Hempfest and two marijuana retailers argue that the new rule violates their rights to freedom of speech, freedom of assembly, and freedom to petition for redress of grievances under both the First Amendment and the state constitution.
The new WSLCB policy is "so overreaching and restrictive as to be unconstitutional," says Hempfest Director Vivian McPeak. "It is imperative that Washingtonians have access it accurate and up to date information regarding the cannabis products they purchase and consume, and that those citizens and others are able to identify the source of that information. Businesses engaged in the cannabis industry in Washington State should also have the legal right to publicly show their support for political issues and causes of their choosing. The WSLCB's interpretation of our state's ad restrictions prevent businesses from doing so."
The First Amendment argument is complicated by the fact that marijuana is still prohibited by federal law. But McPeak is right that sweeping censorship like the WSLCB's sign ban would ordinarily be unconstitutional under Supreme Court precedents dealing with political and commercial speech. And Article I of Washington's constitution, like the First Amendment, guarantees freedom of speech as well as "the right of petition and of the people peaceably to assemble for the common good."
The WSLCB's policy is based on a broad reading of marijuana "advertising," which state law prohibits within 1,000 feet of a "public park"—one of the many state rules aimed at limiting exposure of anyone younger than 21, the minimum marijuana purchase age, to messages promoting cannabis consumption. Hempfest, which in recent years has attracted about 100,000 people annually, is held in Seattle's Myrtle Edwards Park and Centennial Park, authorized by all the requisite permits.
The WSLCB had previously agreed that "the use of a business trade name on a booth, or identified as part of a sponsorship level, would not constitute a violation of marijuana advertising laws and rules." It therefore told its licensees that they "can use tradename/business names at the event without the need for required marijuana warnings, as required on product advertising."
But under the new interpretation, announced in April, that WSLCB says licensees "cannot directly or indirectly be responsible for the placing of a sign or advertisement for marijuana businesses" at events like Hempfest. It adds that "licensees may attend these events or have a non-commercial sign as long as the licensee and/or the message does not reference or otherwise promote a marijuana licensed business or its products."
As a result of that confusing directive, Hempfest's complaint says, state-licensed marijuana businesses are "unable to determine whether any booth [they] may set up at Seattle Hempfest, to disseminate information concerning their support of marijuana law reform, or to educate the public about any effects of marijuana use or consumption, or the history of marijuana use, abuse, and criminalization, can bear their business names, logos, or address, or whether their booth can even identify their names and/or logos."
That uncertainty, not surprisingly, has had a chilling effect on Hempfest sponsorships. According to the complaint, past sponsors have said "they are not able to sponsor Seattle Hempfest in light of recent reports of the WSLCB position."
Hempfest argues that the new policy is "excessive, overbroad and unreasonable and fails to directly advance government interests in limiting or restricting the use of marijuana by underaged persons, or any other legitimate governmental interests and also is more extensive than necessary to serve any legitimate government interest." Furthermore, it says, "the restrictions are not narrowly tailored to serve a substantial or compelling governmental interest."
Even before this expansion, Washington's marijuana advertising restrictions seemed constitutionally suspect under the logic of Lorillard Tobacco v. Reilly, the 2001 case in which the U.S. Supreme Court overturned state restrictions on outdoor tobacco ads. Those rules, like Washington's, were aimed at shielding minors from ads for products they are not legally allowed to consume. The Court nevertheless held that the restrictions swept too broadly, barring outdoor tobacco advertising from "a substantial portion of Massachusetts' largest cities" and in some places amounting to "nearly a complete ban on the communication of truthful information about smokeless tobacco and cigars to adult consumers." But the Court also has held that the First Amendment does not protect "commercial speech related to illegal activity," which, as far as the federal government is concerned, includes producing and selling marijuana.
In this case, however, Hempfest argues that the WSLCB is squelching noncommercial speech by discouraging marijuana businesses from participating in the festival. McPeak notes that "to single out particular speakers and businesses and prevent them from speaking on matters of public debate has been condemned in numerous U.S. Supreme Court cases." And regardless of how federal courts would apply the First Amendment, Hempfest is also pressing claims under the state constitution.
Douglas Hiatt, one of the attorneys representing Hempfest, says federal marijuana prohibition should not be an issue in state court. "I don't think our attorney general will be able to argue the federal position," which implicates state officials in money laundering (via marijuana tax collection) and other federal felonies. "We are in state court, and I don't think it's relevant," Hiatt says. "In this state, it's legal."