Justice Department Tells Republicans to Hand Over Records on Cindy Yang and Other Chinese-American Supporters
Plus: humanitarians face felonies for helping migrants, Huawei scientists banned from reviewing prestigious journal, and more...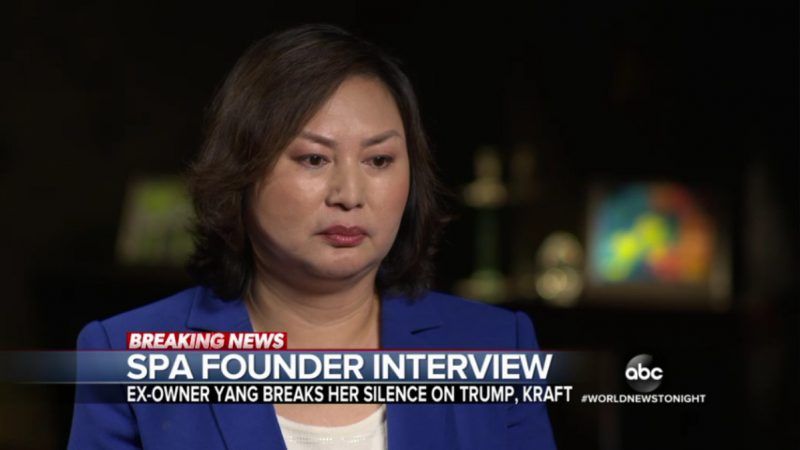 Following a request from congressional Democrats, the U.S. Department of Justice is now subpoenaing records related to the Floridian entrepreneur and small-time Republican donor Li "Cindy" Yang.
The Miami Herald reports that federal prosecutors have sent subpoenas to the Mar-a-Lago Club and to Trump Victory (a fundraising team for Trump's 2020 presidential campaign, the Republican National Committee, and GOP committees from 11 states), seeking information on contributions and event attendance by Yang, her husband and parents, several former members of her staff, her colleague on the National Committee of Asian American Republicans, and several other Chinese Americans.
Right now, federal investigators don't know or aren't letting on much. But the Herald says the case is aimed squarely at "Yang and possibly others close to her," not the Trump family business or Republican fundraisers.
Yang—who built up and then sold a spa and massage chain in South Florida—had in recent years launched G.Y. U.S. Investments, an endeavor that helped Chinese business owners navigate U.S. regulations and make contacts, investments, and operational inroads here.
As part of this consulting business, Yang sometimes offered clients access to events at Trump's private club in Palm Beach and to other Republican parties. Prosecutors say some of these events were ticketed fundraisers, meaning someone had to pay for the access—a payment that counts as a political contribution. And non-citizens are prevented from donating to U.S. political campaigns.
Yang herself has been a citizen here for years. But if she brought Chinese nationals who paid her to a paid-ticket party for Trump, she may have run afoul of campaign finance laws. Yang has denied any wrongdoing. She is also suing the Herald for defamation.
Nonetheless, people are already spinning wild tales about what we supposedly know about Yang—that she funneled money from China to Trump, and that she earned her money from human trafficking. The trafficking rumor stems from recent (and rapidly unraveling) prostitution cases against Patriots owner Robert Kraft and others, involving activity at a massage place that isn't affiliated with Yang. (Yang simply owned a business in the same location years ago.)
And while we may yet find some funny business with her books, all the FBI seems to have right now is receipts on some legal and relatively small donations ($70,000 from Yang and her family to Trump fundraisers since the 2016 election, the Herald reports) and records of contributions from several other Chinese Republicans or massage business owners. It's not even clear that some of those have any association with Yang.
The new subpoenas demand any documents and communications related to Yang and 11 others, dating back through January 2017. They also seeks information related to "one charity and seven companies affiliated with" Yang, an unnamed "person familiar with the investigation" tells the Herald. The paper adds that the
investigation is being handled by the FBI and the Justice Department's Public Integrity Section in Washington. While special counsel Robert Mueller's inquiry into Russian interference in the 2016 election has ended, the new probe examining Chinese money may add to growing concerns over foreign influence heading into the 2020 election.
It seems unlikely to be just coincidence that this story and others hinting about Chinese influence starting sparking so much attention right around the time Special Counsel Robert Mueller's investigation into Russian meddling and collusion was dying down.
---
FREE MINDS
The Institute of Electrical and Electronics Engineers (IEEE) can no longer let Huawei scientists serve as editors or peer reviewers for its journals, or else it risks running afoul of the Trump administration's sanctions on the Chinese company.
Unbelievable, IEEE is forced to ban Huawei employees from peer-reviewing papers or handling papers as editors. pic.twitter.com/pkvQeOUI07

— Junhui Qian (@qian_junhui) May 29, 2019
Science reports:
The IEEE ban has sparked outrage among Chinese scientists on social media. "I joined IEEE as a Ph.D. student because it is recognized as an International academic platform in electronics engineering," wrote Haixia (Alice) Zhang of Peking University in Beijing in a letter to IEEE leadership. "But this message is challenging my professional integrity. I have decided to quit the editorial boards [of two IEEE journals] until it restores our common professional integrity."
---
FREE MARKETS
Humanitarians offering material assistance to migrants crossing the Sonoran Desert are being prosecuted on federal charges. Arizona geographer Scott Warren is one of them, charged with a felony for offering water, food, and other basic necessities to those passing through.
"In the Sonoran Desert, the temperature can reach 120 degrees during the day and plummet at night," writes Warren:
Water is scarce. Tighter border policies have forced migrants into harsher and more remote territory, and many who attempt to traverse this landscape don't survive. Along what's become known as the Ajo corridor, dozens of bodies are found each year; many more are assumed to be undiscovered.

Local residents and volunteers organize hikes into this desert to offer humanitarian aid. We haul jugs of water and buckets filled with canned food, socks, electrolytes and basic first-aid supplies to a few sites along the mountain and canyon paths. Other times, we get a report that someone has gone missing, and our mission becomes search and rescue—or, more often, to recover the bodies and bones of those who have died.

Over the years, humanitarian groups and local residents navigated a coexistence with the Border Patrol. We would meet with agents and inform them of how and where we worked. At times, the Border Patrol sought to cultivate a closer relationship. "Glad you're out here today," I remember an agent telling me once. "People really need water." In a town as small as Ajo, we're all neighbors, and everybody's kids go to the same school. Whether it was in the grocery store or out in the field, it was commonplace for residents and volunteers to run into Border Patrol agents and talk.

Those kinds of encounters are rare these days. Government authorities have cracked down on humanitarian aid: denying permits to enter the Cabeza Prieta National Wildlife Refuge, and kicking over and slashing water jugs. They are also aggressively prosecuting volunteers. Several No More Deaths volunteers have faced possible imprisonment and fines of up to $10,000 on federal misdemeanor charges from 2017 including entering a wildlife refuge without a permit and "abandonment of property"—leaving water and cans of beans for migrants. (I face similar misdemeanor charges of "abandonment of property.")
More here.
---
QUICK HITS
A book's dedication page is a great place to give credit where credit is due. Here's the dedication from How To Become a Federal Criminal, which comes out Tuesday and is available at https://t.co/97E1Bcc4TF pic.twitter.com/7yWz6FXlKl

— A Crime a Day (@CrimeADay) May 29, 2019
This is a really well done and fascinating deep dive into Instagram and and it's attack on sex workers.

"Infantilism and secrecy, coupled with tech-bro culture, makes Silicon Valley the second element of this Perfect Storm against sex workers"https://t.co/ZnVvldcol2 via @xbiz

— Mistress Matisse (@mistressmatisse) May 30, 2019
Rep. Nancy Pelosi intensifies her crusade against Facebook, declaring yesterday in response to a doctored video it didn't take down: "I think they have proven—by not taking down something they know is false—that they were willing enablers of Russian interference in our election." (As Cato's Julian Sanchez comments, "that is just a bizarre non sequitur.")
An Illinois Newsroom investigation into prison library book removals finds "a majority of the books removed from the program's library are about race."
Government is just another word for…
The government is so insanely officious in NJ that it limits how many 65-inch TVs a craft brewery is "allowed" to have https://t.co/gPW7yUYlym cc @senatorshoshana pic.twitter.com/qJUrEwhNJ2

— Paul Sacca (@Paul_Sacca) May 29, 2019