Bill Weld: Mueller Shows How 'Trump Is Not Worthy of the Oval Office'
Scuffling GOP primary challenger, meanwhile, defends his assertion that the president would prefer an "Aryan nation"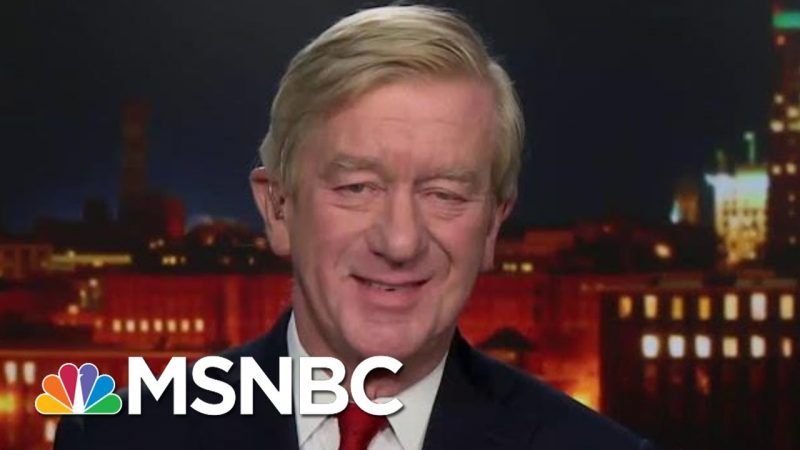 Rep. Justin Amash (R–Mich.) is not the only self-described libertarian Republican to conclude from Special Counsel Robert Mueller's two-volume report that President Donald Trump engaged in impeachable conduct.
Bill Weld, Mueller's former boss at the Department of Justice in the early 1990s, concluded upon the report's delivery that "It's time for Trump to resign," then told me in late April that "it's very obvious that the evidence goes well beyond what's required to charge the president with obstruction of justice. It goes well beyond anything President Richard Nixon ever did….If you read Volume Two, it's very clear that the president committed the offense of obstruction of justice."
Hours after Mueller's please-read-my-report press conference Wednesday, Weld, who is scuffling to gain traction in his primary challenge against the president, issued a press release again calling on Trump to resign.
"Today Bob Mueller reminded all Americans of why Donald Trump is not worthy of the Oval Office," Weld said. "When the subject of an authorized investigation obstructs it or lies in response to it, that strikes at the heart of the criminal evidence gathering process….Volume 2 of Mr. Mueller's report sets out approximately ten instances where there was evidence that Mr. Trump obstructed the investigation."
Weld is one of nearly 1,000 former federal prosecutors to sign onto a May 6 statement saying, in part, that "we recognize that prosecuting obstruction of justice cases is critical because unchecked obstruction — which allows intentional interference with criminal investigations to go unpunished — puts our whole system of justice at risk. We believe strongly that, but for the [Office of Legal Counsel] memo, the overwhelming weight of professional judgment would come down in favor of prosecution for the conduct outlined in the Mueller Report."
The divergent interpretations of the Office of Legal Counsel (OLC) guidance on charging sitting presidents has emerged as a significant if hard-to-parse split between Mueller and his boss, Attorney General William Barr. Judge Andrew Napolitano walked through the OLC dispute on Fox News Wednesday:
This is what @judgenap had to say today about the discrepancy between Robert Mueller and Attorney General Barr's statements regarding charging the president with a crime (cc @mattwelch @nickgillespie) pic.twitter.com/LkpMnqVPUh

— Andrew Wimsatt (@ajwimsatt) May 29, 2019
(Listen to Napolitano's explanation for why he thinks Trump obstructed justice in this Reason Podcast from earlier this month.)
Weld, the Libertarian Party's 2016 vice-presidential nominee, has been juxtaposing his prosecutor-centric, rule-of-law objections to Trump with his conspicuously "social justice"–flavored advocacy for criminal justice reform since even before returning to the GOP in January. He told Reason in 2018 that the phrase "all lives matter" was "nothing but a dog whistle," claimed to The New Yorker in March that "white supremacists" heard Trump's "dog whistle loud and clear," and then ratcheted up the rhetoric still further last week.
"I celebrate that America has always been a melting pot," Weld declared at the Edward M. Kennedy Institute. "It seems he would prefer an Aryan nation. I know that sounds strong and tough but he's very interested in bloodlines and it has resonance."
Given an opportunity to defend his remarks on CNN this week, Weld did not back down an inch.
"It's been clear since he started his campaign, he was basing it on trying to stir up vitriol and hatred of immigrants": Trump GOP challenger Bill Weld defends his claim that President Trump would prefer an "Aryan nation" https://t.co/PzwLE3lIFw pic.twitter.com/bk4vJkjvUm

— CNN Tonight (@CNNTonight) May 29, 2019
Weld also said in that interview, "I think a lot of people agree with me and Congressman Amash, whose statement I totally applaud, that the president committed obstruction of justice." This prompted the Libertarian Party's national Membership Manager Jess Mears to exult:
Y'all realize it's two "little L" libertarians making the biggest dent in bringing down @realDonaldTrump?

1. @GovBillWeld is literally primarying Trump

2. @justinamash is the only sitting R in congress declaring Trump engaged in impeachable conduct

— Jess Mears (@jess4liberty) May 24, 2019
There are plenty of other libertarian-leaners, meanwhile, who look upon the same set of Trump/Russia facts and come to a drastically different conclusion. Sen. Rand Paul (R–Ky.) characterized the Mueller report last week as "the antithesis of libertarianism," arguing that it amounted to "an abuse of intelligence power consistent with what libertarians have been complaining about for a long time."