Florida Cases Restoke Chinese Conspiracy Fears
Yujing Zhang, Cindy Yang, and prostitution busts at Chinese spas have planted the seeds for new conspiratorial corruption narratives to bloom.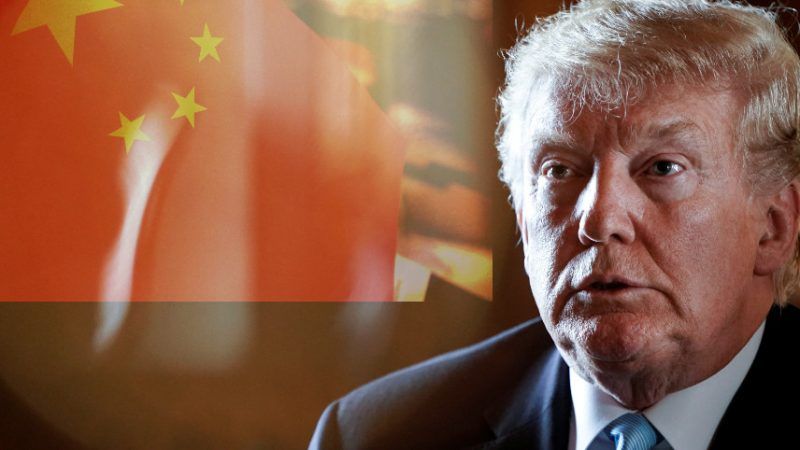 (Trump: JOSHUA ROBERTS/REUTERS/Newscom; Chinese flag: Francis Joseph Dean /Deanpicture/Newscom)
Russiagate redux? A few recent stories involving Chinese women, South Florida, and tangential ties to President Donald Trump have planted the seeds for new conspiratorial corruption and treason narratives to bloom.
"There's a new Mar-a-Lago mystery," reported Mother Jones last night. "It involves a Chinese woman who allegedly tried to sneak into President Donald Trump's private club carrying four cellphones, a laptop, and a thumb drive containing malicious software. And it happened on the same day as a scheduled event at the club that was promoted by Cindy Yang, the Trump donor and massage parlor owner who ran a business that offered access to Trump and other political figures. That event was slated to feature Trump's sister, Elizabeth Trump Grau."
The woman with the laptops, Yujing Zhang, first presented Mar-a-Lago security with her Chinese passport and said she was there to use the pool, according to Secret Service Agent Samuel Ivanovich. Zhang later told a receptionist she was there for a "United Nations Chinese American Association" gathering, then told Ivanovich she was there for a "United Nations Friendship Event." Neither event existed.
Zhang was charged with illegally "entering or remaining in a restricted building or grounds" and with lying to a federal agent. What's really going on there remains to be seen.
But as of now, any links between Zhang and Li "Cindy" Yang are, as the cop shows say, circumstantial at best. The Mar-a-Lago event Yang promoted did exist, that evening, and was not one of fictitious events that Zhang conjured. Yang's affiliation with the evening event was limited to including it on the GY website as something clients could and might want to attend.
"The previous Mother Jones and Herald stories on Yang caused some national security experts to voice concern about the possible national security implications of Yang's promotion of events at Mar-a-Lago to Chinese citizens," states the Mother Jones article.
Which sounds an awful lot like they're suggesting that simply promoting events there should be off limits for Chinese people, or at least inherently suspect.
Despite dramatic insinuations, there's been no evidence that Yang was actually "selling access" to the president (or other political figures) in any meaningful way. She simply took a few posed photos with Trump, and offered some clients the opportunity to do the same. Her consulting company, GY US Investments, arranged tours, visits, and attendance at an array of political offices, business conferences, and political, networking, and cultural events for Chinese and Chinese-American entrepreneurs. Yang herself was born in China but has lived here for two decades and become a U.S. citizen. Until recently, she ran a chain of massage businesses around the Palm Beach area.
One of those businesses she closed in 2013. It was opened under a new name by a woman with no apparent ties to Yang and, earlier this year, the site of a Homeland Security–assisted prostitution sting that netted Patriots owner (and Trump supporter) Robert Kraft on misdemeanor solicitation charges.
Yang was not tied to those busts, and she is not tied to the woman who just bluffed her way into Mar-a-Lago. And yet some people are quickly weaving a new narrative of shady "influence" with her as some sort of centerpiece.
Last month, congressional Democrats called on the FBI to investigate Yang, even though no one has produced any evidence she's doing anything illegal. If it was a crime to market access to political power, we had better build a lot bigger prisons all around Washington, D.C. And if it's the whole racket that's the problem—well, one can criticize this sort of influence peddling without making an international conspiracy out of it, you know.
We may still find hidden plots and ties here, but those preemptively striking are relying on some heavy, heavy speculation. (Where have we seen something like this recently?)
CNN analyst Samantha Vinograd, quoted in the Mother Jones piece, said the "intel community has said China poses one of the most significant counterintelligence challenges—my money is on the Chinese Govt having at least picked up on [Yang's] access if they didn't direct it."
It looks like some in media are more than willing to turn China into the next bogeyman and ready to cast a new season of shadowy figures.
QUICK HITS
The Republican congressman @mattgaetz says he'll introduce the "Green Real Deal" tomorrow, which he calls the conservative response to @AOC's Green New Deal. (This tweet is not a joke.)

— Sahil Kapur (@sahilkapur) April 3, 2019
The Justice Department is warning against the Oscars excluding Netflix and other streaming service originals from awards.
As New York City Councilmember Peter Koo promised to get tougher on massage-parlor prostitution, "dozens of sex workers and their allies gathered just outside police barricades," writes Emma Whitford. "'NYPD out of massage parlors!' they chanted, in English and Mandarin."
A judge in Kentucky sided against "a Kentucky high school student [who was] challenging an order that barred him from school because he refuses to obtain the chickenpox vaccine," USA Today reports.
Sticker art is cool again.
More fodder for speculation about a potential Libertarian Party presidential run from Rep. Justin Amash (R–Mich.) in 2020.
A rare note on prostitution decriminalization from the Rhode Island branch of the American Civil Liberties Union:
When will we stop arresting and humiliating women to "protect" them from human trafficking? Yes, fight trafficking where it exists, but the time has come to decriminalize prostitution. https://t.co/afSJQT5W87

— ACLU of Rhode Island (@RIACLU) March 30, 2019