Howard Schultz Puts Campaign in Sleep Mode
The unloved independent centrist is waiting to see if Joe Biden survives or is yanked too far leftward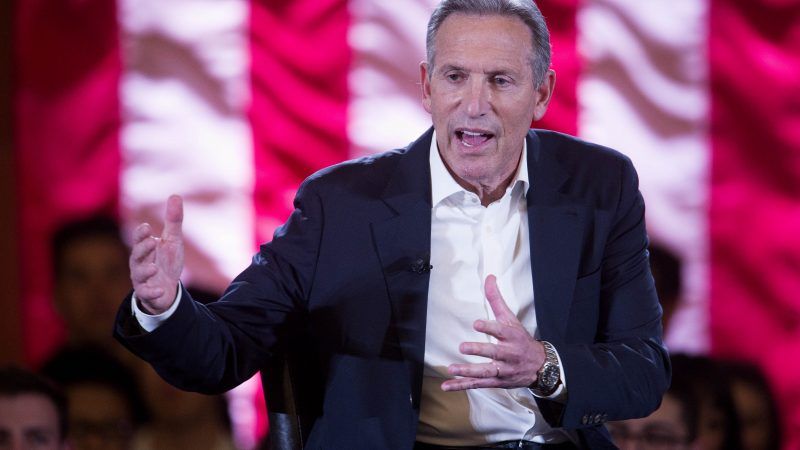 (Brian Cahn/ZUMA Press/Newscom)
Whatever happened to the once-hated, would-be independent presidential candidate Howard Schultz? The billionaire ex-Starbucks CEO, after a caffeinated first three months of White House teasing, went dark in late April, undergoing back surgery and withdrawing even from regular tweeting. Then on Wednesday of this week, the Schultz team made his indecision semi-official.
"If Joe Biden were to emerge as the nominee and not a bloodied nominee, still more of a moderate Democrat," spokeswoman Erin McPike told Fox Business Network (FBN) host Neil Cavuto, "I think Howard would probably think twice."
In the meantime, FBN reported, citing multiple sources in the campaign, that means no more televised town halls, no more trips to early primary states, probably not much in the way of advertising either:
Schultz has also pushed back the timetable of his decision, which was initially expected sometime in the summer, these people add. People close to the billionaire say his decision may now take months, and he might even wait until early 2020 to decide whether to run as he observes the Democratic primary fight, and how Biden competes against his more leftist rivals.

"His decision will be based on how the Democratic field shakes out and seeing how Biden fares," said one of the people familiar with Schultz's decision making. "If Joe Biden remains strong, and remains a moderate, there clearly is a much narrower path."

Schultz, a lifelong Democrat, has repeatedly positioned his potential bid as a rational centrist alternative to a right gone mad on Trumpian authoritarianism and a left coming unhinged with democratic socialism. Like many third-party candidates who clearly emanate from one of the two major parties, he has tried to play it both ways, insisting that "I will not do anything whatsoever to re-elect Donald Trump," while repeatedly warning his former party mates that they'd better not go too lefty, or else.
Schultz hasn't been included in three-way general election polls for almost two months, but when he was, there were two interesting and consistent trends throughout: 1) He did much worse when Joe Biden was the nominee, and 2) His impact on the race was always either negative or neutral for the Democratic Party.
Change Research, for example, conducted a national poll of 4,049 likely voters from March 8-10, pitting Trump against Biden, Bernie Sanders, Kamala Harris, and Beto O'Rourke, each with and without Schultz. Schultz received 4 percent against Biden, 7 percent against everyone else. In six three-way polls (state and national) where Sanders was the Democratic candidate, the Schultz effect on the Trump-Bernie margin was an average of minus three percentage points. In seven polls with Biden, the effect was negative 1.4.
PERIODIC REMINDER: Please don't take polls too seriously, remember that third-party polling almost universally overstates eventual vote totals by a substantial margin, and times of high-interest polarization tend to be deadly for non-traditional candidates. That said, Schultz is certainly paying close attention to those numbers, including the fact that the comparatively centrist 1-2 punch of Biden and Pete Buttigieg has nearly double the combined support of Bernie Sanders and Elizabeth Warren.
Will the primary process dislodge what Schultz apparently considers Biden's acceptable moderation? Well, Uncle Joe is nothing if not a rusty weather vane, and the Democratic wind is still coming in heaviest from the left. There's no reason to suspect the former vice president will end up being any good on Schultz's biggest (and most important) issue—the country's unsustainable fiscal outlook.
But if the billionaire was "freaking out" about the negative reaction to his independent trial balloon in February 2019, just imagine how he'd cope with the tsunami of Democratic rage that would come his way should he decide to compete in a Biden-Trump face-off. One should never make predictions in contemporary American politics, but here's something I'd wager money on: If Joe wins the nomination, that's the last we'll hear about the presidential aspirations of Howard Schultz.