An NYPD Superior Reacted to Eric Garner's Death by Texting 'Not a Big Deal.' And That's Completely Unsurprising.
For five years, the NYPD, its apologists, and even Mayor Bill de Blasio have absolved cops of their role in Eric Garner's death.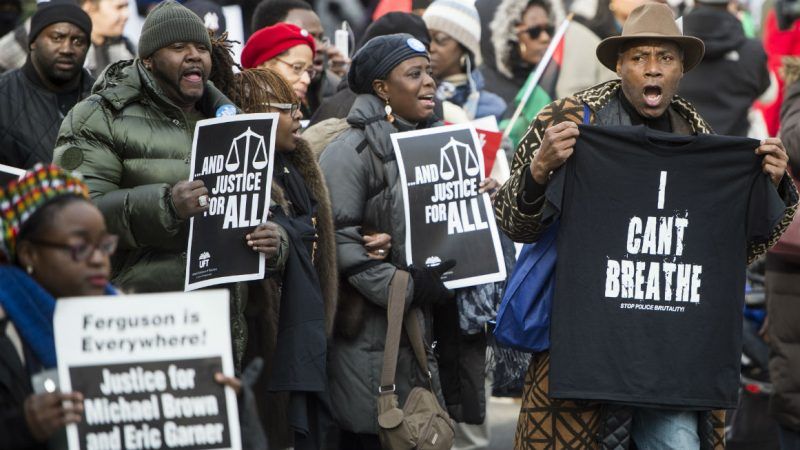 (Bill Clark/CQ Roll Call/Newscom)
Nearly five years after Eric Garner was killed, the callous reactions to his death continue.
In 2014, video showed New York Police Department (NYPD) officers confronting the 43-year-old Garner on a sidewalk. The officers, including one Daniel Pantaleo, attempted to arrest Garner for selling individual untaxed cigarettes. Garner rejected their accusations of illegal activity and said he was just recovering after breaking up a fight. Police jumped on Garner and forced him to the ground. Pantaleo put Garner in a chokehold, a move that is banned by the NYPD. Garner repeatedly told officers he couldn't breathe. They ignored him, and he died.
Now Pantaleo is finally facing an internal disciplinary hearing. During that process yesterday, text messages between 120th Precinct Lt. Christopher Bannon and a police sergeant were displayed on a screen and read aloud. The sergeant informed Bannon in 2014 of Garner's arrest, adding that he was "most likely DOA" (dead on arrival).
Bannon texted back: "Not a big deal. We were effecting a lawful arrest."
The New York Times reports that Pantaleo's lawyer intended to use Bannon's testimony to establish that the officer was carrying out good police work. But there was an audible gasp in the room as prosecutors read the text exchange aloud.
Asked to explain the text, Bannon said his words were written not out of maliciousness but simply to assure Pantaleo that "he was put in a bad situation." A prosecutor then asked whether Garner was similarly placed "in a bad situation," Bannon said he wasn't sure how to answer the question.
Bannon's reactions are appalling but also unsurprising. In the weeks following Garner's death, police forums were riddled with anonymous posts accusing Garner of killing himself with his noncompliance.
The immediate NYPD reaction similarly absolved itself of wrongdoing. Both Commissioner Bill Bratton and Mayor Bill de Blasio quickly informed New Yorkers that police would continue to "strictly enforce" the laws against loose cigarettes and that it was a civilian's responsibility to "correct" their own behavior when approached by an officer.
Bonus video: After retracing Garner's steps the day he died, journalist Matt Taibbi concluded that there was no possible way Garner had been selling loose cigarettes at the time that police said. Garner—who had been going about his day after breaking up a fight, as he said—had several legitimate reasons to be surprised by the influx of officers coming to arrest him.