Homeless Advocates Are Taking Houston's Cruel Food-Sharing Ban to Court
The suit alleges that Houston's law violates elements of the First, Fourth, Fifth and Fourteenth Amendments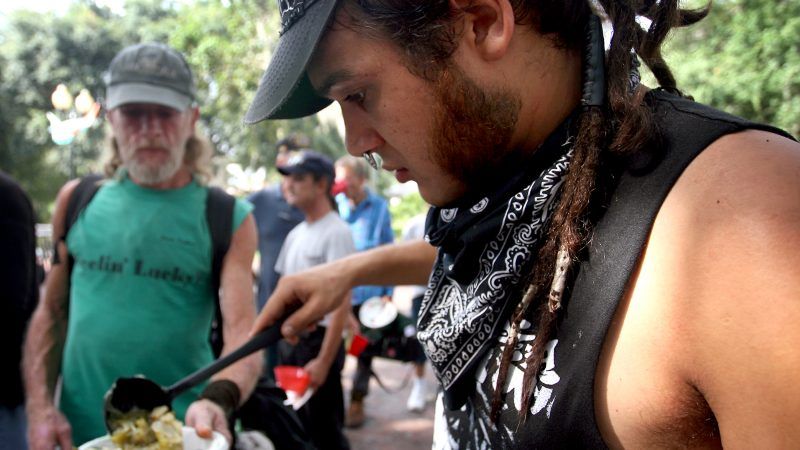 A new legal challenge filed this week seeks to overturn an awful ban in Houston, Texas, on sharing food with the homeless and others in need.
The lawsuit was filed by the Houston chapter of Food Not Bombs (FNB)—a loose-knit advocacy coalition dedicated to "sharing free vegetarian food with hungry people and protesting war and poverty"—and three FNB volunteers. The case was filed in U.S. District Court in Houston.
The suit (which you can access here) alleges that the Houston law violates elements of the First, Fourth, Fifth and Fourteenth Amendments, including constitutional protections of free speech, freedom of association, freedom of religion, due process, and equal protection. It asks the court to strike down the law and to award damages to the plaintiffs.
Opponents of the Houston law also filed an earlier challenge in Texas state court.
The ordinance, first adopted in 2012, prohibits "any organization or individual to sponsor or conduct a food service event on public or private property without the advance written consent of the public or private property owner or other individual with lawful control of the property." It defines a "food service event" as one "in which charitable food services are provided to more than five individuals." Its alleged purpose is to "assur[e] sanitary, quality foods are delivered to those in need, while protecting the environment and the rights of private property owners."
The ordinance also establishes a citywide program intended to distinguish between "charitable food services" such as Food Not Bombs and "recognized charitable food service providers," the latter, favored group including only people or organizations that have "received a certificate from the city designating said individual or organization as being in good standing in the City of Houston Recognized Charitable Food Service Provider Program."
Violators face fines of up to $2,000.
Houston's awful law is, well, awful. But it's not uniquely so. In fact, other cities that have or have had such bans in place over the years include Las Vegas, Fort Lauderdale, New York City, Philadelphia, Dallas, San Antonio, and many others, as I detail in my recent book, Biting the Hands that Feed Us: How Fewer, Smarter Laws Would Make Our Food System More Sustainable.
I first wrote about both awful prohibitions on sharing food with those in need and Food Not Bombs in a 2011 blog post for Hit & Run (R.I.P.). In that case, Orlando's own cruel food-sharing ban had resulted in the arrest of several local Food Not Bombs members. I've written about such bans many times since, and described them all as "unconstitutional, discriminatory, and wrongheaded."
Randall L. Kallinen, a Houston civil rights lawyer who filed the lawsuit this week, shares that assessment. 
"Sharing food is a form of expression protected by the Constitution," Kallinen wrote to me in an email this week. "Likewise, Jesus taught his followers to feed the poor and others. Why should a few downtown Houston landowners that contribute to Mayor [Sylvester] Turner's elections campaign dictate the law under which all Houstonians must live[?]"
But many others also oppose the Houston law. In fact, the lawsuit itself notes an incredibly diverse set of local opponents of the measure. These include the local Green Party, Libertarian Party, Democratic Socialists, and Republican Party, along with a pair of local Tea Party and Democratic Party groups. They also include a local Nation of Islam chapter, along with local atheist, Christian, and Hare Krishna groups.
If everyone (save for some powerful developers) hates this law, then why is it still on the books? Because not everyone does. "Houston officials who've supported the ordinance say it protects the people receiving food and doesn't criminalize those providing it," the Texas Observer reported this week.
That's not how those sharing food in Houston view the law.
"I want to serve food wherever I feel like without having to worry about [police] officers," Shere Dore, one of the plaintiffs, told the Observer. "A lot of other people want to serve, but they are literally too scared to come out."
I hope this lawsuit swings the tide for Dore, Food Not Bombs, and Houston's hungry.