Democrats Will Go Forward With Barr Contempt Vote Despite DOJ Threat to Deny Them All Access to the Mueller Report
Plus: "Offending religious feelings" in Poland, Trump tax returns, the latest "heartbeat bill," Denver's mushroom measure, and more...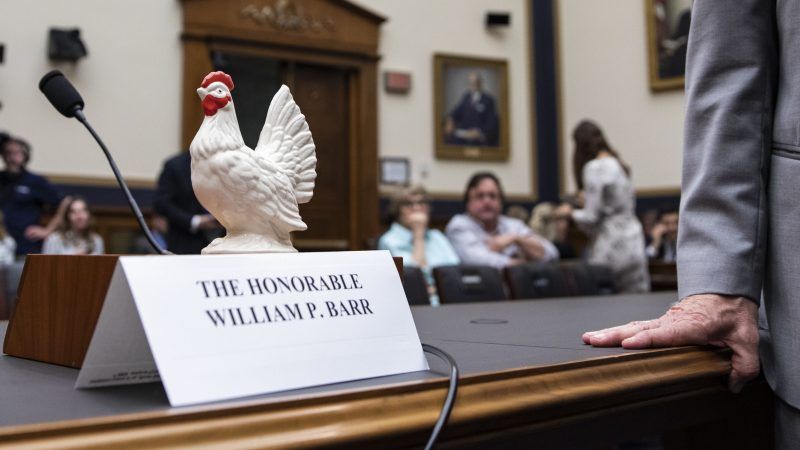 (Alex Edelman/CNP/AdMedia/SIPA/Newscom)
Partisan posturing around the Mueller report continues to suck up all the air in Washington. The House Judiciary Committee was planning to vote this morning on whether Attorney General William Barr should be held in contempt for not yet giving them the full, unredacted Trump-Russia report prepared by Special Counsel Robert Mueller and his team.
Then the Department of Justice (DOJ) pulled its own power move. In a letter to the committee last night, Assistant Attorney General Stephen Boyd said DOJ would ask President Donald Trump to invoke executive privilege over the full report if the representatives go through with the vote.
Boyd called lawmakers' actions "a transparent attempt to short-circuit the constitutionally mandated accommodation process and provoke an unnecessary conflict between our branches of government. They are also counterproductive."
Citing "unreasonable demands" about access to the report and "the Committee's precipitous threat to hold the Attorney General in contempt, Boyd said that"the Attorney General will be compelled to request that the President invoke executive privilege with respect to the materials subject to the subpoena"
"It's a sharp escalation of the ongoing dispute between the committee and the Justice Department, which spent the day Tuesday negotiating over the House Judiciary Committee's subpoena for the entire Mueller report and underlying materials," writes Rebecca Kaplan at CBS News.
Judiciary Committee Chairman Jerrold Nadler said the vote will proceed as planned.
---
FREE MINDS
A Polish woman is facing prison time over artwork that depicts Jesus and Mary with rainbow halos. Police there are accusing Elżbieta Podlesna of hanging posters with the image in the city of Płock. "Now she could face two years in prison for offending religious feelings," reports CNN. Her lawyer told the station that the images weren't meant to insult or desecrate a religious image and Podlesna "has not admitted to committing the crime."
---
FREE MARKETS
The New York Times takes a deep dive into Donald Trump's 1980s and 1990s finances, finding things "far bleaker" than was previously known:
The numbers show that in 1985, Mr. Trump reported losses of $46.1 million from his core businesses — largely casinos, hotels and retail space in apartment buildings. They continued to lose money every year, totaling $1.17 billion in losses for the decade.

In fact, year after year, Mr. Trump appears to have lost more money than nearly any other individual American taxpayer, The Times found when it compared his results with detailed information the I.R.S. compiles on an annual sampling of high-income earners. His core business losses in 1990 and 1991 — more than $250 million each year — were more than double those of the nearest taxpayers in the I.R.S. information for those years.

Over all, Mr. Trump lost so much money that he was able to avoid paying income taxes for eight of the 10 years. It is not known whether the I.R.S. later required changes after audits.
More here.
---
QUICK HITS
We did it again! Had the best call w/this lovely family & my attorney @msbkb who just won release for their loved one Jeffrey in Miami - he served 22 years of life sentence for low level drug case. He served too much time but it gives me so much joy to fund this life saving work. pic.twitter.com/pbYicKmFpJ

— Kim Kardashian West (@KimKardashian) May 3, 2019