'Some People Might Say That Ricky Fell Through a Crack in the System. This Is Not a Crack. This Is the System.'
Over 23 years ago Missouri's criminal justice system failed a man charged with murder. This week he's looking at his last best chance at freedom.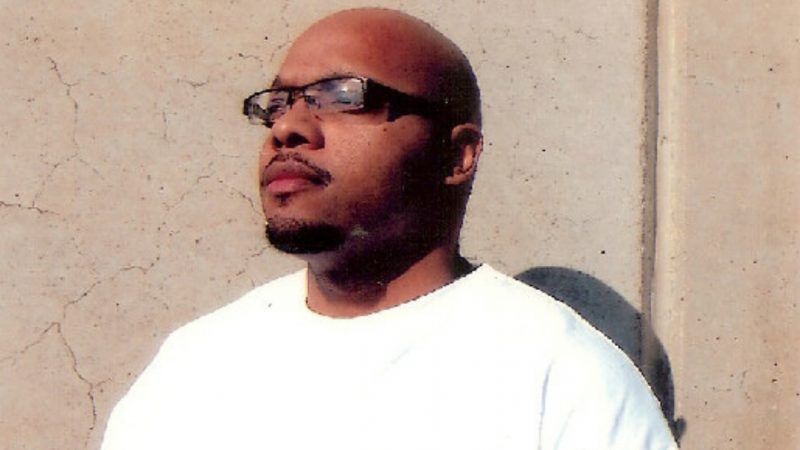 (Midwest Innocence Project)
Before being locked up on murder charges 23 years ago, Ricky Kidd says he was "naive" about how the criminal justice system worked.
"I didn't know that innocent people go to prison," Kidd, now 44, says by phone from the Crossroads Correctional Center in Cameron, Missouri. He told anyone who would listen, starting with the detectives who first took him into custody, that he didn't do it. "I needed," he says "to be believed."
In May 1996, Kidd was charged in the double murder of George Bryant and Oscar Bridges in Kansas City, Missouri. The evidence against him was weak, his alibi was solid, and the case in his favor has only grown stronger since Kidd and his co-defendant, Marcus Merrill, were convicted of the murders in March 1997 and sentenced to life without parole. Kidd nevertheless remains locked up.
There's no simple explanation for why he's still in prison. A combination of factors, including an inadequate public defense system, alleged prosecutorial misconduct, and a court system where innocence isn't always enough, has contributed to what Kidd describes as a "horrible nightmare."
This week, Kidd has a hearing for habeas corpus relief under Rule 91, a state law that allows convicted inmates to allege unlawful imprisonment even if their prior appeals have been unsuccessful.
After more than two decades of legal battles, this is Kidd's "best last bite at the apple," says Sean O'Brien, a law professor at the University of Missouri–Kansas City. He has represented Kidd since 2006. Today he is co-counsel along with the Midwest Innocence Project (MIP), a nonprofit that works to exonerate wrongfully convicted inmates.
"While I may fall in the cracks of legal terms or certain legal impediments, my facts will hold up," Kidd says. "I'm certain of that."
***
On February 6, 1996, Alvin Brooks, a former Kansas City cop who was then running a nonprofit called AdHoc Group Against Crime, got a call from a man who said he'd witnessed a shooting. The caller claimed he'd seen three men drive off afterward, Brooks recalls. He told the man to send in a tip to police.
At 11:50 a.m., police were dispatched to the scene. They found Bryant, who was known around the neighborhood as a drug dealer, lying outside his home in a pool of blood. Bridges' body was discovered in the basement.
Kidd, who was 21 at the time of the murders, had a pretty good alibi. He said he was awakened early that morning by his sister, Nikki, who had stayed with him the previous night and wanted to drive his 1993 Toyota Corolla to work.
By mid-morning, Kidd said he and his stepfather had successfully started his other car, an unreliable white 1981 Oldsmobile Delta 88. Taking Nikki's young son D.J. with them, Kidd and then-girlfriend Monica Gray drove the Delta to Nikki's work, where Kidd said he retrieved his Corolla keys.
After picking up the keys at around 11:30 a.m. or noon, Kidd said they took the Delta home. Then Kidd, his girlfriend, and his nephew drove together in the Corolla to the Jackson County Sheriff's Office at Lake Jacomo so Kidd could get a gun permit for a .357 revolver he had his eye on. The sheriff's office was a roughly 30-minute drive from Kidd's residence, says Gray.
Kidd said he filled out an application but was told he'd have to wait a few days for a background check. After stopping to see his ex-girlfriend Kelley Magill and daughter Jasmine, Kidd said he took Gray to her aunt's home, picked his sister Nikki up from work, and drove to his grandmother's house. That's where he learned that Bryant had been killed.
That's quite a few witnesses. But the prosecution argued that sequence of events occurred on a different day than the murders. At trial, Jackson County Sheriff's Office Sgt. Michael Buffalow said the form Kidd filled out, which is dated February 6 and was processed that day and the next, could have been mailed in or turned in by hand prior to that date.
But a 2007 deposition from Susan Jordan, the Jackson County Sheriff's deputy who processed the form, revealed that mail-in applications were exceedingly rare, and that applications were nearly always completely processed either the day they were received or the day after.
Kidd's defense team has taken the straightforward position that since his application was dated February 6 and processed on February 6 and 7, it's unlikely he turned it in on another date.
The dated application serves as a crucial part of Kidd's alibi, but it also suggests a more basic, common-sense defense of his innocence. Why would a killer try to legally obtain a firearm within 24 hours of committing murder? As Brooks, the former cop who got that eyewitness call about the shooting points out: "Even the dumbest of criminals probably wouldn't have done something like that."
***
So why was Kidd charged with the murder in the first place?
A drug dealer before going to prison, Kidd acknowledges he hasn't always been entirely truthful. He lied to police about owing Bryant $500 at the time of his death. More important, though, he failed to reveal a crucial conversation with one of the other men implicated in the killing.
While considerable evidence connects Kidd's co-defendant Merrill to two of his cousins—Gary Goodspeed Sr. (a.k.a. Abu-Rahman Saad Muwwakkil) and his son Gary Goodspeed Jr. (a.k.a. Rahib Muwwakkil)—neither was charged.
Merrill and his cousins resided in Georgia, but all three were in Kansas City at the time of the murders. While he was in town, Goodspeed Sr. rented a white Oldsmobile Cutlass Ciera that matched witnesses' descriptions of the three suspects' car.
The three men had similar alibis for February 6. After spending time together at the Adam's Mark Hotel, they said they went to see Henrietta Bynum, Goodspeed Sr.'s ex-wife and Goodspeed Jr.'s mother, with whom the victim, Bryant, was rumored to have had a romantic relationship.
"They had more of a motive at that moment in their life than Ricky did," Teresa Anderson, Kidd's former public defender, says of the Goodspeeds. "Independently of them, I don't think he had any grudge with anybody."
Kidd, who was first named in connection to the crime by anonymous tips, is the "odd man out," his current attorneys claimed in a 2015 petition for writ of habeas corpus.
And at a 2009 federal hearing, Merrill confessed to the murders and furnished crucial additional information to the courts. In his confession, Merrill described how the Goodspeeds met him at a friend's house the morning of February 6 and drove him to Bryant's home. Goodspeed Sr. and Merrill were both armed with handguns, the friend, Eugene Williams, testified—Goodspeed Sr. with a .45-caliber and Merrill with a Glock .9 millimeter. Both kinds of shell casings were later found at the crime scene.
Bryant's 4-year-old daughter Kayla, who was home when her father was killed, told investigators she had seen the perpetrators at the house before. Goodspeed Jr. told police he and Merrill had visited Bryant a few days prior.
"Daddy's brother shot Daddy," Kayla told police. She also reported that one of the men tried to comfort her.
Her account makes more sense in context. Goodspeed Jr. was friends with Bryant and shared a physical resemblance to him. Bryant would sometimes refer to Goodspeed Jr. as "little brother," Merrill testified. He also said he ignored Goodspeed Sr.'s directive to kill Kayla, instead telling her everything would be OK and firing a bullet through the wall.
Goodspeed Sr. shot Bryant and took Bridges, who was remodeling the house, down to the basement, said Merrill. Bryant later got up and ran into Merrill, who shot him again.
Why did Merrill confess so long after the fact? Kidd and Merrill exchanged a series of letters while both were incarcerated, with Kidd trying to convince Merrill to admit his guilt and exonerate Kidd. His efforts were largely unsuccessful until Kidd asked Merrill if the Goodspeeds were doing anything to take care of Merrill's daughter, perhaps implying that Merrill was protecting them in exchange for nothing.
"You could look at it as a crisis of conscience," says O'Brien. "Gary Sr. was the one who killed both of these guys, and Marcus is effectively doing Sr.'s time." Having unsuccessfully appealed his own conviction, Merrill also hopes for a shot at parole if the case is reopened and he testifies against Goodspeed Jr.
Kidd was a one-time roommate and former close friend of Goodspeed Jr. And this was the other key information he initially withheld from police: On February 5, Goodspeed Sr. asked if he wanted to help rob Bryant, Kidd testified in 2009. During their February 7 meeting, Goodspeed Sr. confessed to killing Bryant, Kidd said. He was afraid to volunteer this information, ironically, because he didn't want to be connected to the crime.
***
The witness who placed Kidd at the crime scene was the person who telephoned Brooks, a man by the name of Richard Harris. Harris told police he was walking home after visiting his neighbor when he saw Bryant run out of the garage, yelling for help.
One of the suspects, who Harris identified as Goodspeed Jr., dropped a garbage bag containing what he assumed was cash and drugs, pursued Bryant, and tackled him. Then another man came out of the garage and shot Bryant with a .45, Harris claimed. While Harris identified the killer as Kidd, in his 2009 confession Merrill said it was actually Goodspeed Sr.
While Harris was the prosecution's key witness in its case against Kidd, he's never been able to get his story straight. "He has said virtually everything about everything," Kidd's lawyer O'Brien says, wryly.
Harris told police he had started running away by the time Bryant was shot. But at trial, he said he saw the killer "stand over" Bryant and shoot him.
Harris claimed to have been standing in front of Bryant's house at the time. His now ex-wife, Letha Jones, testified in 2009 that Harris told her he was at his mother's house, about 100 feet or more away from Bryant's home. Another neighbor who witnessed the shooting, Phyllis Davis, testified that she could not recall seeing Harris.
In a 2007 deposition and again at the 2009 hearing, Harris said Bryant's killer had long hair and was wearing a red do-rag. But Kidd was bald around that time.
Harris was also not the casual bystander he initially made himself out as. He later admitted to buying drugs from Bryant on multiple occasions, even though he initially told police they were just neighbors.
Harris may have testified against Kidd because he was scared the Goodspeeds would kill him, according to Brooks. "Since then, he called me," says Brooks of Harris, and "he said why he did what he did."
Little else should have implicated Kidd. "There is no physical evidence tying him to the crime scene that I recall," said Amy McGowan, Jackson County's lead prosecutor on the case, in a 2017 deposition. McGowan, who declined to be interviewed for this story, said her "personal belief" is that Goodspeed Jr. was one of the men responsible. She suspected Goodspeed Sr. was involved as well, but claimed she didn't have enough evidence to go after either man.
Brooks thinks the police deserve blame. "They really did a poor job of that case," he says, pointing to investigators' failure to build a strong case against the Goodspeeds based on the similarities between their rental and the getaway car. "They didn't follow up," he adds.
All of which means the prosecution had just two people who implicated Kidd: the unreliable witness Harris and the contradictory testimony of 4-year-old Kayla Bryant.*
***
Lacking the resources for private representation, Kidd's case was handled by a public defender at a time when Missouri's public defenders were utterly unable to devote the resources to Kidd's case that might have led to his exoneration.
A 2012 audit found that Missouri's public defense caseload grew 70 percent since 1990. The office, however, has only expanded by 58 percent. After the findings were released, auditor Tom Schweich said that public defenders have relied for decades on outdated 1970s standards for appropriate caseloads. This has gradually led to more overworked lawyers with less time to spend on each case.
"Everybody deserves to have the best defense that they can have," says Anderson, Kidd's old public defender, who understands this better than anyone.
That right was clearly established for the first time by Clarence Earl Gideon who radically changed the face of the American judicial system with nothing but a pen and prison paper. Gideon was accused of felony breaking and entering, but since he was poor, he was left to defend himself in court. After being convicted, Gideon took his case all the way to the Supreme Court and won. In 1963, the Supreme Court ruled in Gideon v. Wainwright that the Sixth Amendment guarantees every citizen the right to counsel.
While the case expanded civil liberties, the divide between rich defendants and poor defendants remained. While those lacking funds now have access to counsel, many judicial systems, including Missouri's, struggle to ensure access to adequate counsel.
A serious lack of resources cheats Missouri public defenders out of the chance to provide the best defense. Lawyers in an office on a shoestring budget are expected to go up against well-funded prosecutors, despite dealing with heavy caseloads and a lack of information.
One fed-up director of the public defender's office even assigned a case to then-Missouri Gov. Jay Nixon (D), who was attorney general at the time of Kidd's conviction, as an act of protest in 2016.
The American Civil Liberties Union filed a federal class action lawsuit in 2017 claiming that Missouri's public defender system was a "constitutional crisis." It is not unheard of for poor defendants to spend months in jail waiting for a trial. Once they're finally able to see a public defender, their lawyer only has a short amount of time to review their case before entering the courtroom.
"Some people might say that Ricky fell through a crack in the system," O'Brien says. "This is not a crack. This is the system."
Anderson and O'Brien agree that a lack of resources in the public defender's office contributed to Kidd's problems. And at this stage in his appeals process, Kidd no longer even has the right to counsel. For inmates like him, access to adequate representation is largely determined by one's ability to pay for it.
While O'Brien doesn't keep time on Kidd's case, he estimates that exonerations normally cost between $500,000 and $1 million of a lawyer's time. Most attorneys can't devote that much time to a pro bono case. There have been about 2,400 exonerations in the United States since 1989, according to the National Registry of Exonerations. It's difficult to ascertain the exact nationwide wrongful conviction rate, though the MIP's website says it could be between 2 and 5 percent or as high as 7 percent.
***
As Gideon v. Wainwright changed the face of American defense, Brady v. Maryland changed the face of American prosecution.
John Brady had been charged with murder by the prosecution, even though his robbery partner, Charles Boblit, previously confessed to the actual killing. The Supreme Court ruled in 1963 that the prosecution's suppression of Boblit's confession during Brady's trial violated his right to due process.
Kidd experienced firsthand how the suppression of key information can seal a terrible fate. In the 2015 habeas petition, Kidd's attorneys identified some of the missteps taken in the trial, including the prosecution's failure to correct false evidence presented in court.
Kate Ladesh, the lawyer representing Marcus Merrill in the joint trial, attempted to divert the blame from her client to Kidd by saying Kidd's fingerprint was found in a vehicle. Kidd's fingerprint was indeed found in a vehicle: His own.
Ladesh never made an effort to clarify this fact, leaving the court to believe that Kidd's fingerprint was discovered in the getaway car. His lawyers think this key omission helped paint Kidd as the guilty party.
McGowan had a legal duty to correct Ladesh's fingerprint claim, according to Kidd's attorneys. They believe Supreme Court cases like Berger v. United States and Giglio v. United States set the legal precedent that McGowan should have done everything in her power to convict Kidd without the use of false evidence.
But rather than correct the record about Kidd's fingerprint, she allowed Ladesh to present her misguided argument without challenge, ultimately helping her own case against Kidd. Additionally, McGowan went so far as to bring up Kidd's fingerprint in her argument without accurate citation of context.
Kidd's attorneys have also claimed McGowan engaged in unfair tactics by pressuring young Kayla Bryant to identify Kidd as one of the suspects. The girl twice denied in court that one of the suspects was in the room, so the prosecution turned to an alleged out-of-court identification she made of Kidd.
Kayla Bryant had previously failed to identify Kidd several times in a photo array, which was captured on video. Police coaxed a flimsy positive identification from her after showing Kidd once again in a video lineup. Kidd's lawyers said that introducing Kidd's image multiple times was a form of suggestive procedure, which made the lineup more likely to end in a misidentification.
Kidd's defense team also argues the prosecution failed to disclose the Goodspeeds' depositions, which were not taken until the Friday before the trial. Anderson says she was not made aware of the depositions despite searching for the Goodspeeds before the trial.
Prosecutors are obliged to "present all of the evidence per the rules of evidence in a fair manner," Anderson says. "And if you have the evidence that someone's guilty, that's what the jury will determine. If you have to shade the evidence in a way to make your case better, you're not doing your job."
McGowan would eventually become a prosecutor in Douglas County, Kansas. But in 2013, the Kansas Supreme Court found her at fault for misconduct and trial errors due to improper comments made during a sentencing hearing. The sentence was vacated as a result. Four other cases were also appealed on similar grounds, and some of her other cases were redistributed among other prosecutors.
Kidd's claims of innocence have earned him the support of a different former Jackson County prosecutor, Cindy Dodge, who's now on his legal team. She told KSHB in 2016 that her own investigation into Kidd's case led her to believe he's innocent. "I wouldn't be working on this and spending hundreds of hours of free time," she said at the time.
McGowan's actions, meanwhile, mean that a guilty man in Goodspeed Jr. is still walking the streets, Kidd's supporters say. And in cases of prosecutorial misconduct, there's often no accountability.
O'Brien says it's "pretty rare" for prosecutors to be disciplined by bar associations for sitting on evidence. After running through a handful of examples, O'Brien jokes that he may have named all of the cases where prosecutors have faced repercussions.
One of the most well-known disbarments in recent history occurred more than a decade ago. Durham County prosecutor Mike Nifong was disbarred after withholding exculpatory DNA evidence in the controversial 2006 Duke University lacrosse rape case. He was sentenced to one day in jail after lying about giving the DNA evidence to defense attorneys.
***
This week in Missouri's 43rd Judicial Circuit, Kidd's lawyers are invoking Rule 91, a state law that gives inmates their last chance for habeas corpus relief in court. It's the latest in a decades-long series of legal fights.
"It's an uphill battle trying to prove your innocence," says Kidd. He believes he'll win, though his optimism arises partly out of necessity. "Surrendering just isn't an option," he says.
O'Brien shares those sentiments. "I should be really cynical after doing this shit for 30 years," he says. "But I'm not, because if you give into it—if the lawyers think you're going to lose—you're going to lose."
Kidd's current legal team argued for years that ineffective counsel, particularly during his trial, violated his Sixth Amendment rights. That claim has been procedurally barred because Kidd's public defenders failed to adequately pursue it during his prior appeals, O'Brien says.
Instead, Kidd's attorneys are now alleging prosecutorial misconduct on the part of McGowan, who they believe committed Brady violations, particularly by withholding the Goodspeeds' depositions. Kidd's lawyers must prove the transcripts of those depositions would have caused a jury to doubt his guilt.
They're also claiming actual innocence. But because Kidd is not on death row, that might not be enough. The Missouri Supreme Court granted habeas relief in 2003 to another wrongfully convicted O'Brien client, Joseph Amrine. But Amrine was a death row inmate and the rejection of a subsequent case suggested the court is inclined to limit this remedy only to those condemned to die.
If the circuit court rules against Kidd, he can appeal to the district court and even the Missouri Supreme Court. And then that's it—he will have exhausted his legal options, with the exception of executive clemency.
Kidd and his supporters believe a court system where asserting innocence on appeal is unduly difficult has contributed to his continued incarceration. The public defender on his direct appeal, for instance, didn't even try to argue his actual innocence. "We have a system that values finality over fairness," says Tricia Bushnell, the MIP's executive director and one of Kidd's attorneys.
After O'Brien took the case, he unsuccessfully petitioned for federal habeas corpus relief. The since-deceased Judge Scott Wright of the U.S. District Court for the Western District of Missouri, who denied the petition, nonetheless said at Kidd's 2009 hearing that "for [Goodspeed Sr.] to get off free would just be awful." Goodspeed Sr. has since died.
"On the federal level in the United States, it's an open question of whether or not being innocent entitles you to be released from prison," says Bushnell.
"We're here asserting his actual innocence, but we get stuck in these arguments of procedure," Bushnell says. "What if we just agreed that the court should hear the evidence, and just decide it on the merits?"
"They don't engage the facts," Kidd says of the state's attorneys, "so they nickel over the technicalities of the law."
Kidd compares the experience of losing time and again in court to taking a gut blow during a boxing match. "Suddenly, all the air has left your lungs," he says. "While you're waiting for them to fill back up, you can imagine yourself gasping for air and enduring extreme pain all at the same time."
***
"I'm going to walk a testimony of faith and transformation."
Kidd wrote these words in "I Wanna Be Like My Father," a play recently performed by his fellow inmates. Their performance was captured and shared on YouTube. The play focuses on a man trying to choose between a life of God and peer pressure.
Religious themes are often present in Kidd's plays, poetry, and books. So is the legal system. If exonerated, Kidd hopes to bring another play, "Justice, Where Are You?" to the stage.
His writing, he says, has helped him throughout the last 23 years.
"I use pen and paper to express myself," Kidd says. "Writing has been instrumental as a coping tool or a coping mechanism for me. Bottled emotions and expressions not properly channeled, shaken up, can cause a mess."
But like Clarence Earl Gideon, Kidd's writing has done more than offer personal solace. When he was first incarcerated, he wrote hundreds of letters proclaiming his innocence to people on the outside. While his fellow inmates laughed, Kidd kept going. For years following his conviction, his efforts were largely to no avail. But eventually, thanks to Kidd's unrelenting labor, the cavalry did come.
And this week, the court may join the growing number of people who have come to believe in Kidd's innocence. If that happens, it will be because Kidd didn't abandon his struggle. "All I know to do is fight," he says. "The opposite is not an option."
*CORRECTION: This article originally stated that three people implicated Kidd: Richard Harris, Kayla Bryant, and Marcus Merrill. In fact, Merrill did not implicate Kidd and never accused him of the crime. We regret the error.