Sri Lankan Government Blocks Social Media Access Over Alleged Fake News
Right after 290 people were killed in a series of Easter Sunday bombings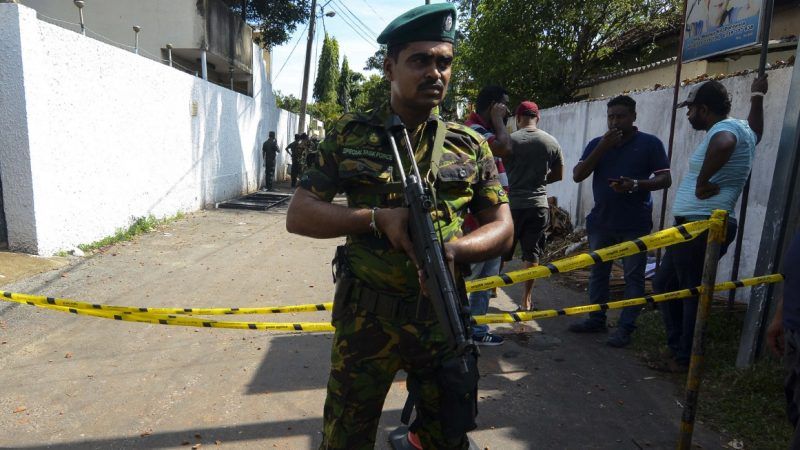 (Akila Jayawardana/ZUMA Press/Newscom)
In the immediate aftermath of a series of Easter Sunday bombings that killed at least 290 people, the Sri Lankan government took the extreme step of blocking access to any social media sites, citing a desire to stop the spread of fake news.
"The government has decided to temporarily block social media sites including Facebook and Instagram," reads a post on news.lk, the Sri Lankan government's official news portal. "Presidential Secretariat said in a statement that the decision to block social media was taken as false news reports were spreading through social media," the post adds, explaining that "the blockage would be effective until investigations [into the bombings] were concluded."
In addition to Facebook and Instagram, social media services such as Snapchat, YouTube, Viber, and WhatsApp were blocked as of Monday morning, according to a Twitter post from NetBlocks, a digital rights group. "Concerns have been raised over the impact to citizens's ability to communicate and impart information in the midst of crisis," the group writes in a blog post. "Many Sri Lankan internet users are complaining about difficulty checking up on friends and family following the attacks."
Update: Facebook, WhatsApp, Instagram, YouTube, Viber, Snapchat and Messenger have been blocked in #SriLanka over 24 hours following yesterday's deadly attacks. VPN service Tunnelbear's website is now also restricted #EasterSundayAttacksLK #KeepItOn ⬇️https://t.co/xp4hSxvFOi pic.twitter.com/9LM5NOjUen

— NetBlocks.org (@netblocks) April 22, 2019
The government's action came after nearly 300 people were killed and 500 more injured in the bombings, which targeted churches and hotels. Twenty-four people have been arrested in connection with the attacks, and the government has pinned the blame on National Thowheed Jamath, a small Islamist terror group, the BBC reports.
"We are aware of the government's statement regarding the temporary blocking of social media platforms," a Facebook spokesperson tells CNN. "People rely on our services to communicate with their loved ones and we are committed to maintaining our services and helping the community and the country during this tragic time."
Viber, a messaging service, posts on Twitter: "We encourage everyone to be responsible and rely on updates from official and trusted sources."
Social media companies, particularly Facebook, have been criticized for allowing fake news and images of graphic violence to spread in the aftermath of tragedies. A perfect example is the shooting attacks carried out on a pair of New Zealand mosques last month. The alleged shooter livestreamed part of the shooting on Facebook, and the company struggled to remove the video and copies of it from the site.
"If I were #facebook and #whatsapp I'd take a moment to ask myself where I'd gone wrong," Ivan Sigal, executive director of the journalism and digital advocacy group Global Voices, writes on Twitter. "A few years ago we'd view the blocking of social media sites after an attack as outrageous censorship; now we think of it as essential duty of care, to protect ourselves from threat," he adds.
Vagelis Papalexakis, an assistant professor of computer science and engineering at the University of California, detailed what he sees as the problem of American social media companies trying to avoid the spread of misinformation in foreign nations. "What needs to be addressed is if I have a very well-polished system that works for English and is optimized for the U.S., how can I successfully 'transfer' it to a case where I'm dealing with a language and a locale for which I don't have as many examples or human annotators to learn from?" he tells The Guardian.
So what sorts of false reports were spreading on social media? The Washington Post provides two examples:
Sanjana Hattotuwa, a senior researcher at Center for Policy Alternatives in Colombo who monitors social media for fake news…cited two instances of widely shared unverified information: An Indian media report attributing the attack to Muslim suicide bombers, and a tweet from a Sri Lankan minister about an intelligence report warning of an attack.
Notably, neither of those instances appears to have been fake news. As previously mentioned, the Sri Lankan government does indeed believe Muslim extremists were responsible for the attacks. And intelligence agencies had been warned about a possible terror attack in recent days, as CBS News reported.
While there may have been some misinformation spreading in the initial aftermath, the Sri Lankan government's action highlights the danger of banning social media apps right after a tragedy. "What we've seen is that when social media is shut down, it creates a vacuum of information that's readily exploited by other parties," NetBlocks Executive Director Alp Toker tells the Associated Press, arguing that "it can add to the sense of fear and can cause panic."
"That's going to be a problem for people trying to communicate with friends and family," he adds.
Joan Donavan, who leads the Harvard Kennedy School's technology and social change research project at the Shorenstein Center, echoes those sentiments. "We know based on the past that in crises, everyone goes online to find information," she tells The Guardian. "When there are large-scale fatalities and multiple emergencies, it's very important for people to be able to communicate and feel safe….This really puts people who already have vulnerable access to communication in a much worse position. It is a dangerous precedent to set."
That's not all. Banning social media to stop the spread of fake news means the misinformation might not get debunked. "While a ban on social media helps to contain the spread of rumors, it also hampers efforts by journalists to push back on them," Hattotuwa tells the Post.
It's the second time in a little over a year that Sri Lanka has banned social media sites to stop the supposed spread of misinformation. The government took similar action in March of last year, claiming it was part of an effort to stop the spread of hate speech and fake rumors that some Buddhist extremists were using to target Muslims.
In December 2016, the Turkish government banned access to social media services like Facebook and Twitter after the Russian ambassador to Turkey was assassinated. As former Reason writer Ed Krayewski noted at the time, the Turkish government was "using any excuse, from mass arrests to attempted coups, to crack down on internet use."
In Sri Lanka, it's unclear whether the social media ban will even have the desired effect. Last March, many social media users (possibly up to half of them) bypassed the ban using virtual private networks (VPNs), according to The New York Times. Unfortunately, poor residents who don't have access to VPNs will likely be in the dark until the ban is lifted.