Are Food-Stamp Receipts Beyond the Reach of FOIA? Supreme Court Hears Arguments Today
Plus: Violence in Sri Lanka leads to social media suppression, and the White House wants to make it harder for pretrial diversion participants to get government jobs.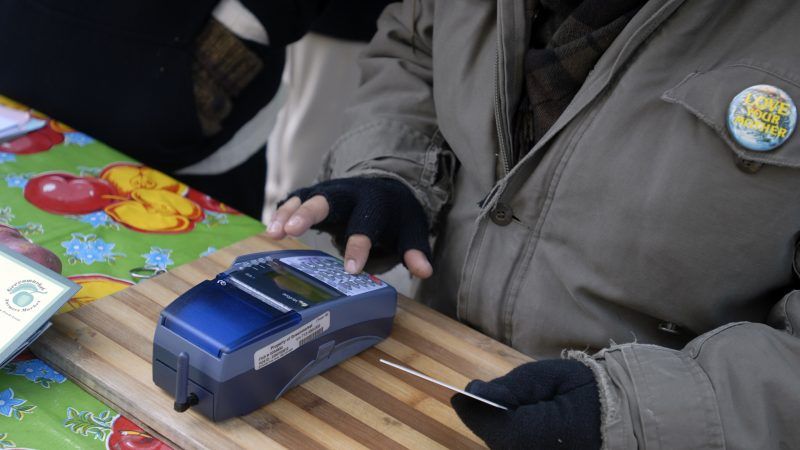 (RICHARD B. LEVINE/Newscom)
A newspaper's investigation into food stamp fraud lands at SCOTUS. Food stamps and the Freedom of Information Act (FOIA) collide in a case coming Monday to the U.S. Supreme Court (Food Marketing Institute v. Argus Leader Media).
"At stake," writes Argus Leader investigative reporter Jonathan Ellis, "is more than 40 years of established case law on a key provision of the Freedom of Information Act."
Back in 2011, the U.S. Department of Agriculture denied an Argus Leader FOIA request for information on reimbursements to South Dakota stores under the federal Supplemental Nutrition Assistance Program (SNAP). Authorities cited one of the nine exemptions to FOIA-eligible information: a prohibition on "trade secrets or commercial or financial information that is confidential or privileged."
The Sioux Falls paper objected. And in 2016, a judge sided with the paper, holding that simply sharing SNAP sales data would not cause "competitive harm" to these companies.
"It didn't help USDA's case that before trial, the agency surveyed all 321,988 SNAP retailers, and only a few hundred were opposed to releasing the food stamp sales numbers," writes the editorial board at USA Today (which shares a parent company with the Leader). More:
USDA conceded defeat. But a trade and lobbying group, the Food Marketing Institute […] intervened and appealed. The institute hopes a majority of justices will diminish or even reject the "substantial competitive harm" standard that has been used in FOIA cases for decades.

Weakening FOIA with a wide exemption for "confidential" data would be a loss for the public. A decade after the act became law, the Supreme Court defined the objective of FOIA as ensuring "an informed citizenry, vital to the functioning of a democratic society, needed to check against corruption and to hold the governors accountable to the governed."

The government doesn't need more ways to withhold information from taxpayers who deserve accountability and transparency.
But the Food Marketing Institute says that data on private business sales is outside the scope of FOIA, even when the customers are being financed by the federal government. FOIA "was created to shine a light on the government, not on private parties," writes the Institute's CEO Leslie Sarasin. "Congress expressly exempted confidential commercial information from mandatory disclosure because that disclosure can harm private interests without adding much insight about the government's own work."
To take this standard to its logical conclusion, however, would mean that no information on government activity could be turned over if that activity also involved a private business. This wouldn't just let the government off the hook and keep citizens in the dark about totally benign business behavior, but it would also exclude crony corporations and shady business-political dealings from scrutiny, too.
The standard settled upon for FOIA—that information must cause "competitive harm" to a private business, not merely involve one—helps balanced the interests of privacy, accountability, and transparency.
"We've been at this a long time," Argus Leader News Director Cory Myers said. "At every turn the courts have sided with our argument that this is public information. It's unfortunate that FMI felt the need to intervene after government had agreed to release the public data, but I'm confident the U.S. Supreme Court will find in the public's favor."
---
FREE MINDS

Easter bombings in Sri Lanka killed hundreds. Now the country's government is blaming the Islamic militant group National Thowheed Jamath for the attacks. So far, no group has admitted to the church and hotel suicide bombings Sunday that caused the deaths of 290 people and injured around 500 more.
As with other recent acts of violence, we're seeing government respond to the chaos and violence by taking broader than necessary aim at speech and suspending civil liberties.
"Police arrested 24 people in a series of raids and the president's office declared a state of national emergency," reports the BBC. The  declaration "will give police and military extensive powers to detain and interrogate suspects without court orders."
The government also "blocked access to Facebook and other social-networking sites," in "a move meant to stop misinformation from inciting further violence in a country where online mistruths have fomented deadly ethnic unrest," notes The Washington Post. "But the blackout also had the effect of eliminating a key means of communication during a major terrorist event—a problem Sunday for both Sri Lankans and foreigners desperate to get information about security and check in with loved ones."
---
QUICK HITS