Watch Broward County Sheriff's Deputies Slam a 14-Year-Old Boy's Head Into the Pavement
The cops were there to break up a fight, not start one.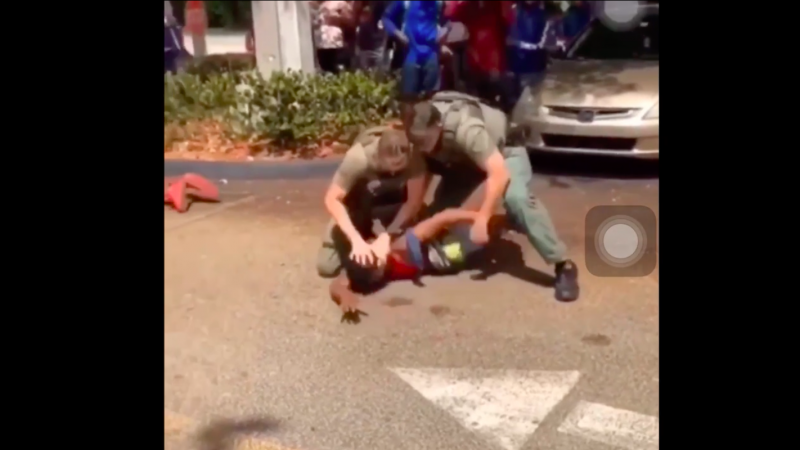 (Screenshot via Sun Sentinel)
Broward County sheriff's deputies were called to a popular teen meet-up area, a McDonald's parking lot, Thursday afternoon. The police were there ostensibly to breakup a fight, not start one.
But according to video footage of the encounter, sheriff's deputies pepper-sprayed at least one black teenager, tackled him, punched him in the head repeatedly, grabbed him by the back of the neck, and slammed his face into the pavement. The Sun Sentinel reported that the victim was a 14-year-old student at J.P. Taravella High School.
Okay c'mon #BlackTwitter , this needs to be seen period! These are MINORS, they going to school to get literally beat up by the police? Oh nah ????????‍♀️ #BlackTwitter Tag the right people so this could be seen cause this is truly SICK. I am disgusted. pic.twitter.com/dwVORGg74m

— Lea ????????‍♀️. (@LeProsperity) April 18, 2019
The victim left the scene in an ambulance, blood covering his face.
The Broward Sheriff's Office is "investigating the incident to determine exactly what happened, how it started, how it escalated and they're looking at the outcome of it," a police spokesperson told The Miami New Times. But bashing a person's head against hard concrete is never appropriate, regardless of which party escalated the encounter. The officers involved could have killed this young man, and they should face serious consequences.