Brett Kavanaugh Explains Why He Voted to Grant Buddhist Inmate's Stay of Execution
The Supreme Court ruled 7-2 last night to grant Patrick Murphy's petition for a stay.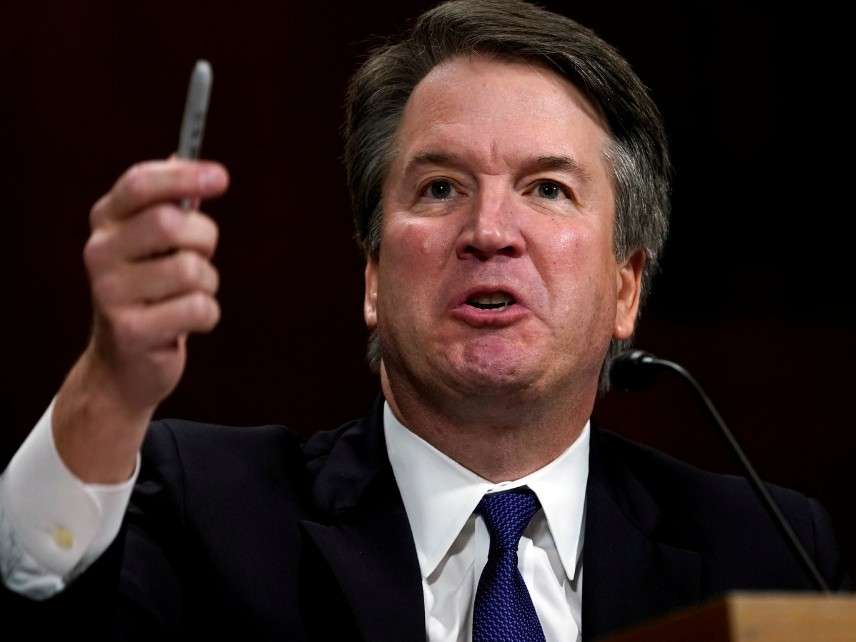 The Supreme Court ruled 7–2 last night to grant a stay of execution to a man scheduled to be put to death in Texas.
Patrick Murphy, whose case I wrote about yesterday, was convicted under Texas' law of parties in the 2000 murder of a police officer. While he didn't pull the trigger, Murphy was involved in the robbery that led to his compatriots committing murder.
"I'm not challenging the guilt of the crime," he told CBS Dallas-Fort Worth this week. "My role was basically really to be the getaway driver."
Despite not having been directly involved in the murder, various courts have refused to grant him a stay of execution. But Murphy also alleged that his First Amendment right to freedom of religion was being violated. He converted to Buddhism while incarcerated, but the State of Texas would not allow his spiritual adviser to be by his side in the execution chamber, since the Rev. Hui-Yong Shih is not an employee of the Texas Department of Criminal Justice.
A federal district and circuit court would not grant Murphy a stay, meaning only the U.S. Supreme Court (or executive clemency) could spare his life. The Court came through on Thursday night, ruling:
The State may not carry out Murphy's execution pending the timely filing and disposition of a petition for a writ of certiorari unless the State permits Murphy's Buddhist spiritual advisor or another Buddhist reverend of the State's choosing to accompany Murphy in the execution chamber during the execution.
Clarence Thomas and Neil Gorsuch were the only justices who would have denied a stay. While the Court as a whole did not explain its reasoning, Justice Brett Kavanaugh did publish a concurring opinion detailing his own decision.
"In this case, the relevant Texas policy allows a Christian or Muslim inmate to have a state-employed Christian or Muslim religious adviser present either in the execution room or in the adjacent viewing room," Kavanaugh wrote. "But inmates of other religious denominations—for example, Buddhist inmates such as Murphy—who want their religious adviser to be present can have the religious adviser present only in the viewing room and not in the execution room itself for their executions."
"In my view, the Constitution prohibits such denominational discrimination," he said.
There were two possible solutions, he added. The state could let religious advisers of all faiths in the execution chamber, or confine them to the viewing room. The key is equal treatment. The state cannot give preferential treatment to Christian or Muslim inmates over Buddhist prisoners, Kavanaugh said.
The Court's ruling surprised some observers, because it seemed to rule the opposite way in a similar case in Alabama last month. Dominique Ray, a Muslim inmate, wanted his imam to be by his side before he died. The state would not oblige for security reasons, since it does not employ any Muslim imams. But in that case the Court's decision didn't rest on the constitutional question: The justices ruled 5–4 that Ray had waited too long to file a petition for relief.
That did not seem to be an issue in this case, at least for Kavanaugh. The justice wrote in a note at the bottom of his concurring opinion that "Murphy made his request to the State in a sufficiently timely manner, one month before the scheduled execution."
According to UCLA law professor Eugene Volokh (of Volokh Conspiracy fame), the Court's most recent ruling may also reflect a backlash "from scholars whose views the justices respect" following their decision in the Ray case. "And of course justices should be open to changing their minds when they are persuaded that they were likely mistaken," he tells NPR.
Regardless of their reasoning, the ruling is most certainly a positive. As Ilya Somin notes today at The Volokh Conspiracy:
Whatever can be said about the procedural question, it's a good thing that the justices have taken a major step towards clearing up any confusion over their stance on the substantive one. Whether in death penalty cases or elsewhere, it is indeed impermissible for the government to discriminate on the basis of religion.
Murphy will now go back to death row.